News
Dew Sweeper: U.S. Amateur drama, America's big Solheim Cup win and a hole-in-one for the ages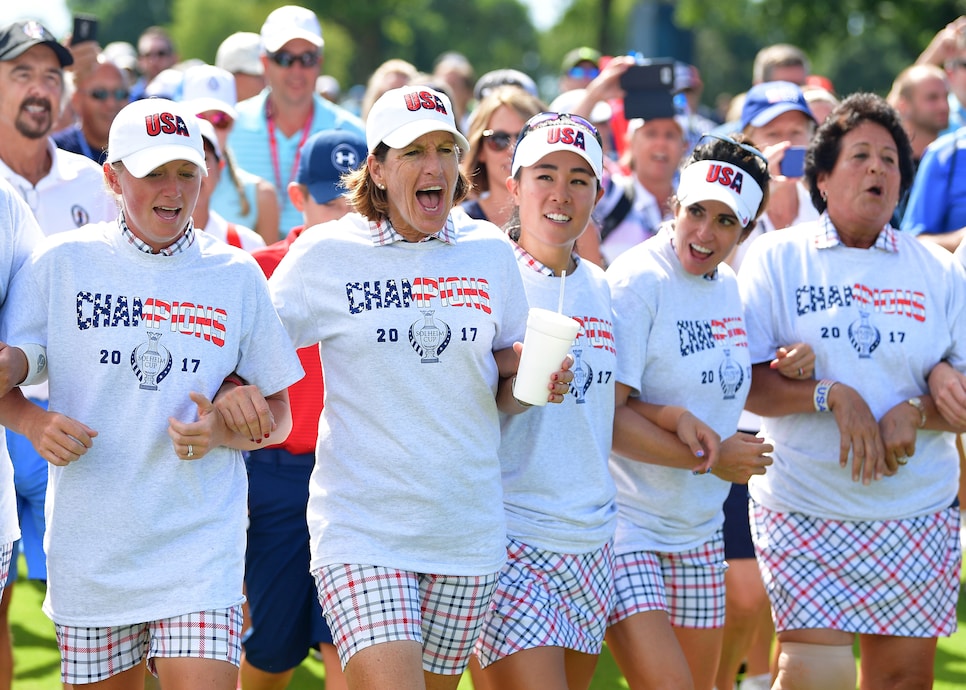 Welcome to the Dew Sweeper, your one-stop shop to catch up on the weekend action from the golf world. From the professional tours, trending news, social media headlines and upcoming events, here's every golf-related thing you need to know for the morning of Aug. 21.
Americans lap Europeans at Solheim Cup
This year's Solheim Cup lacked the drama and theatrics of its predecessor, but -- thanks to the exploits put forth by the Americans -- the event did not fall short in entertainment. After an utterly dominating two-day display in Des Moines, Juli Inkster's squad took care of business on Sunday, earning six of 12 available points to win and retain the cup by a 16½-11½ margin.
Entering the day with a five-point lead, the Yankee tone was set early by Lexi Thompson, who recovered from a 4-down deficit to halve her match. Followed up by Ws from Paula Creamer and Cristie Kerr, the Europeans' comeback bid was effectively kaput.
"It was my job to bring fun back to the Solheim Cup. And whether we win or lose, you know what? It doesn't matter," she said. "It's the memories you create. It's the bonding you create. It's the atmosphere you create."
Judging by the record crowds, team camaraderie and the butt-whoopin' on the score board, safe to say Inkster's mission was a success.
With just two weeks left in the Web.com Tour regular season, Martin Piller sat in 26th in the circuit's earnings, right on the precipice of securing his tour card for 2018. But instead of competing at the News Sentinel Open, Piller was at the Solheim Cup last week, and with good reason: he was cheering on his wife, Gerina.
Making her third appearance for Team U.S.A., Gerina scored two points for her country in the resounding victory.
As for Martin, he has one tournament left to grab a promotion to the big leagues, although he will need a top-10 finish and a little help. On the bright side, he now has a comeback for life if Gerina every gives him hell for playing too much golf.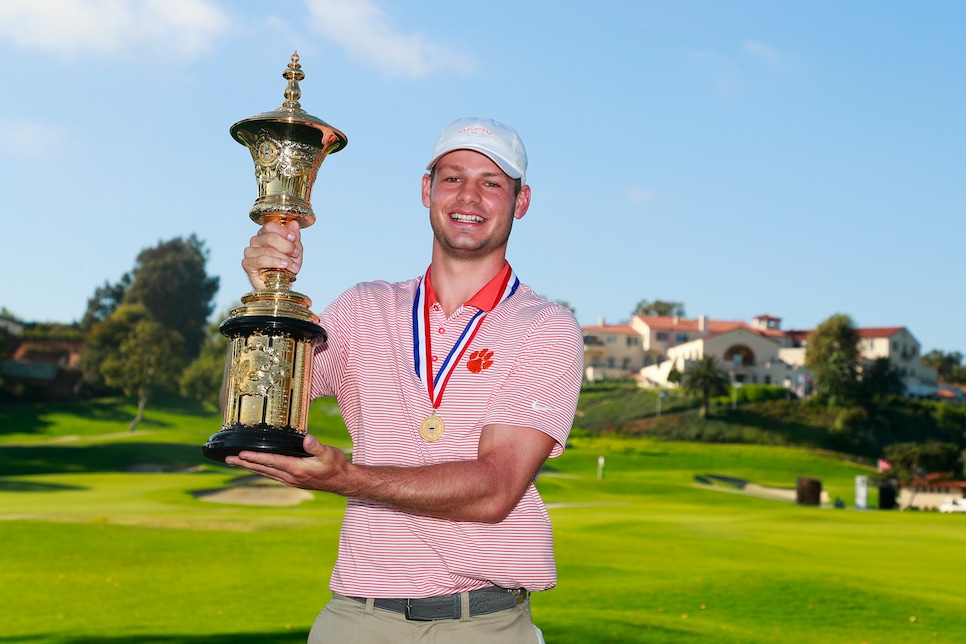 Just what the Doctor ordered
Los Angeles is known for manufacturing its share of sensational endings. On the stage of Riviera Country Club, Doc Redman delivered a performance worthy of a standing ovation.
The Clemson sophomore (above), 2 down to Texas senior Doug Ghim with two holes to play, drained a 60-foot eagle putt at the par-5 17th (35th hole of the match) and backed it up with a birdie on the 18th, winning both holes and sending the match to overtime. On the first extra hole, Ghim hit a wild drive then struggled in the greenside bunkers on Riviera's 10th, conceding Redman's birdie putt for the win.
"It was a lot of fun to be a part of it," Ghim said. "As disappointed as I am not to win, I still had a lot of fun. I'm definitely gong to look back at this as one of the best accomplishments that I've had and move on."
It wasn't a total lost cause for Ghim; he still earned an invite to the 2018 Masters and U.S. Open, and was named afterwards to the American Walker Cup squad.
Nevertheless, it was Redman who walked away victorious from what Walker Cup captain Spider Miller called, "the greatest match that I've witnessed in my four years of following intently the amateur game."
"It was about never giving up and believing in myself," Redman said afterwards. "You never know what can happen."
An ending, and summation, straight out of a Hollywood script.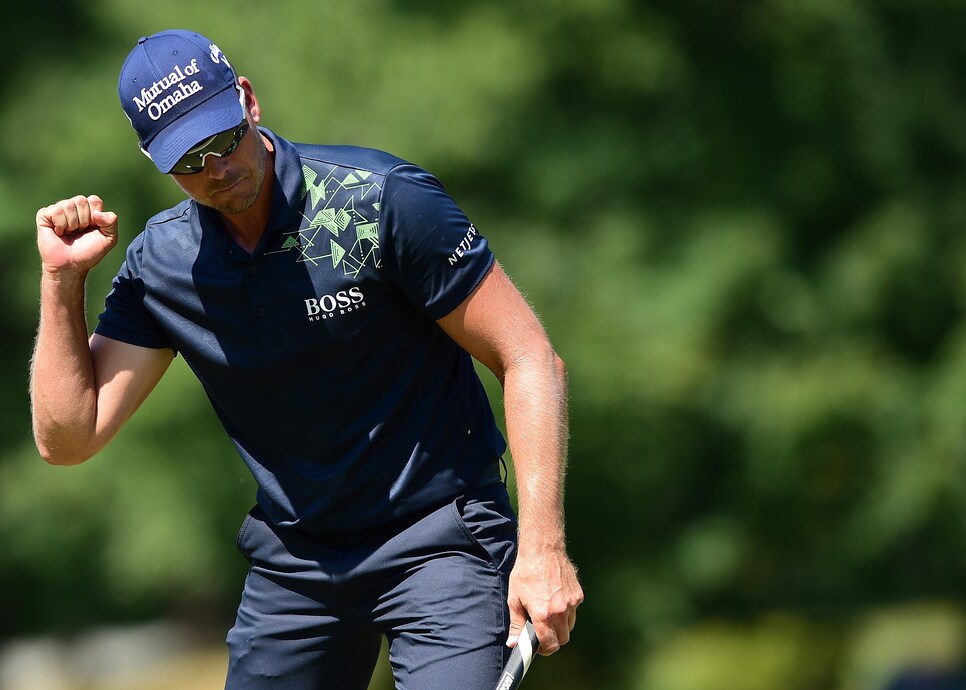 Stenson, sans driver, wins Wyndham
The Wyndham Championship had not been kind to Henrik Stenson: in three previous visits, the Iceman had two missed cuts and a WD. However, the 41-year-old needed another event on his schedule to fulfill the PGA Tour's minimum-start requirement, which is how Stenson found himself at Sedgefield. The Swede made the most of his visit, leaving Greensboro with the one-shot victory over Ollie Schniederjans in the tour's regular-season finale.
"Sometimes it's just a coincidence why you decide to go to a tournament and make a change in your schedule," Stenson said after his round, "and this time it certainly worked out for a lot of good."
Stenson shot a 22-under score thanks to a curious strategy: keeping the driver in the bag. He didn't make a single swing with the big stick, choosing the precision of his 3-wood over distance. The game plan worked; Stenson was eighth in the week in driving accuracy, setting up clean approaches (third in greens in regulation) and plenty of birdie opportunities.
Proving chicks may dig the long ball, but money is made in the iron game.
Pro earns card via hole-in-one
Bubble boy J.J. Henry birdied his final hole to just make the cut into the postseason and, more importantly, secure his tour status for another season. Martin Flores also gained entrance to the Northern Trust, albeit in slightly more spectacular fashion.
Outside the Wyndham top 20 at the start of Sunday, Flores needed a miracle to capture enough FedEx Cup points to move from 139th into the top 125, secure his 2018 card and get into the Playoffs. He got it at the par-3 16th, thanks to this beauty:
The ace, along with a birdie at the 18th, moved Flores inside the cut for the PGA Tour postseason. Now THAT is how you finish strong, sports fans.