News
Doc Redman rallies to win 'an incredible match,' defeats Doug Ghim on 37th hole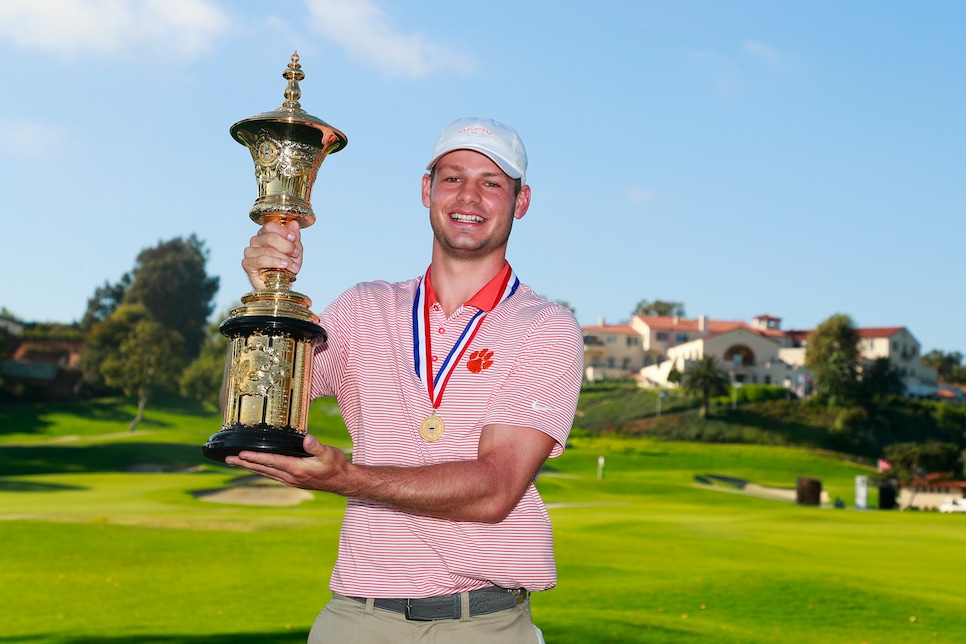 PACIFIC PALISADES, Calif. — Here in the entertainment capital of the world, steps from the renowned Sunset Blvd., on a course with a Hollywood pedigree, two amateurs put on a show worthy of their surroundings.
Doc Redman, a Clemson sophomore, even delivered a dramatic ending befitting the stage, the United States Amateur Championship at Riviera Country Club. He came back from 2 down with two to play, then defeated Texas senior Doug Ghim with a conceded birdie on the 37th hole that followed 36 holes of entertaining punching and counterpunching.
Spider Miller, the captain of the U.S. Walker Cup team, called it "the greatest match that I've witnessed in my four years of following intently the amateur game."
Ghim called it "an incredible match. We didn't give each other anything all afternoon. We worked for everything. It's match play, right? It was do or die for him, and he did it."
Redman's own summation: "We were both playing so well. I played really well on that back nine, and he stuck with me shot for shot, and I stuck with him. It was about never giving up and believing in myself. You never know what can happen."
You never know. The remarkable comeback Redman authored included his holing a downhill 60-foot putt for eagle at the par-5 17th hole, followed with his holing a 10-foot birdie putt at 18, winning both holes and sending the match to overtime.
On the extra hole, the par-4 10th, Ghim drove left and into a terrible lie in the "hay," as he called it. "I had never been in that area all week," he said. "I didn't even know there was hay there."
His following shot put him in more trouble, his ball finding the bunker that fronts the green, leaving an extremely difficult shot to a shallow green sloping away from him. His third shot went into a bunker behind the green.
He wound up conceding Redman's birdie putt, an anticlimactic ending, but given everything that preceded it, it did nothing to detract from the entertainment value of the match.
"It was a lot of fun to be a part of it," Ghim said. "As disappointed as I am not to win, I still had a lot of fun. I'm definitely gong to look back at this as one of the best accomplishments that I've had and move on."
Neither player led by more than two holes. Redman held a 1-up lead following the morning 18, increased it to 2 up by holing a long birdie putt on the second hole of the afternoon 18. Ghim evened the match with a par at the 11th hole, the 29th of the match and went ahead with another par on the 13th hole. He increased the lead to 2 up at the 16th hole.
At the par-5 17th, the 35th hole of the match, Redman faced a 60-foot eagle putt, while Ghim had a six-foot birdie putt.
"All that was going through my head was about making the putt and putting a good stroke on it," he said. "Honestly, I was just going, 'You're going to make this, you're going to make this.' "
Still, the likelihood of his doing so was remote and it seemed inevitable that Ghim was going to prevail, but Redman's putt darted into the hole for an eagle to win the hole.
"I wouldn't be entirely truthful to say that I expected him to make the putt, but I did entertain the possibility," Ghim said. "When it did go in, it was like, 'Wow, OK. That's quite a blow.' I reminded myself that i was still 1 up with one to go."
At the 18th hole, Ghim hit an anemic approach that stopped short of the green, while Redman hit his approach to about 10 feet of the hole. Ghim's pitch shot left him with a short par putt that was for naught when Redman holed his birdie putt.
"I didn't hit a particularly great iron shot coming into 18," Ghim said, "but I thought I did just that with the chip. I chipped it close enough. I felt like I did everything that I could to force him to make incredible shots. He stepped up and did it. And kudos to him. I'm very happy for him."
Redman was similarly gracious toward Ghim. "I would just like to congratulate Doug as well. He played awesome. He's such an awesome competitor and deserves all the praise in the world as well."
They both do, for putting on a memorable and dramatic performance in an area that more than most has an appreciation for great entertainment.