Tour Tales
Davis Love III reveals the sneaky superstition that saved Jordan Spieth—and Team USA—at the Presidents Cup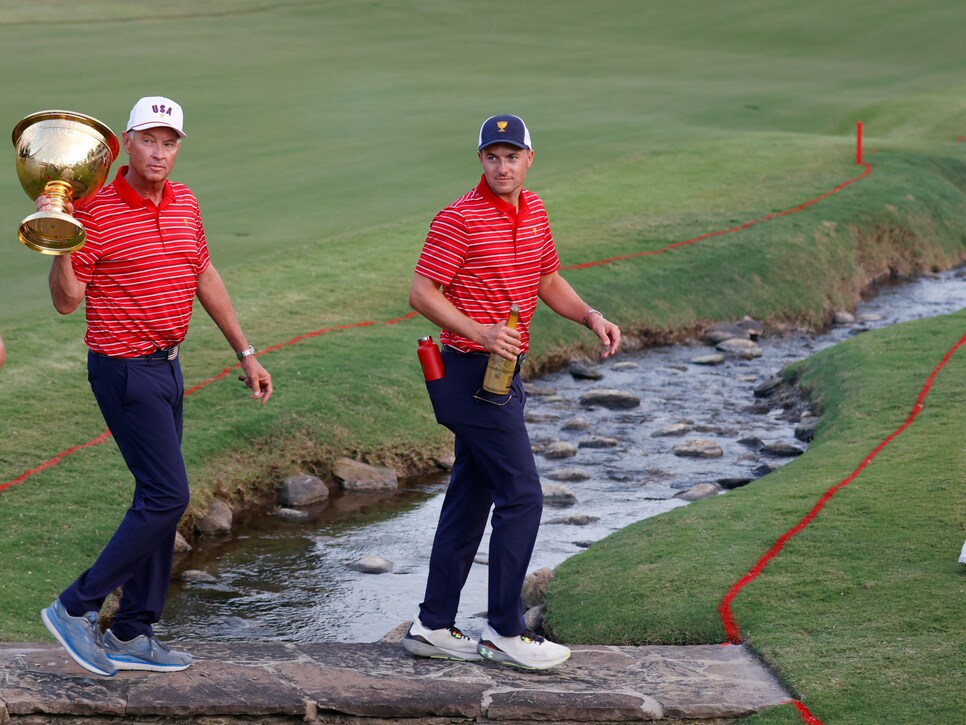 Jordan Spieth and Team USA cruised to a five-point win at the 2022 Presidents Cup, but things got dicier than they looked for Davis Love III's squad that final Sunday. Thanks to a lucky ball marker and an unlucky hat. Sort of. We'll let Captain Love explain.
Appearing on the SiriusXM show of assistant captain Fred Couples last week, Love told a story involving Spieth's singles match against Cam Davis. Despite being a perfect 4-0 entering the final day, the three-time major champ went two down quickly and appeared like he might add to his 0-6-1 winless record in team competitions. Turns out, he needed something small from his locker to turn things around.
"But really what happened is Jordan Spieth left his lucky ball markers in his locker," Love said on The Fred Couples Show. "They figured it out on three. And Fred heard all this on the radio. They call and say Jordan needs his ball markers. Somebody says, 'I'm on my way to the cabin.' My caddy, Jeff Weber, who's helping the caddies goes, 'I've already got them.' And he got 'em to him before he got to the green on four."
Spieth immediately made a birdie on No. 4 to win the hole. Then made another birdie putt on the next hole to square the match and he wound up winning 4 and 3 to cap off an incredible 5-0 week.
"He's two down, and he's never won a (singles) match," Love added. "And then he gets his lucky ball markers from the captains on the radio and he missed maybe one putt the whole rest of the day."
You know what they say: It's gotta be the ball marker. But Love says another superstitious move by him helped save his team as well that Sunday at Quail Hollow.
"I've been wearing a white hat all week, but the team's wearing a blue hat and everybody's wearing the rope hat," Love said. "So I go, 'I can wear the blue rope hat. We're in a good position.''When I left the 6th tee where I was watching everybody go through, I go, 'Oh no, this is not good.' And I get in my cart and there's the white hat and I switched. So basically I changed the whole momentum all by myself."
Phew. That's great captaining right there. Although, if we're being totally honest, that's also on him for allowing his team to wear those dumb-looking rope hats in the first place. And for putting one on himself. Especially as a 58-year-old.
Regardless, as you can tell from Love's tales, these guys are good—but they're also very superstitious.