News
Davis Love III announces he's no longer with CBS Sports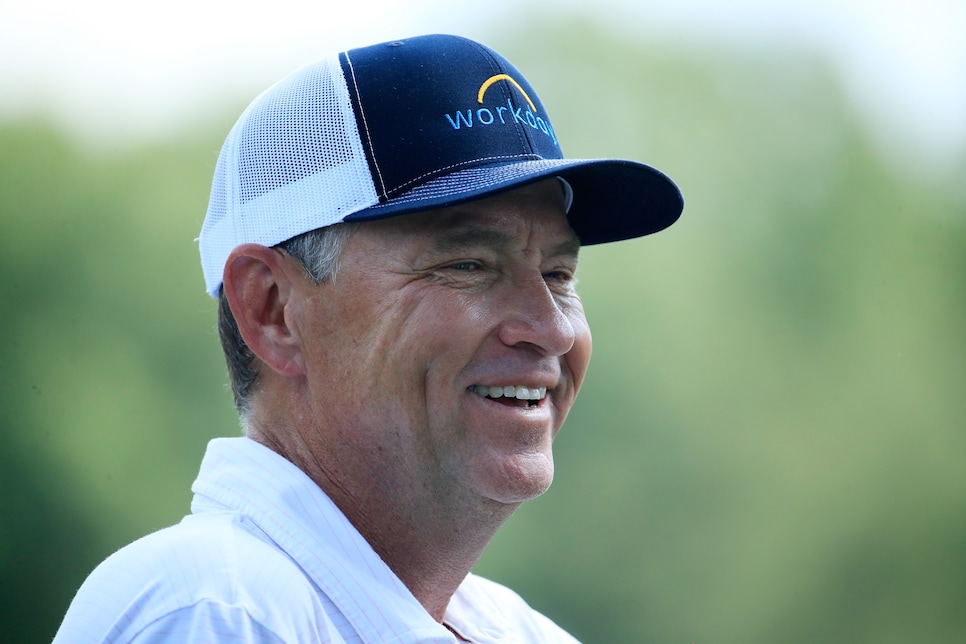 Davis Love III announced on Tuesday evening that he will no longer be working for CBS Sports. In a statement on Twitter, he thanked the network for the opportunity but said that he wanted to return his primary focus to playing.
"Since golf returned in June, CBS has allowed me time to focus on my family, play a few tournaments, and bring some stability back in a difficult year," Love said on Twitter. "I have realized in this time my passion to play is still strong, and my heart yearns to be home."
Speaking with Golf Digest on Tuesday night, Love also admitted that he found out just how difficult the job is. Playing golf on TV is a lot different than talking about golf on TV.
"I always had respect for everyone [at CBS], and now I have even greater respect for them," Love said. "It was a lot more challenging than I expected.
"When [someone in the booth] would say something about one of my shots I'd think boy when you climb up into the tower you become a genius. I'd think, How come no one's any good at it? What I found is that I was right. I found out it's hard to do. I was nervous on TV, surprisingly nervous."
Last October CBS Sports hired Love, one of the more respected personalities in the sport, as an analyst its hopes of revamping its golf telecast. But there were growing pains as Love assimilated to his new position. His attention was also divided, as his Sea Island, Ga., house was consumed by fire in late March.
With the CBS team scattered all over the country, the technical difficulties of broadcasting golf during the COVID-19 pandemic also proved hard to adjust to for Love. He grew increasingly frustrated by the challenges of the job and wary of the criticism and it showed.
During last month's RBC Heritage, which Love also played in, CBS Sports executive producer Lance Barrow, a longtime friend of Love's, suggested to Love that maybe he should go home to take care of things there. He could see that Love's attention was divided to say the least. Love stuck around, trying to work his way through it.
"It's been a rough year for me and my family," Love said. "And playing those few weeks I understood that I was not ready to quit playing. My heart says I need to be home and the golfer in me says I need to be playing golf. I've balanced that my whole life and didn't need to add anything to that."
A 21-time tour winner and 1997 PGA champ, Love twice served as captain of the U.S. Ryder Cup team and was inducted into the World Golf Hall of Fame in 2017. This season, he made eight PGA Tour starts as well as one appearance on the PGA Tour Champions, and he said that he will return to playing full-time at next week's PGA Championship.
As for the possibility of returning to broadcasting sometime in the future?
"In a different year, who knows what would've happened," Love said. "No doors are ever closed for me. I'm a glass half full kind of guy."