The Loop
Darren Clarke praises buddy Tiger Woods, but says he was never great at picking up dinner tabs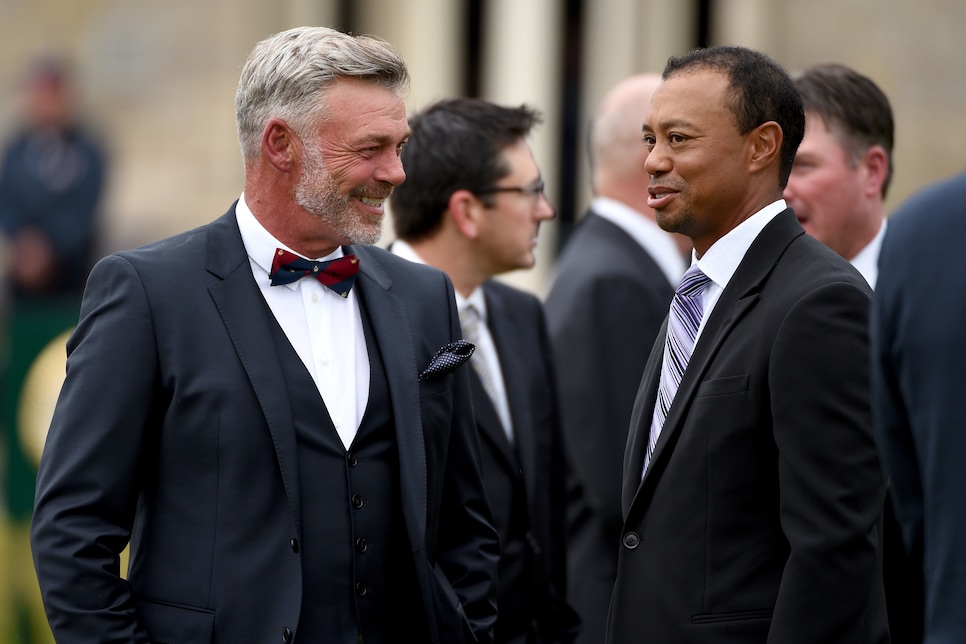 Darren Clarke believes Tiger Woods is the greatest golfer of all time. When it comes to picking up a dinner tab, however, the 14-time major champ doesn't rank nearly has high on Clarke's list.
Clarke appeared on the Dubai Eye Sports Tonight Podcast earlier this week and discussed his longtime opponent and friend at length. But while about 99 percent of the Tiger talk consisted of Clarke gushing about Woods, he couldn't resist taking a little jab at his bud.
"He had a very successful savings account," Clarke said with a chuckle. "He didn't quite pay for too many dinners whenever we were out, I have to say. . . . He couldn't even be coerced into paying for dinners."
"He was as tight with the media as he was with his fellow players?" one of the hosts asked.
"I didn't tell you that, but yes," Clarke responded with another laugh.
Clarke also called Woods a "brilliant guy" and a "good guy" and said he was "fortunate" to be friends with one of sport's biggest and most private figures. He said Woods texted him with words of encouragement and advice the week Clarke won his lone major at the 2011 British Open and that the two still communicate from time to time.
Clarke says the two first got friendly when they were both being coached by Butch Harmon in Vegas and that "we had some great times out there." But as the podcasts hosts excitedly jumped in for more details, Clarke quickly said, "I was going to clarify, off of the golf course."
You can listen to the entire chat with Clakre below (The Tiger stuff starts at about the 23-minute mark):