Alfred Dunhill Links
Danny Willett finds a fantastic way to celebrate his birthday—closing out a win at St. Andrews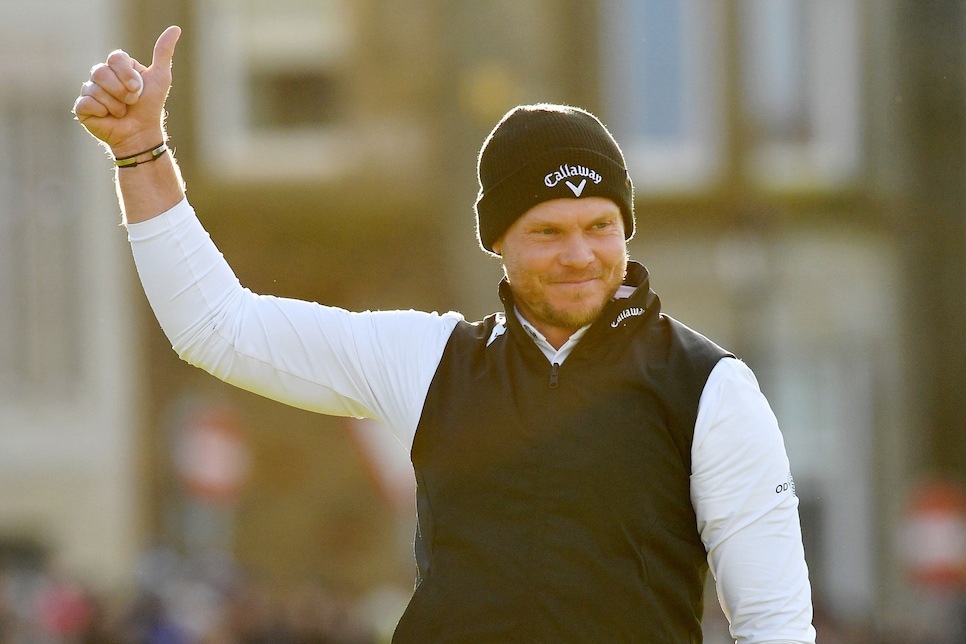 Danny Willett celebrates on the 18th green at the Old Course after closing out the victory at the Alfred Dunhill Links Championship.
Mark Runnacles
ST. ANDREWS, Scotland — Despite what you may have heard elsewhere, timing isn't quite everything. Not in life; not in golf. But it is a good attribute to have in each, as Danny Willett can surely attest
More than seven years separate the former Masters champion's maiden victory on the European Tour (the 2012 BMW International Open) and his seventh (the 2019 BMW PGA Championship). So he doesn't tend to win too often. But when he does, he wins big. Simultaneously, celebrating his 34th birthday, Willett claimed an eighth first-place finish on his home circuit at the $5 million Alfred Dunhill Links Championship.
A final-round of 68 over the Old Course at St. Andrews was enough to see Willett safely through the finishing line at 18 under par. Swede Joakim Lagergren and Tyrrell Hatton, a two-time champion in this event, tied for second, two shots back. Which was one-stroke less than the advantage Willett had carried with him into the closing 18 holes.
Those numbers make more pleasant reading than does Willett's record since that BMW PGA victory at Wentworth 24 months ago. Between now and then, the former Ryder Cup player played 28 times on the European Tour. Only once did he record a top-10 finish; nine times he missed the cut. On the PGA Tour, it was a similar story. Willett's 31 starts since September 2019 saw him home for the weekend 12 times, and on only three occasions did his play result in a top-10 finish. Little wonder then, that he arrived in the Home of Golf the 170th in the World Ranking.
"I'm not sure what to say," said an obviously emotional winner, who earned $782,928. "I've had a great time. I've just come through a couple of years of average stuff. Again. I seem to do that quite a lot, go up and down. But I've been working hard. People don't necessarily see what goes on behind the scenes. So this is a good one for me.
"I felt comfortable all day," Willett added. "It was a good thing that scoring was low. I had 20 under par in my head. I didn't think anyone would reach that. I did hit a few averages shots towards the turn. But I holed a great putt on 10. And I played really well on the back nine, which can be brutal as everyone knows. I didn't do anything silly, although it would have been nice to make a couple more birdies."
In that he is correct. Willett's five-birdie, one-bogey final-round performance, while admirable, should be kept in perspective. Set-up for a pro-am event with relatively easy pin positions—and (hopefully) much softer in October than it will be for the Open Championship next July—the first half of golf's most famous venue was rendered all but defenseless. When Willett reached the turn, only he and playing-partner John Murphy of the leading 10 competitors had made a bogey or worse. And each had done so only once. That's two lapses in 90 holes (into the wind!), alongside 39 birdies and an eagle.
"It was a good week," said Horschel, after signing for a closing 72 that left him six under par for the week. "Playing with my dad, and us both making the cut, was pretty cool. So, it was a memorable and special week, although my focus for the rest of this year is the Race to Dubai. But it would be hard to put it into context with the rest of my career. Definitely in the top-five though."
But that is for the future. For now, Morikawa's edge over his compatriot is 236.2 points with five counting events left. Both men will likely play in only one of those, the season-ending DP World Tour Championship in Dubai. That makes sense; more Race to Dubai points will be available there (12,000) than at the four intervening events in Spain and Portugal combined.
Still, although the season will likely belong to another, for the first time in a while this was Willett's week. Many Happy Returns indeed.