American Export
Billy Horschel chases a new goal he could not have expected to close his year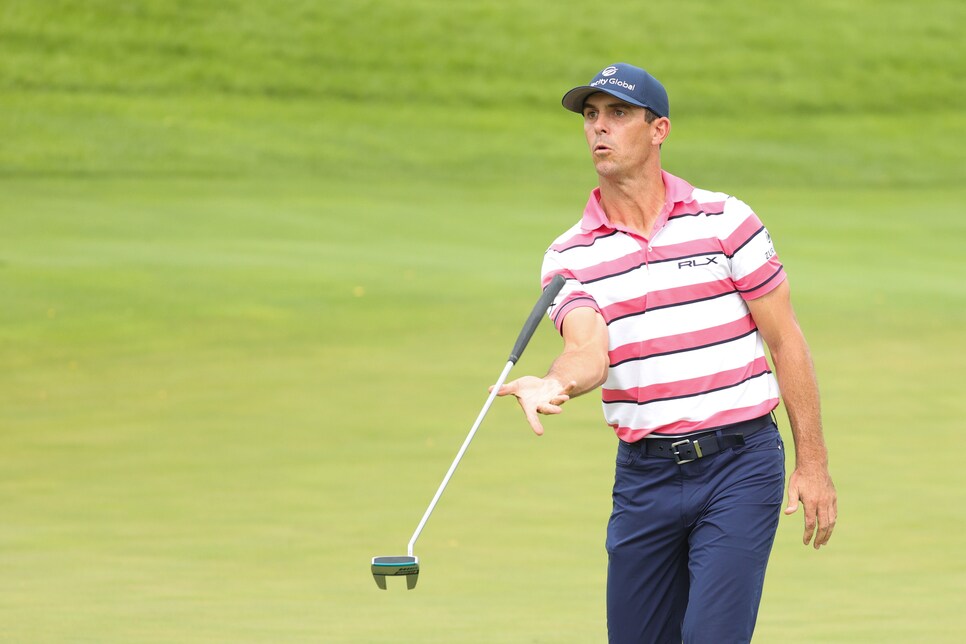 ST. ANDREWS, Scotland — For Billy Horschel, 2021 has so far been a year of goals, real, unimagined and, in the case of a spot on the American Ryder Cup team, unfulfilled. But the 34-year-old Floridian, still relatively fresh off the back of his victory in the BMW PGA Championship at Wentworth earlier this month, still has much to play for before 2022 dawns. One thing in particular appeals to him: Currently second on the European Tour's season-long Race to Dubai points list, Horschel has ambitions to become the first American to break that Old World tape.
First things first though. This week Horschel is in Scotland for the Alfred Dunhill Links Championship, competing at the Old Course, Carnoustie and Kingsbarns. His amateur partner in the AT&T National Pro-Am-like event is his soon-to-be 70-year-old father, Billy Sr., who becomes a septuagenarian on Friday. That is exciting enough, but junior is also focused on that Dubai thing, as well as meeting a renewed challenge from his caddie, Mark Fulcher.
"I'll be honest, at the beginning of the year, the Race to Dubai wasn't one of my goals," said Horschel, who currently trails Open champion Collin Morikawa by 276.9 points. "But after playing well in the WGC events and playing decent in the majors, that changed. I was top five going to Wentworth. I knew if I had a good week there, I would jump up.
"So now there are two goals for the rest of this year. Win the Race to Dubai, which is the big one for me. Before Wentworth, Fooch said he wanted me to be top 20 in the world by the end of the year. I'm 18th now, so he's moved the finishing line. He wants to see if we can get to the top 10 by Dec. 31."
Still, for all his success this year, Horschel is a man harboring regrets. Like just about everyone else with even a passing interest in golf, he watched as the American side demolished their European counterparts at Whistling Straits last week. And he did so with mixed feelings. On one hand, he was delighted to see his friends and compatriots succeed where other U.S. teams had so often failed. On the other, he knew that, had his mid-season form been a bit better, he could have been one of the 12 making history with a record-breaking 19-9 margin of victory.
"All 12 Americans played really great," he said. "And the Europeans were just a little off. Rory [McIlroy] was a little off. Lee [Westwood] was a little off. Several of the guys were a little off. We saw shots that, historically, Europeans haven't been hitting in a foursomes format. I think that's what it comes down to. But it was great to see the Americans win. I didn't want to see another year where we get questioned about why haven't we won and why players don't care. That ticks me off. I haven't been part of a Ryder Cup, but it irks me when I hear that the U.S. players don't care. That couldn't be further from the truth. Everybody who has played for the last two decades, at least those I've come across, cared tremendously about it."
All of which is going to make qualification for the next Ryder Cup no easy task for any of the eligible Americans. Golf is a fickle sport and two years is a long time. Who would have thought, for example, that Rickie Fowler would be absent from the Ryder Cup? So it wouldn't be a huge surprise if a number of those who played at Whistling Straits don't make it to Italy for the re-match in 2023. Which renders talk of an era of American domination more than a little premature, at least in Horschel's mind.
"Everyone is a little wishful on that," he said. "I'm not saying it's not going to happen, but in 2016, we won at Hazeltine and everyone thought we had figured out how to win the Ryder Cup. Then we went over to France and got our butts kicked. One thing to our advantage is we do have a good young group of core players who, more than likely, are going to play a lot more Ryder Cups over the next 10, 15 years. In contrast, the Europeans are in a transition mode with Westwood and [Ian] Poulter probably playing their last Ryder Cups. You've still got Sergio García and I would expect Justin Rose to be on another Ryder Cup team. But they are in their early 40s. So yes, it does look like it could be a thing of dominance for next few years. But things on paper don't always equal winning Ryder Cups. It's sort of a 'wait-and-see what happens' situation."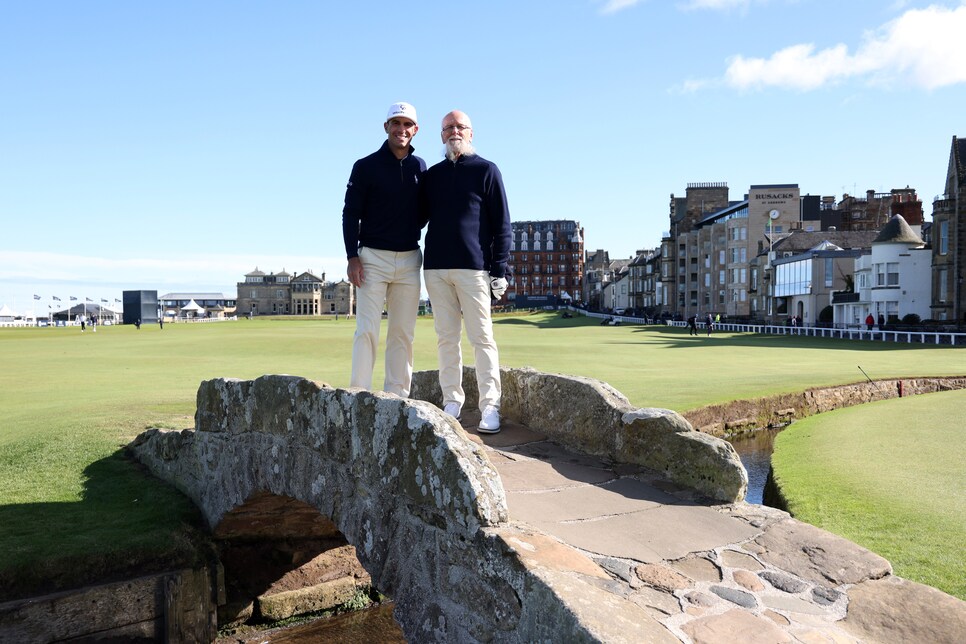 ST ANDREWS, SCOTLAND - SEPTEMBER 29: Horschel and his father, Billy Horschel Sr. pose for a photograph on the 18th hole during a practice round ahead of The Alfred Dunhill Links Championship at The Old Course.
Matthew Lewis
Perhaps heightening Horschel's angst is that he already knows the unique pleasure that comes with winning as part of a national team. In 2007, alongside the likes of Rickie Fowler, Dustin Johnson, Chris Kirk, Colt Knost, Kyle Stanley and Webb Simpson, he was part of the winning U.S. Walker Cup team at Royal County Down in Northern Ireland. He was also involved in a mild controversy when Rory McIlroy, the undoubted star of the Great Britain & Ireland side, took exception to some of Horschel's behavior. The pair played each other twice in singles, each recording a victory
"I went into that Walker Cup as an emotional guy, more of a cheerleader and more rambunctious," Horschel said. "I was the Sergio Garcia of the American team back then. And it showed. Rory and I have joked about it, even recently when we played together at Caves Valley in the BMW Championship. We were young back then and we both did and said some dumb things. But that's what you do when you're 18, 20 years old. He and I also agreed that we wish we each still had that little bit of naïve kind of mindset. Playing professional golf, you get knocked down sometimes, so we both wish we still had the cockiness that makes you feel like you can take on the world and defeat it."
Right now, Horschel doesn't have to achieve that lofty goal. Not quite. But beating everyone on the European Tour would be a nice start down that road. The race is on.