Home Sweet Home
Why Dallas/Fort Worth is the place so many LPGA players are calling home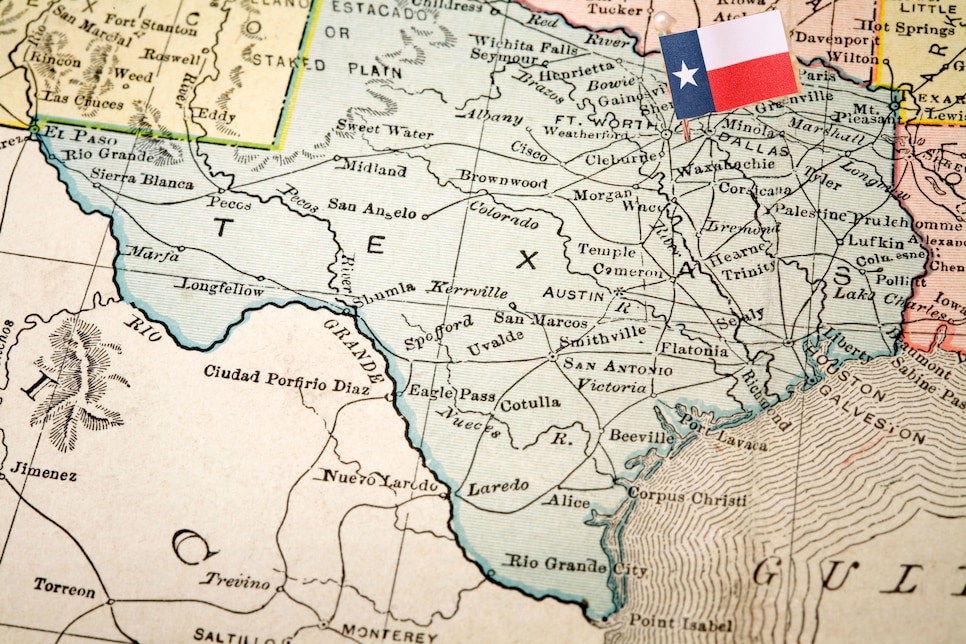 It was late 2020, and Annie Park had been contemplating a change since the early stages of the COVID-19 pandemic. The then Orlando resident was thinking of shaking things up by moving out of Florida. Her top choice was one many of her peers on tour had been raving about: Texas. Specifically, Dallas. And with back-to-back events in the Lone Star State for the first time since 1978, the six-year LPGA veteran, born and raised on Long Island, drove her packed car out for the Volunteers of America Classic in Big D.
Three days after the U.S. Women's Open the following week at Champions Golf Club in Houston, Park knew enough to finish packing her bags. "I feel like my life has gone upwards since living in Dallas," she said.
Park is one of a growing group of LPGA stars who in recent years have made the move to Big D. Entering the 2022 LPGA Tour season, seven of the last 14 majors were won by players who claim a Dallas residence. You can count among them the 2021 LPGA player of the year, Jin Young Ko (2019 ANA Inspiration and Evian Championship), Jeongeun Lee6 (2019 U.S. Women's Open) and A Lim Kim (2020 U.S. Women's Open), who all made their base there last year. Prior to that Sei Young Kim (2020 KPMG Women's PGA Championship), Minjee Lee (2021 Evian Masters) and Mirim Lee (2020 ANA Inspiration) made Dallas their U.S. residence.
Extending out to nearby Fort Worth, it's eight of the last 15 major championships won by LPGA players in the area, adding Texas native Angela Stanford (2018 Evian Championship) to the list.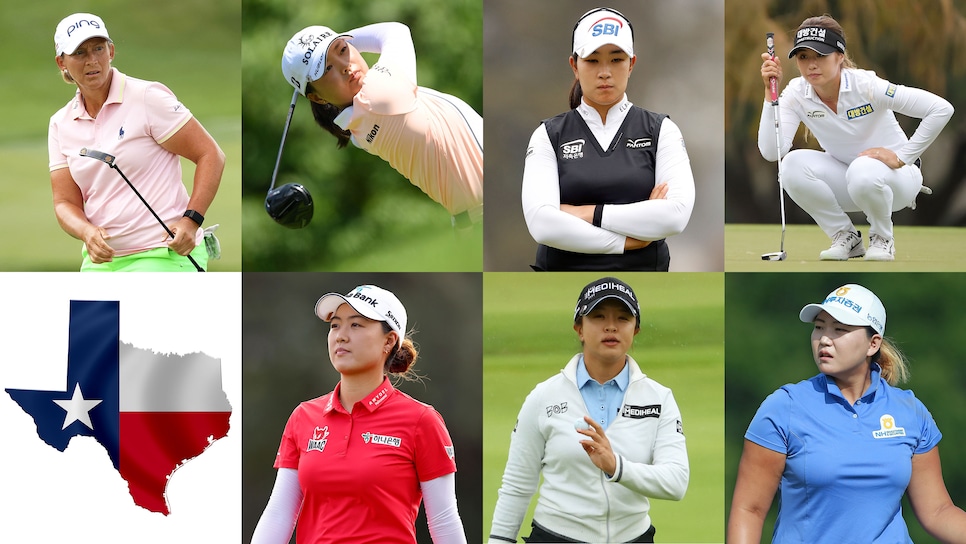 Seven players (clockwise)—Angela Stanford, Jin Young Ko, A Lim Kim, Jeongeun Lee6, Mirim Lee, Sei Young Kim and Minjee Lee—who have won eight of the last 15 LPGA majors call the Dallas area home.
The depth of talent in the metroplex extends beyond the tour's recent major champions. LPGA winners Celine Boutier, Mi Jung Hur, Brittany Lang, Cheyenne Knight, Mi Hyang Lee and In Gee Chun also put down U.S. roots in Dallas. In addition, four-year LPGA veteran Lindsey Weaver lives in the area, and U.S. Solheim Cup rookie Yealimi Noh moved to Dallas last summer.
So what gives? Why has the area become home to a growing community of top women's golfers? To begin with, like Florida, Texas is one of nine states that has no state income tax, making it appealing from a simple financial standpoint.
Another motivating factor can be spelled out in three simple letters: DFW. As in the Dallas-Fort Worth International Airport, the 17,183 acre complex that offers players a unique flexibility that can't be found in other locales.
"DFW airport is in the middle of the USA," Lee6 said in an email. "There are a lot of direct flights to tournament sites. It makes it so convenient."
The longest domestic flights any player has to take to an LPGA tournaments from DFW is around four hours (it's 4:15 to go west to Portland for the Cambia Portland Classic and 3:15 when heading east to New Jersey for the Shoprite LPGA Classic and Cognizant Founders Cup).
Park first thought her friends lied to her when they explained the reduced time it takes to get to places stateside, but the short flights allow her to relax her travel schedule in 2021.
"If I had a tournament on the West Coast and had to fly to the East Coast, I had time to stop in Dallas, do my laundry, pack up and sleep in my bed for a day or two, fly out to the east coast and I'm still not missing anything," Park said.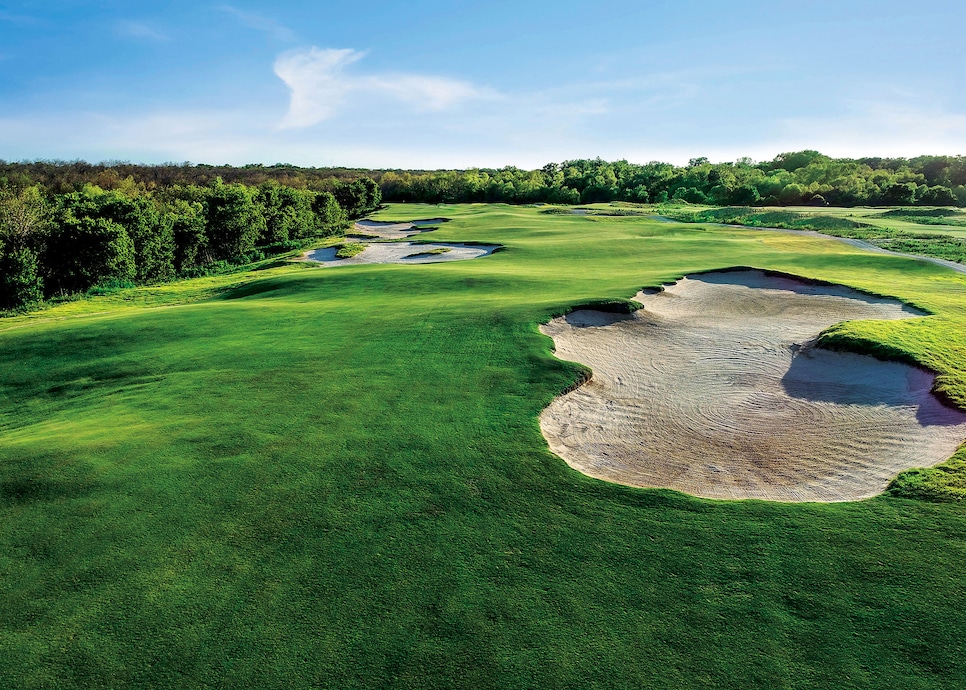 Having several top courses to practice at in the Dallas/Fort Worth area, including Trinity Forest, has been part of the appeal for LPGA players to make the metroplex their home.
Then there's the convenience of direct flights to and from Dallas from around the world, which makes it appealing given the expanding LPGA international schedule. While COVID-19 forced the cancellation of 14 of 23 scheduled overseas events since the tour's coronavirus shutdown in 2020, the tour's original 2021 schedule had 12 tournaments outside of the United States, totaling 35 percent of the season. DFW has direct flights to multiple international tour stops, notably Incheon International Airport, primarily serving South Korea's capital of Seoul. It also makes it easier for players' families to come stateside, as Lee6 hopes her parents can visit her Dallas residence in 2022.
Beyond travel convenience, the ability to play golf in Dallas nearly all year and in various climates provides an additional allure. "The weather here in Dallas changes so drastically," said Richie Hare, general manager of Trinity Forest Golf Club in Dallas, where Park, Boutier, Jordan Spieth and other PGA Tour pros practice. "You can have a 70-degree day and then a 40-degree drop in temperature."
The cold Dallas winter weather can greet players with 20 mph winds, preparing them for their mid-season swing across the Atlantic Ocean.
"Trinity Forest is a links course," Park said. "It helps me prepare to go to Europe. I think that's a huge bonus. Coming from Long Island, I played links-style golf courses, which I miss. It reminds me of my childhood hometown."
The ease of travel from across the world into Dallas springs up numerous diverse communities near the city. Multiple Korean markets let South Korean players create a taste of home despite being thousands of miles away. The different cultures in the area allow players to explore other parts of life together outside of golf with their downtime, addressing one of the more demanding challenges of the relentless tour grind.
"Even when we're not playing," said Su Oh, who lived in Dallas from 2016 to 2018, "we still feel like we're on the road, having each other and doing things that are not golf related. We talk about things that are definitely not golf … and I think that's really important to sort of get away from the constant tour life."
Getting away from the tour life and exploring the area lets bonds blossom off the course. Lee6 and Hur's friendship grew from time on and off the course together in Dallas. The genesis of "Team MI6" that finished T-6 at last year's Dow Great Lakes Bay Invitational team event came from practice rounds together.
"Since last year in Texas, we're starting to book a tee time for the practice rounds together," Hur said after the first round of the LPGA's team event, "We played a bunch of times still until this tournament. Maybe in March, April, I asked her, 'can I play with you at this tournament?' and she just accepted right away."
Two weeks before they played together in the team event, Lee6 invited Hur and her family to her place in Dallas during the July 4 holiday after the Volunteers of America Classic. The Korean markets allow her to enjoy one of her favorite hobbies, cooking dishes from home. She prepared an impressive spread and, in turn, one of her happier memories of her time in Dallas.
"The reason why I would like to say it was memorable is because the time I spend with MJ Hur is always happy," Lee6 said.
Oh cooked and shopped with Mi Hyang Lee and So Yeon Ryu when back in Texas on off weeks. The three of them worked with Cameron McCormick at Shady Oaks Golf Club and played golf together. Oh and Ryu first met at the Evian Championship in 2015, but their friendship bloomed when they realized their apartments were a mere two-minute walk from each other.
When their schedules lined up, the trio ventured to the Northwood Shopping Mall near downtown, shopping at Lululemon and other stores. They'd cook dinner together afterward, making Oh's mother's Shabu-shabu, a Japanese hotpot dish, and other Korean food. The simplest memories were the happiest for Ryu, who recently moved out of Dallas after living there for five years.
"I think just having an ordinary life with them is the most memorable of memories for me," Ryu said. "Because they were like my family in Dallas. Family does ordinary things together, right?"