The Loop
Dallas and Philly pull off the impossible again and the rest of the worst bad beats of the weekend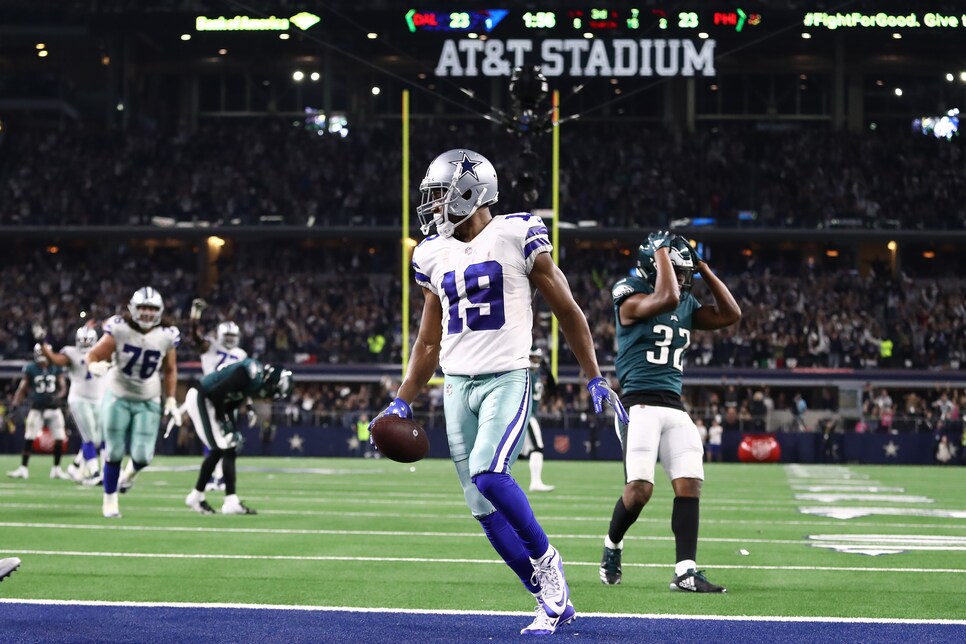 Just because there wasn't a full slate of college football this past Saturday doesn't mean the gambling gods wouldn't still strike down on you with the fire of a thousand suns. The NFL made sure to double down on the pain on Sunday, and if you didn't bet the under in the Army-Navy game, first of all, bad job by you, secondly, that should have been a sign of things to come. Let's see just how bad it was for some of you, shall we?
Jacksonville Jaguars @ Tennessee Titans Under 37
Normally, we limit the bad beats to Saturday and Sunday, because under no circumstances should you be betting Thursday Night Football. But with no games Saturday, some probably rolled with the TNF under, an absolute LOCK with Cody Kessler at QB for Jacksonville and the Titans bottom-six of the league offense in terms of points per game. Even with Derrick Henry channeling his inner Barry Sanders, it was still only 16-2 at halftime. Double that score and you still hit the under. In the clear!
But Henry wasn't done, adding two more TDs to produce by far the most embarrassing score of the season as the Titans lead 30-2 (seriously, it would look better if it was 30-0). Jacksonville got down the the seven-yard line on its next drive, but faced a 4th & goal. That's when this happened:
Does that look like a TD to you? Nope! Did they call it a TD? Yep! A little foreshadowing for some of the officiating that was to come in all levels of football this weekend.
Final score: 30-9, Tennessee
The under was the OBVIOUS play here, but if you went rogue and took the Black Knights laying the wood (despite them not being favored since 2001!) you got daggered into another dimension with this one. Navy did not move the ball forward for three entire quarters (this is only a slight exaggeration) and trailed 10-0. And when they finally did move the ball, they fumbled it in the red zone. On Army's ensuing drive, quarterback Kelvin Hopkins Jr. hit Kell Walker in the flat on 3rd & 6, with nothing but green grass in front of him and a chance to ice the game. Then ... BOOM:
GUTS! GRIT! FOOTBALL! Navy lives! After an Army punt, the Midshipmen went down and scored a TD, making it 10-7 with 7:10 remaining. The way this game was going, Army bettors were dead. But on what was supposed to be Navy's final drive, they went for it on 4th & 12 (!) from their OWN 32 yard line, and quarterback Zach Abey fumbled the ball, setting up Army with prime field position. The Black Knights took advantage, scoring with 1:28 remaining to go up 17-7. Where's the CLASS from West Point?! Incredible cover .... or was it ?!

A 45-yard, garbage-time field goal earned Navy bettors the miraculous cover they needed, capping off one of the strangest fourth quarters in recent memory.
Carolina Panthers @ Cleveland Browns Over 47
17-17 at halftime. Baker Mayfield was cooking, Christian McCaffrey was cooking, and all was well for over bettors. Then, everything came to a standstill:

Early in the fourth, the Browns finally got back on the board with a Nick Chubb TD, taking a 23-20 lead before the extra point, which the Browns made. However, there was a pre-snap penalty, which many believed Greg Williams accepted and "took the point off the board," when in reality, it was a dead-ball, neutral zone infraction, meaning Williams had the option to kick from the 10-yard line, go for two from the one-yard line or kick again from the 15-yard line and put the penalty on the kickoff. He did not have the option of declining the penalty and keeping the extra point on the board, which many thought was the case, which yes, would have been VERY Browns. Williams elected to kick from the 10 and, naturally, the Browns missed it. This came into play for the over because Cleveland kicked a late insurance field goal, making it 26-20. The extra point would have at the very least gotten you the push. So yeah, that hurt.
But what hurt the most was Carolina getting all the way down to Cleveland's three-yard line, that close to an over-clinching TD. With three chances to punch one in from the three, Cam Newton and the Panthers proceeded to run the ball for no gain, then throw two incomplete passes, including the final one on 4th & goal that Newton sailed about five feet over his receiver's head.
Final score: 26-20, Cleveland
Baltimore Ravens @ Kansas City Chiefs Under 49
Up 24-17 with 1:28 to go, the Ravens forced the Chiefs into a do-or-die, 4th & 9 situation from their own 40. One stop and its curtains, and, more importantly, the under hits with ease. Aaaaaaaand nope:
Even after this miracle, Baltimore still had their opportunity to close it out, forcing them into 4th down again, this time at the five-yard line. 0-for-2:
Under bettors needed a tie to pull off the miracle, but Harrison Butker's 35-yard field goal sealed their fate.
Final score: 27-24, Kansas City
Philadelphia Eagles @ Dallas Cowboys Under 45.5
It was 9-6 at the start of the fourth quarter. NINE TO SIX!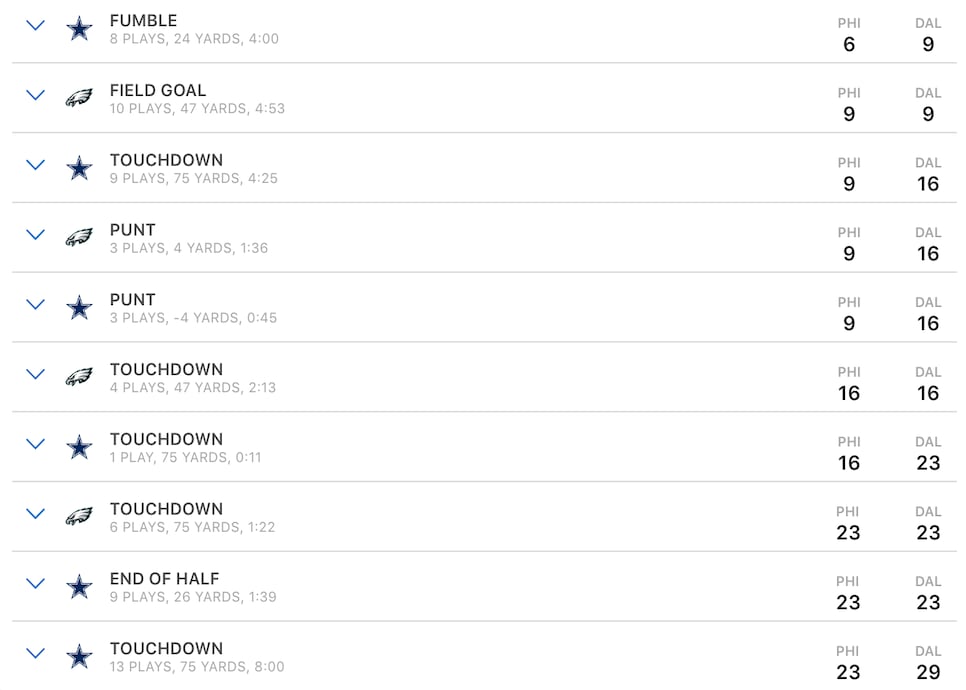 If anyone recalls the first Dallas-Philly meeting, this was an eerily similar fourth-quarter explosion of points, but this was 10 times as bad considering the final 21 points all came in the last five minutes of the fourth.
Final score: 29-23, Dallas
New England Patriots (teased to -2 by my coworker who shall not be named) @ Miami Dolphins
For those who don't know what a "teaser" is in gambling, that's good, you don't want to know. Because when you first learn what it is, your first thought will be "wow, those are easy to win!" And then you start trying them and lose every single one... literally. Basically, you choose two or three games (or more) and you can manipulate the line a certain amount of points. Say the Patriots are a -9 favorite vs. the Dolphins, and the Chiefs are -6.5 against the Ravens, and the Colts are +4 against the Texans. On a "seven-point teaser" you can move each of those lines seven full points, making the Patriots -2, the Chiefs +1.5 and the Colts +11. Have you ever seen a bigger lock in your life?
The catch? All three games have to hit for the bet to win, just like a parlay. But this is a LOCK, so you don't have to worry. Chiefs getting 1.5 at home? Done. Colts getting 11?! They won outright! Done!! Pats -2 against Miami? 33-28 with seven seconds to go. 3-for-3. Teasers are the BEST! I'm going to be rich!
This is why you don't gamble. And if you ever do, NEVER, EVER do teasers. Apologies to St... I mean, my coworker that shall not be named.