Curtis Cup
There's no match for Stanford duo's play and chemistry on Day 1 of Curtis Cup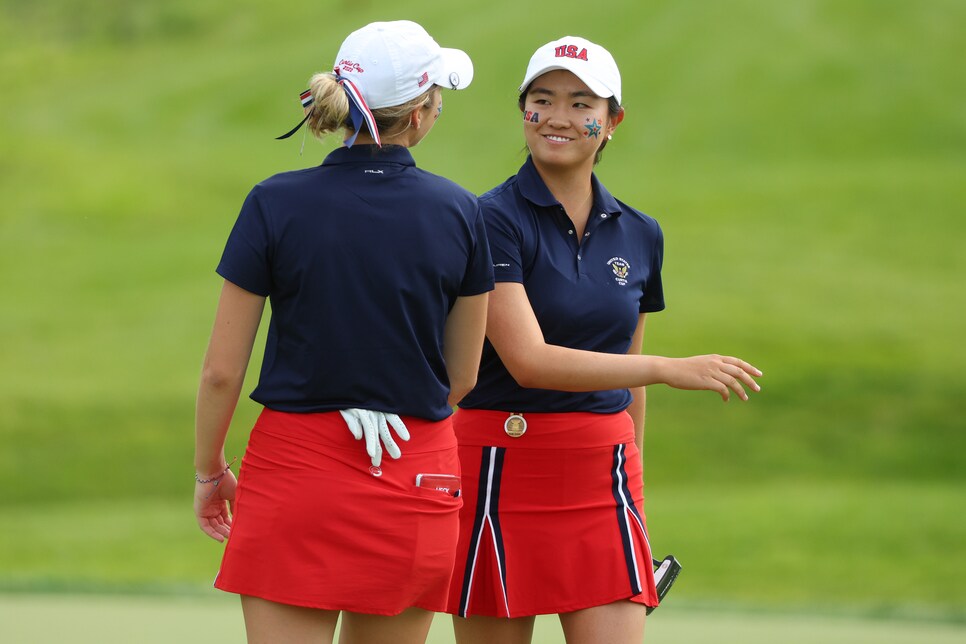 Rachel Heck (left) and Rose Zhang of Team USA celebrate on the ninth green during the afternoon foursomes of the Curtis Cup.
Andrew Redington/R&A
ARDMORE, Pa. — Unsurprisingly, Team USA dominated at Merion Golf Club for Day 1 at the 2022 Curtis Cup, moving to a 5-1 lead. A stellar display of trust and chemistry by Stanford teammates Rachel Heck and Rose Zhang capped off the competition—but things didn't look so seamless at the start.
Playing in the afternoon's anchor foursomes match, Zhang, the No. 1-ranked women's amateur in the world and recent winner of the NCAA individual title, and No. 4 Heck were up against Great Britain & Ireland's Charlotte Heath and Amelia Williamson, another pair of college teammates. At its essence, it was a battle between the top players from the No. 1-ranked (Stanford) and No. 7 (Florida State) college programs in the country.
"Head-to-head with the No. 1 program in the country? This will be fun," said FSU head coach Amy Bond, waiting to watch her athletes on the first tee.
It was a dream start for the visitors, with Heath and Williamson going 2 up through three holes on the two former NCAA individual champions. But Zhang and Heck were unfazed. The Cardinal student-athletes used their comfort as partners to their advantage, just as they did at Conwy Golf Club in Wales at the 2021 Curtis Cup, where they defeated Louise Duncan and Hannah Darling, 3 and 2, in Friday foursomes.
This time, the Americans rallied to win seven of the last 12 holes to beat the GB&I duo 4 and 2.
According to Zhang, the two didn't even need to exchange words of encouragement after the disappointing start. It was unspoken. Zhang and Heck kept smiling, laughing, and even singing as they walked down the fairways, knowing all too well that they could turn things around.
"Rose is just so steady, she's so solid," Heck said. "Her mental game is amazing. If I get frustrated about a shot she's just like 'Whatever! We're good! It doesn't matter!'"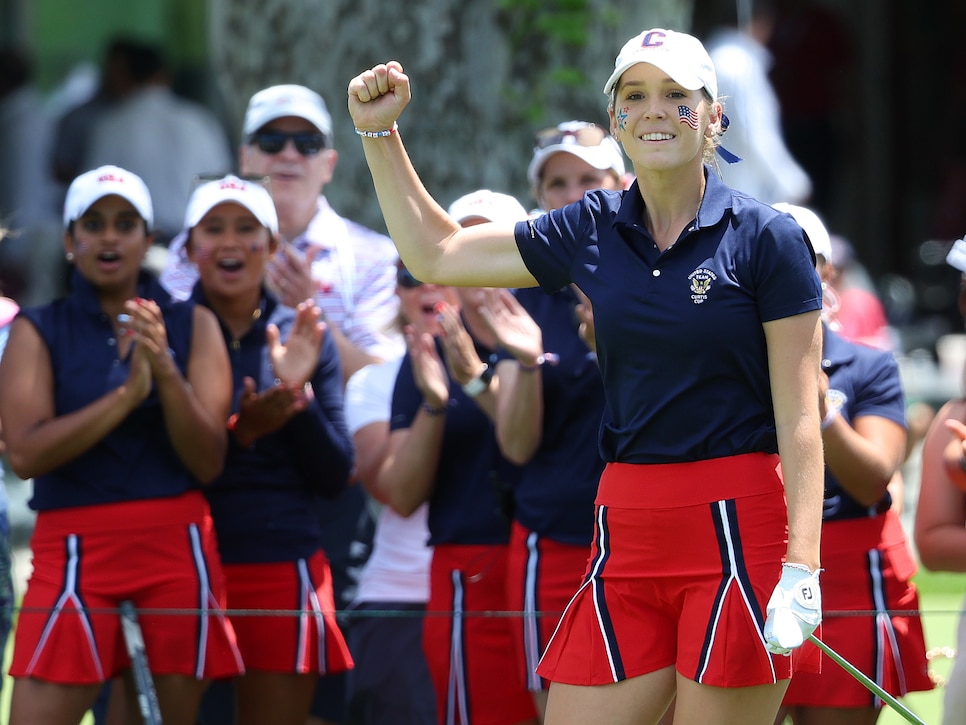 Rachel Heck of Team USA celebrates morning fourball victory in front of her teammates at the Curtis Cup.
Andrew Redington/R&A
In an alternate-shot format, it's important to be able to shake off the bad shots, together. But, arguably, what was more important for the all-star duo is what came before the result, good or bad: mutual trust.
"I feel like it's the trust that we have within each other that allowed us to continue and keep that lead," Zhang said. "We've played with each other so much that we know each other so well."
Zhang and Heck, who captured her NCAA title as a freshman in 2021, practically echoed each other when asked about their relationship as players, and they weren't even present for each other's interviews. "Playing together is so fun because I know her game so well. I have so much trust in her game," said Heck. "I know no matter where I put her, she's going to hit a great shot. It really makes for a super fun team dynamic, having full confidence in her."
Zhang and Heck both struggled intermittently on Day 1, with Zhang battling errant shots in the morning wave. One-handed finishes are uncharacteristic for the World No. 1, but there were several in her early match alongside Emilia Miggliccio, in their 2-and-1 loss to GB&I's Duncan and Heath. "I just didn't really know where the ball was going," said Zhang.
Clearly, she figured it out in the afternoon.
Both women will get a rest in the morning because neither is scheduled for the Day 2 fourball. In going 2-0 on the opening day, Heck was joined in that mark by Rachel Kuehn and Amari Avery. The only match that went to the 18th hole on Day 1 was Heck and Kuehn winning 1 up over Darling and Annabell Fuller.