The Loop
Conor McGregor Jr. already has his old man's walk down like a boss
In case you've been distracted by the Ryder Cup, a new NHL season, and your fantasy team imploding a couple of weeks earlier than usual, UFC 229 goes down this weekend. This is noteworthy for one reason and one reason only: UFC 229 will be Conor McGregor's first time back in the ring since his Floyd Mayweather Jr. bout last August (and first time in the octagon since the August before that). To make things even juicier, he'll be taking on 26-0 Khabib Nurmagomedov, who he threw a dollie through a bus window at this spring. In other words, things could get very, very nuts.
But before the blood starts to boil, let's take a look at the lighter side of homicide-adjacent combat sports and watch 1-year-old Conor McGregor Jr. flash some of his pop's unmistakeable swag at an open workout on Wednesday night. Take it away, kid:
Oh yeah, that's a chip off the old block for sure. He's even got da's (that's how they spell it on the emerald isle, folks) signature strut down pat: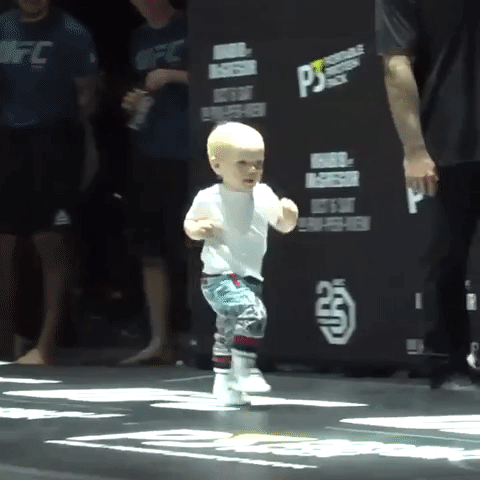 Is it too early to be stuntin' on fools like this? Will his ego be dangerously out of control by the time he hits 13? Judging by his old man, probably, but hey, any excuse to post some Mini-Me gifs is cool with us...