News
Colt Knost, Brad Faxon come up just short against a recently turned pro at the Major Series of Putting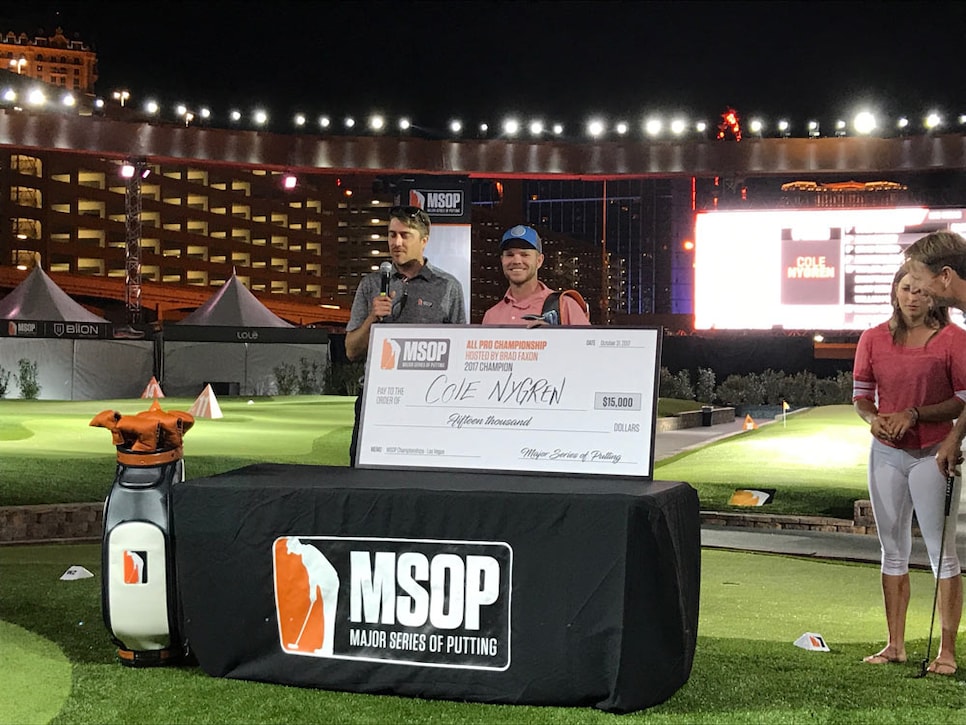 LAS VEGAS — Cole Nygren came to Sin City to compete against PGA Tour pros on the golf course. He wound up beating them all on a lighted putting green.
A day after coming up one stroke short in a Monday qualifier for the Shriners Hospitals for Children Open, Nygren won the All Pro Championship at the inaugural Major Series of Putting. And he did it in style by knocking off Colt Knost in the final.
"I don't know if it would be as good because I've never played in the Shriners, but this was pretty awesome," said Nygren, 22, who just found out on Monday about the putting event that included a handful of current and former PGA Tour pros. "You gotta love Vegas. I grew up on a farm in Colorado, so this is not what I'm used to."
The setting and format of the event weren't what Knost is used to, either, but he showed his putting prowess throughout the two-day tournament. The 2007 U.S. Amateur champ who will tee it up down the road at TPC Summerline starting on Thursday beat Brad Faxon in the semifinals before falling to Nygren, 3 and 2.
"It's a lot of putting. A lot of rounds. But it was really cool, it was fun," said Knost, who ranked in the top 30 in strokes gained/putting in each of his last two full seasons on the PGA Tour. "You're adrenaline's going a little. You want to win, obviously."
But it was Nygren's night. The Cal Poly product made his opening putt of the final on the 18-hole Nicklaus Design and never trailed in his match against Knost. And the $15,000 winner's check was a jackpot for the 22-year-old who just turned pro in September.
"It's pretty fun to come out and putt against guys like Colt Knost and Brad Faxon," Nygren said. "When you're playing against guys of that caliber, there's not too much pressure because you're not expecting to win."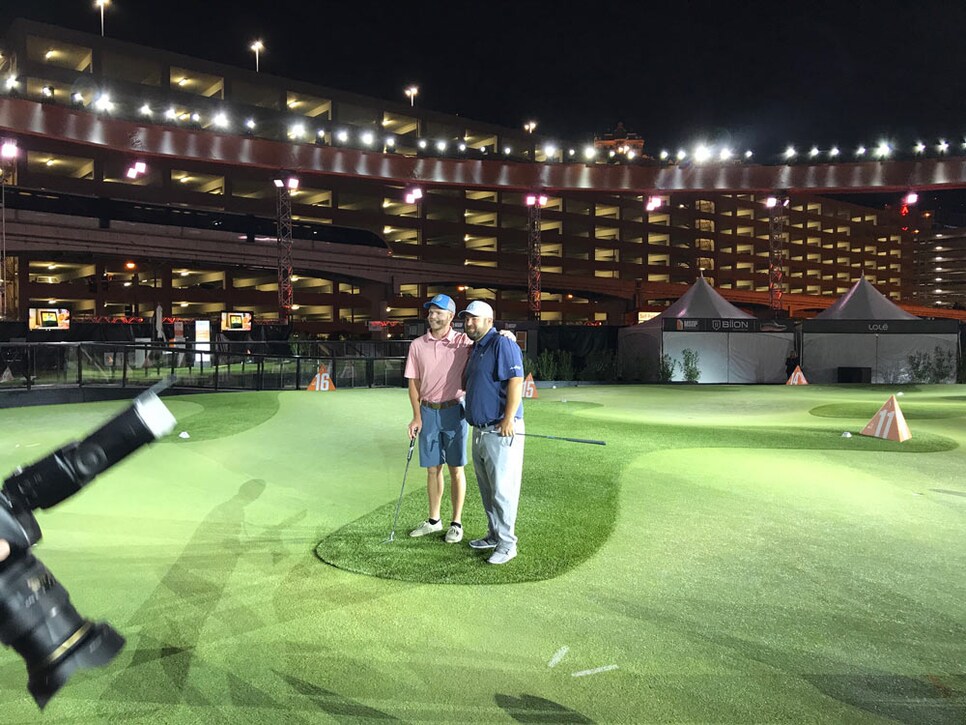 That wasn't how all of the competitors in the event with a $1,000 buy-in felt, though. Brian Johnson, a pro putt-putt and minigolf player from Fort Wayne, Ind., saw it as a huge—and unique—opportunity.
"I've always told people the better guys from minigolf and putt-putt could hang with the PGA Tour guys in putting contest, so here was my chance to prove it," said Johnson, who finished fourth in the World Adventure Golf Masters earlier this year. "So I found myself really nervous."
Matt Male, who won the 2015 Minigolf Masters, also felt more pressure than in a typical event because of the field. But he left happy even though he came up just short of advancing to Tuesday's match play.
"I'm OK with losing the money," said Male, who watched with fellow Columbus, Ohio, native John Cook, as the two both barely missed the cut. "This experience has been totally worth it."
Of the minigolf contingent, only one, Rainey Statum, made it into the match play. And he did it with ease using his pop stroke and an old-school blade putter to fire a pair of seven-under-par 29s that had everyone talking, including an all-time great putter like Faxon. Statum won the qualifying by four shots, but got knocked out by Tyler Artman in his first match. Still, the MSOP has been an incredible—and profitable—experience for the 55-year-old who had to be rescued from his Houston home during Hurricane Harvey just a couple months ago.
"I'm just a guy who lays tile and plays putt-putt," said Statum, who made sure to get a photo with Faxon. "This is the coolest."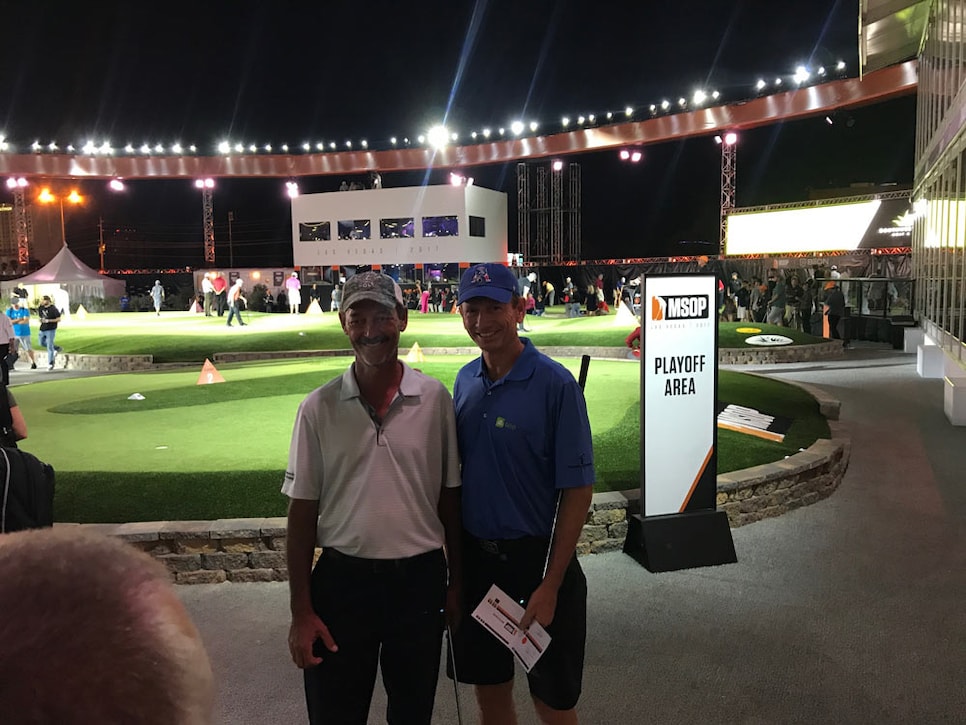 That David vs. Goliath feel is exactly what MSOP organizers hoped for when putting together this event. However, the bigger names felt the heat playing under the lights as well.
"I was really nervous on my first few putts. I didn't really know what I was getting into," said Faxon, who won his consolation match against Redford Bobbitt to finish third place. "[Tour pros] may have more pressure because everyone is out to get us. Everybody's on equal ground when it comes to putting."