The Loop
Bright lights, big checks & crazy putting strokes: Scenes from the inaugural Major Series of Putting in Las Vegas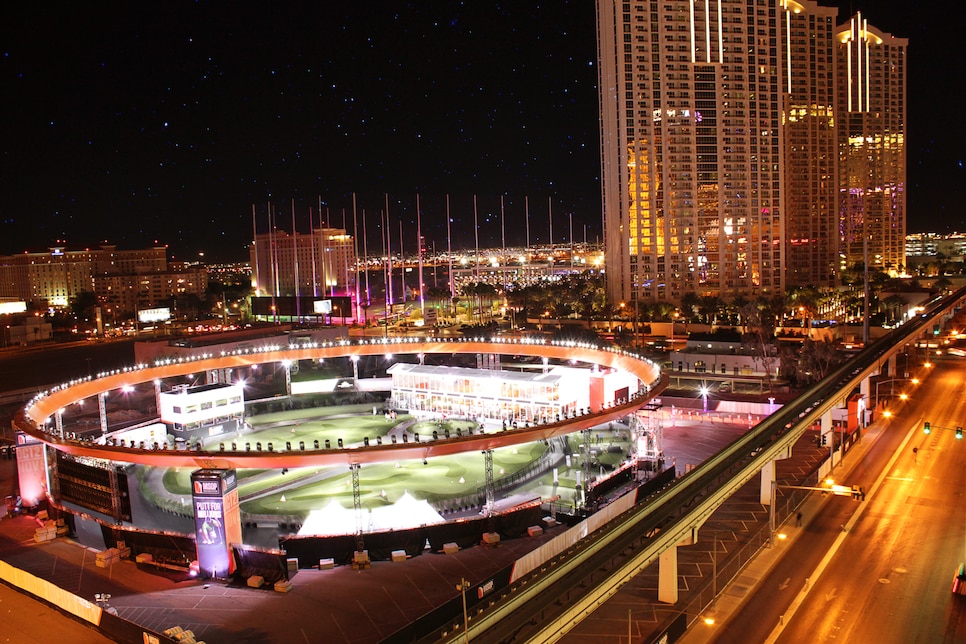 LAS VEGAS — For 10 days this fall, some of the best putters -- and certainly, the most avid -- descended on Sin City for the inaugural Major Series of Putting. Hailing from all around the country and beyond, they played for big checks under bright lights while showcasing a wide variety of strokes on the green. Here's some of what I saw in my three days covering the event.
Construction for the MSOP Stadium began in August. It was built in a parking lot just off the Vegas strip, behind Planet Hollywood Resort & Casino. The plan was for this to be a temporary structure, but tournament organizers are hoping it becomes a permanent destination, much like Topgolf Las Vegas, which sits about a pitching wedge away (that's Topgolf's net in the background).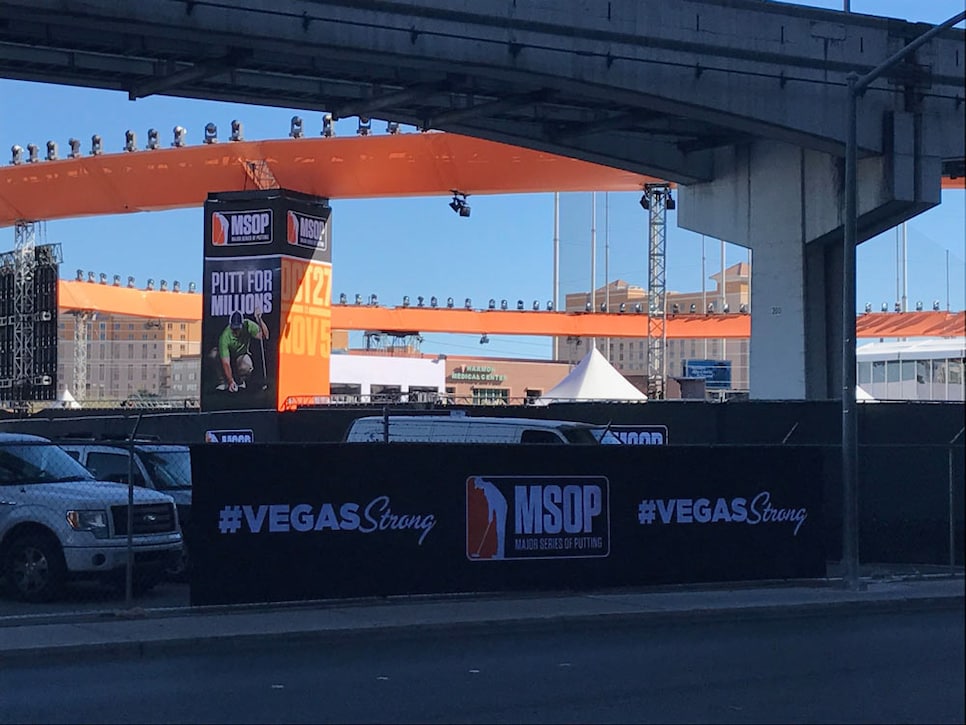 Inside is an 18-hole putting course made by Southwest Greens in conjunction with Nicklaus Design. All the holes are par 2s, but they range from six to 55 feet in distance, and each has two sets of tees, which offer distinctly different challenges.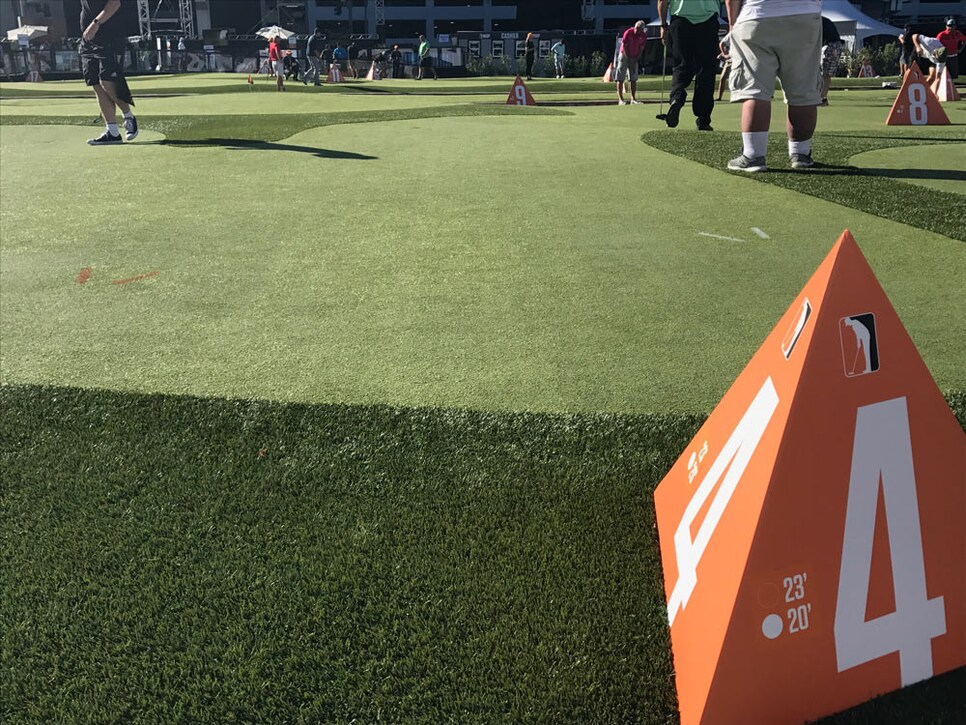 There's also a special four-hole area for playoffs.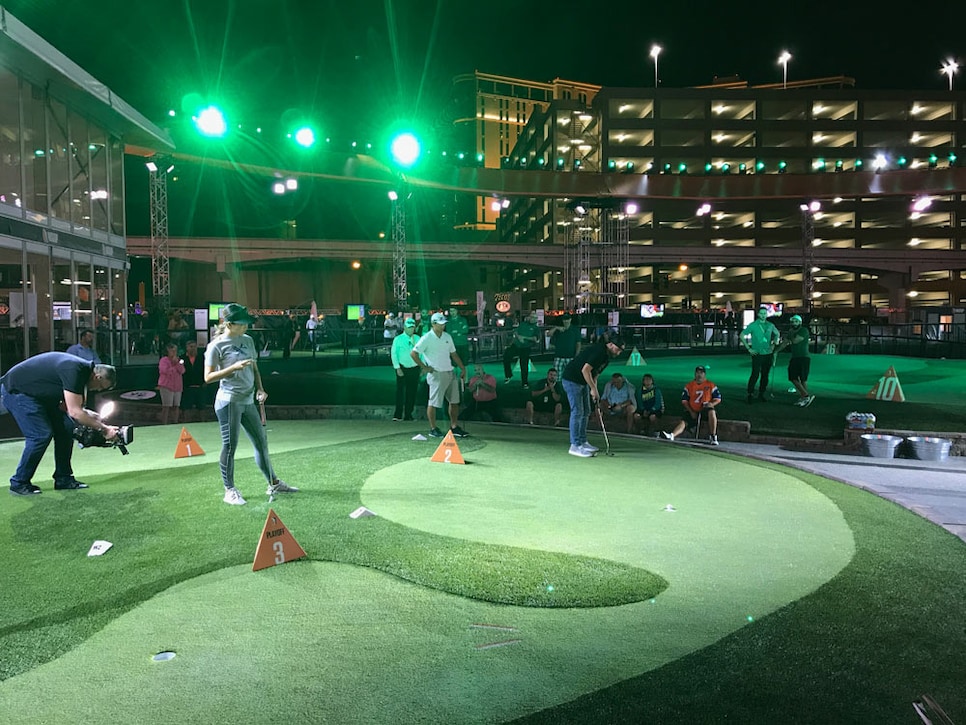 The course is fun, yet difficult. I shot a four-over 40 in my one full round and I had plenty of help from Major Series of Putting president Guillaume Beland in reading the slick greens that run at about a 12 at night (yes, they get faster under the lights). Speaking of which, the course looks even cooler at night.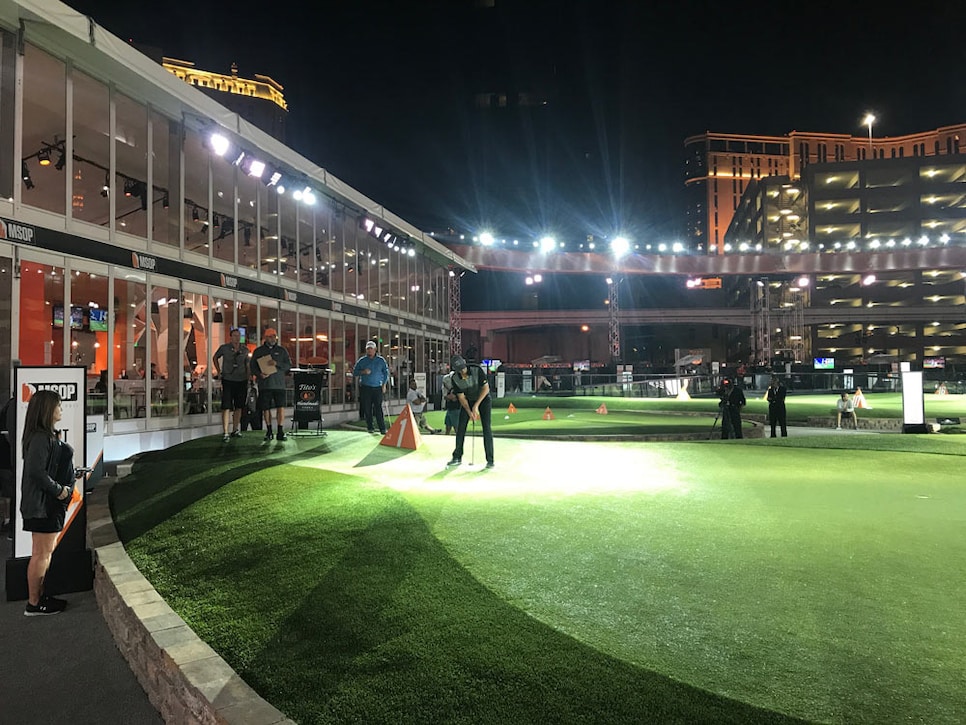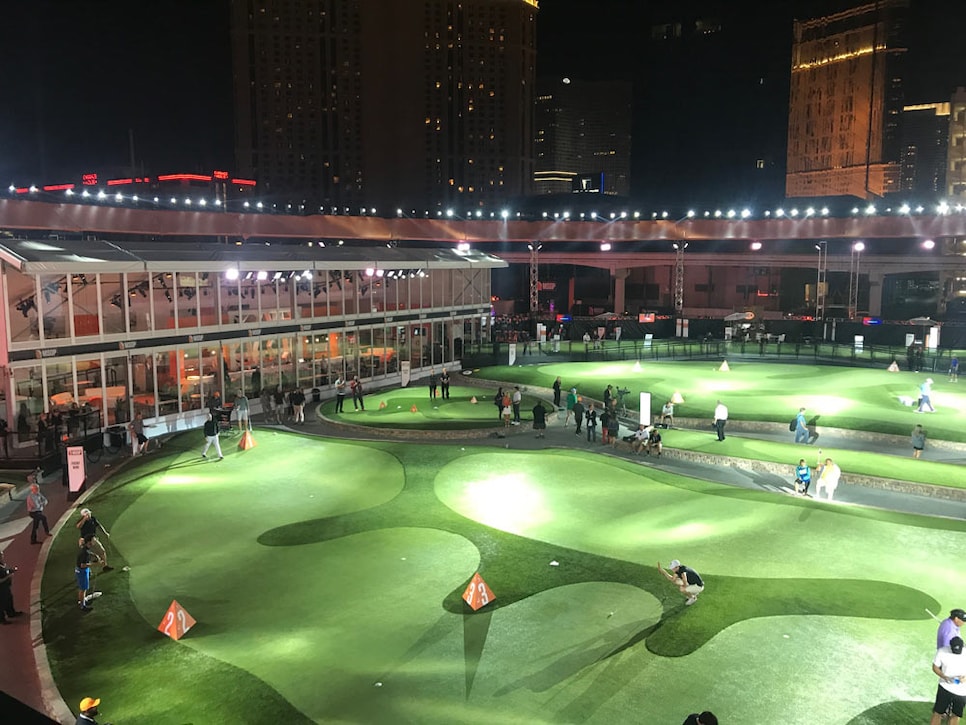 Anyone can play the course during non-competition times if they pay a green fee. And there's also an area for other putting contests as well as a restaurant and a bar. But that doesn't mean you'll see tournament participants boozing. They take this series of events extremely seriously, and why not? Some have traveled from as far as Sweden to be here, and those who didn't earn spots into the various competitions through local qualifiers throughout the year plunked down some serious cash (buy-ins range from $250 to $11,000) to play. Here's one guy taking notes during a practice round.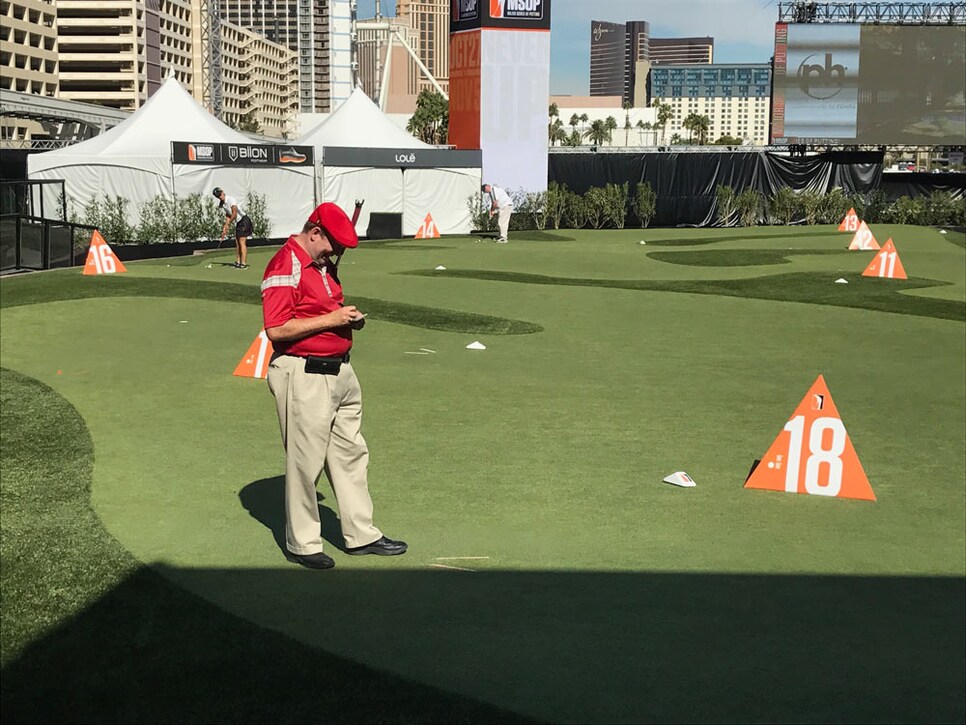 And here's another guy who isn't even trying to hide the fact he's a putting ringer.
And yes, there are MSOP WAGs.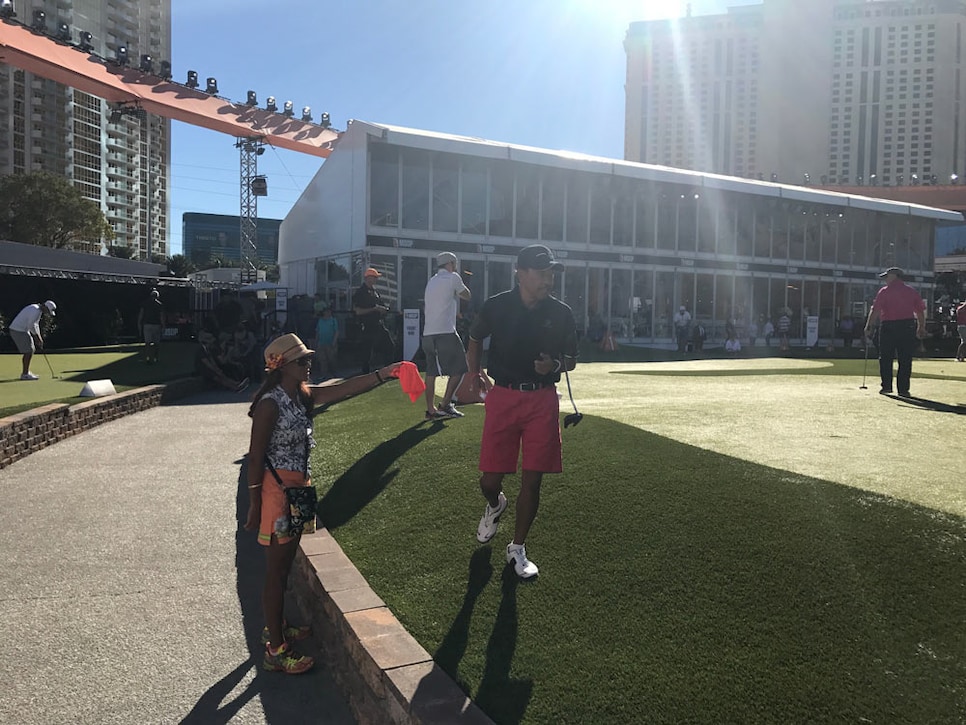 Hey, it gets hot out there on the turf during the day. But one of the coolest constants throughout the entire event is the giant leader board that has instant scores and stats that rival that of PGA Tour events.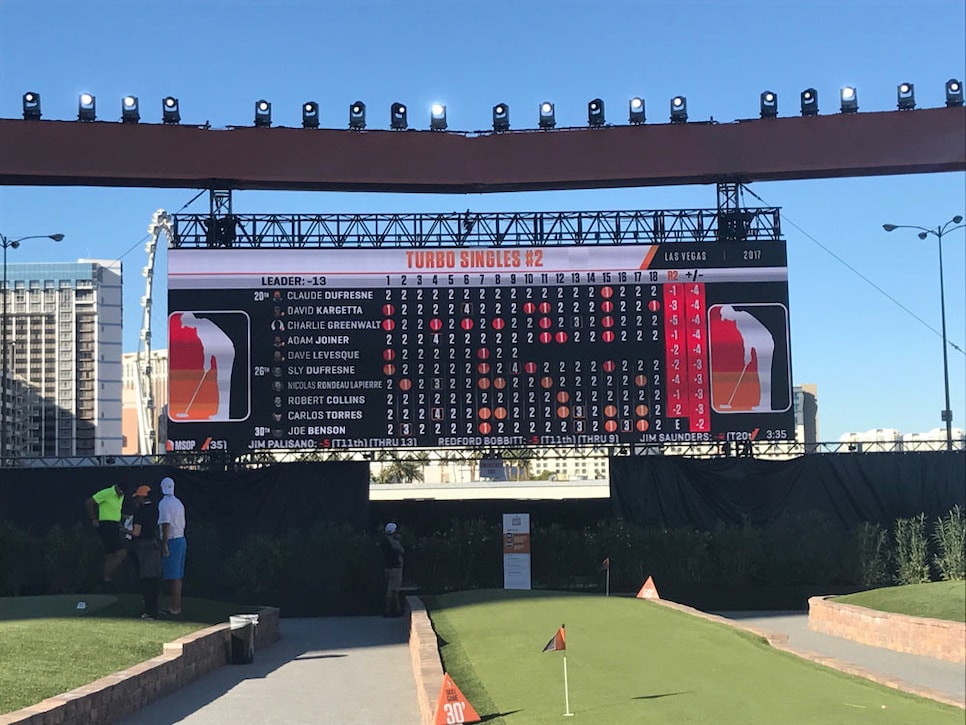 But you still have to keep your own score. Here, John Cook and Tommy Armour III go through their scorecards during the All Pro Championship.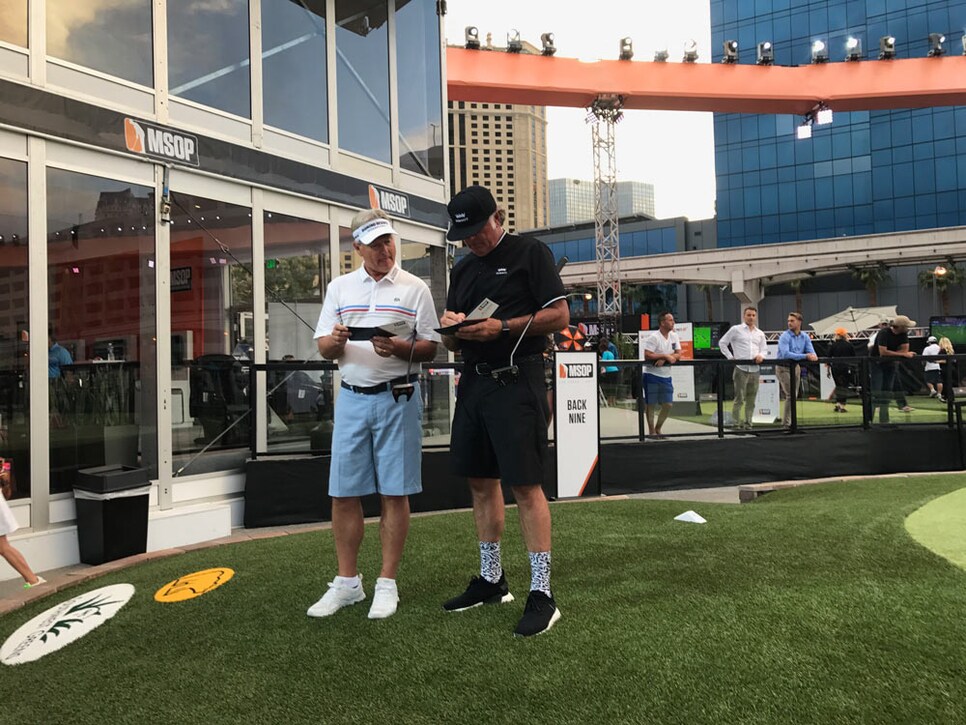 And there's even an official scorer's hut to double check everything.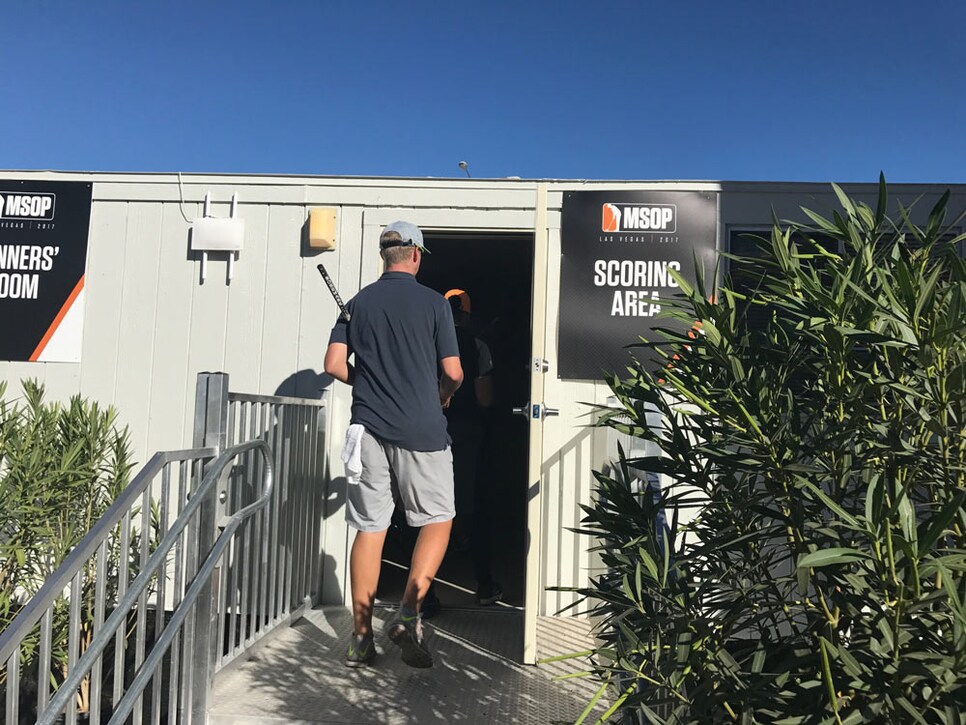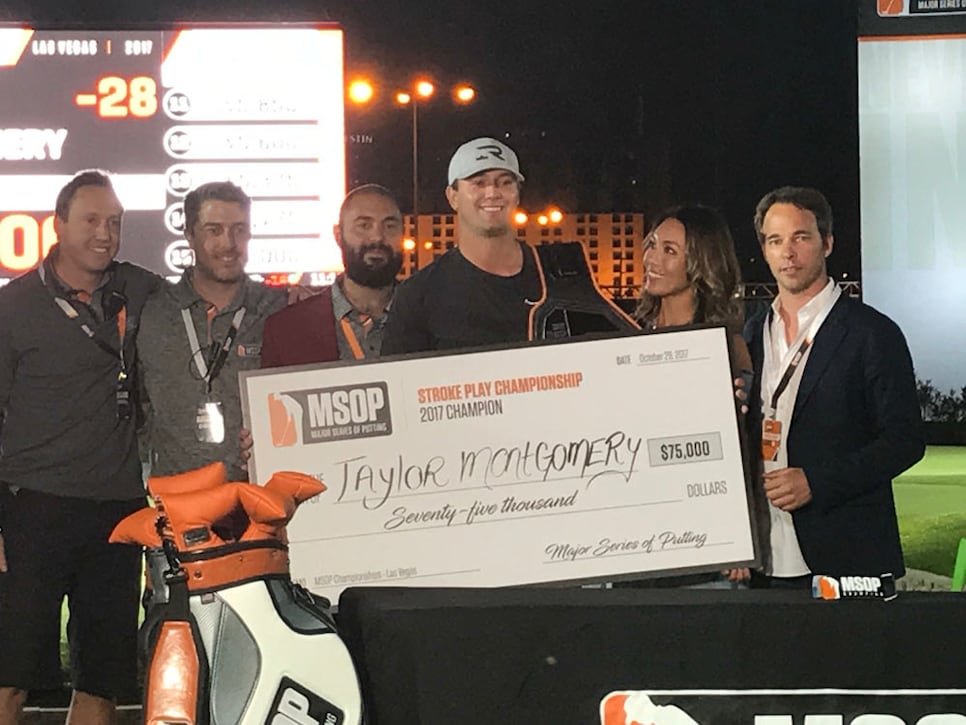 During competition, tee times are two minutes apart and rounds are quick, lasting from 30 to 40 minutes. But like on regulation golf courses, there can still be backups. Here, a group of players including PGA Tour pros Colt Knost and Kyle Thompson wait.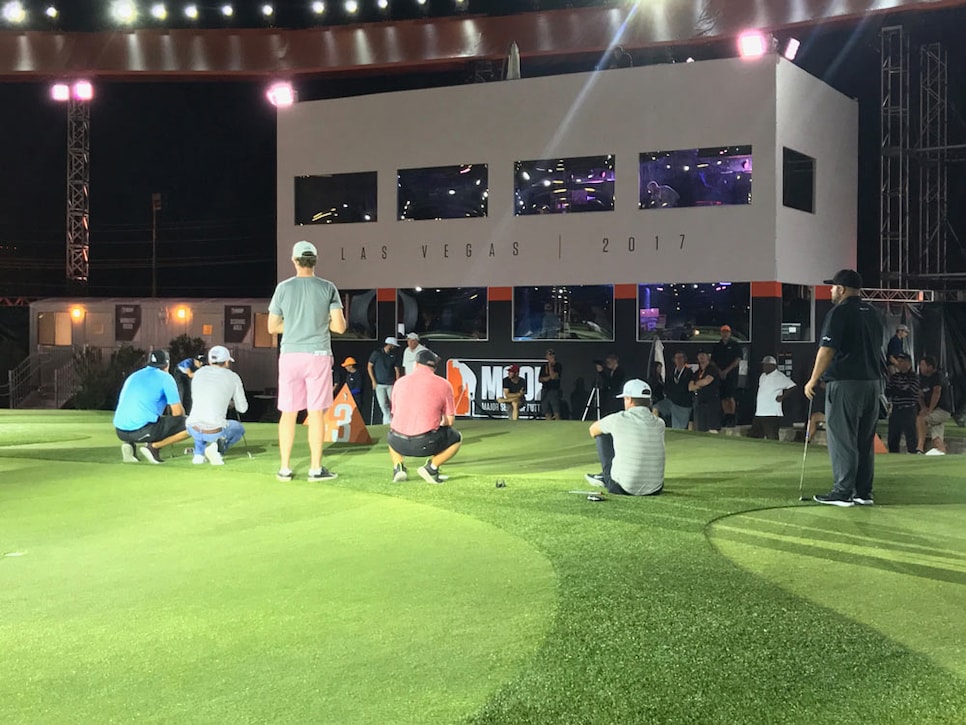 The cause of the delay? The diabolical third hole. It's only 15 feet, but it played to a stroke average of 3.0 (.7 more difficult than any other despite being the fifth-shortest hole) during Day 1 of the All Pro Championship. Here, a tournament director sweeps the area while a rules official watches to try to make the severe slope more playable. After the round was over, of course. No U.S. Open/Shinnecock seventh hole controversy here!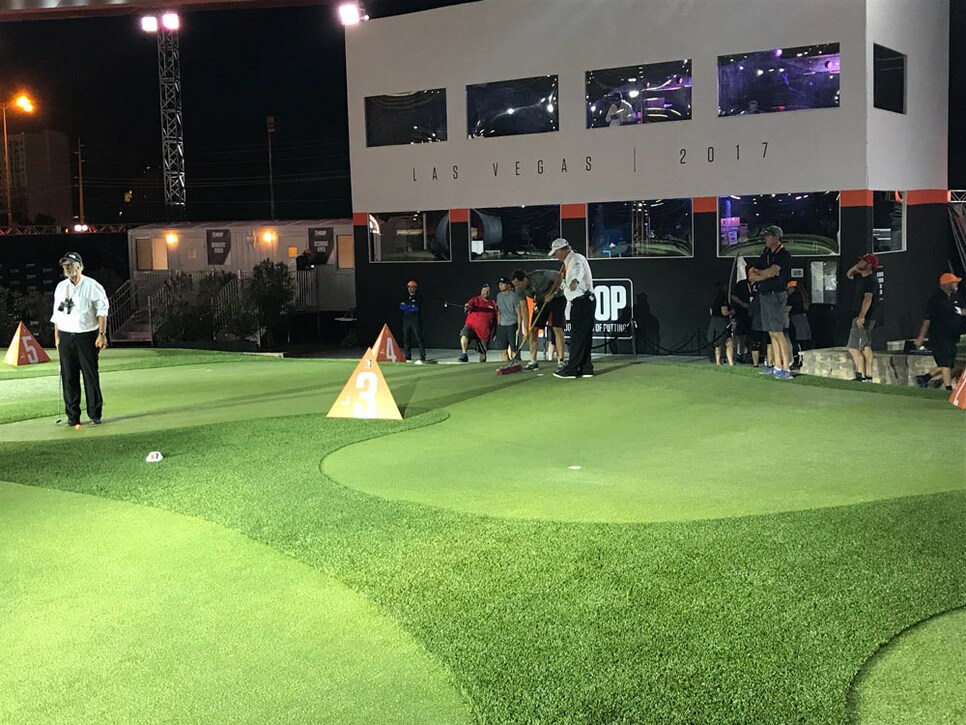 But what makes this event so neat are the players. It's an eclectic mix ranging from PGA Tour winners to pro mini-golf players to amateurs with a dream. Here's MSOP ambassador Brad Faxon taking a photo with fan/competitor Rainey Statum.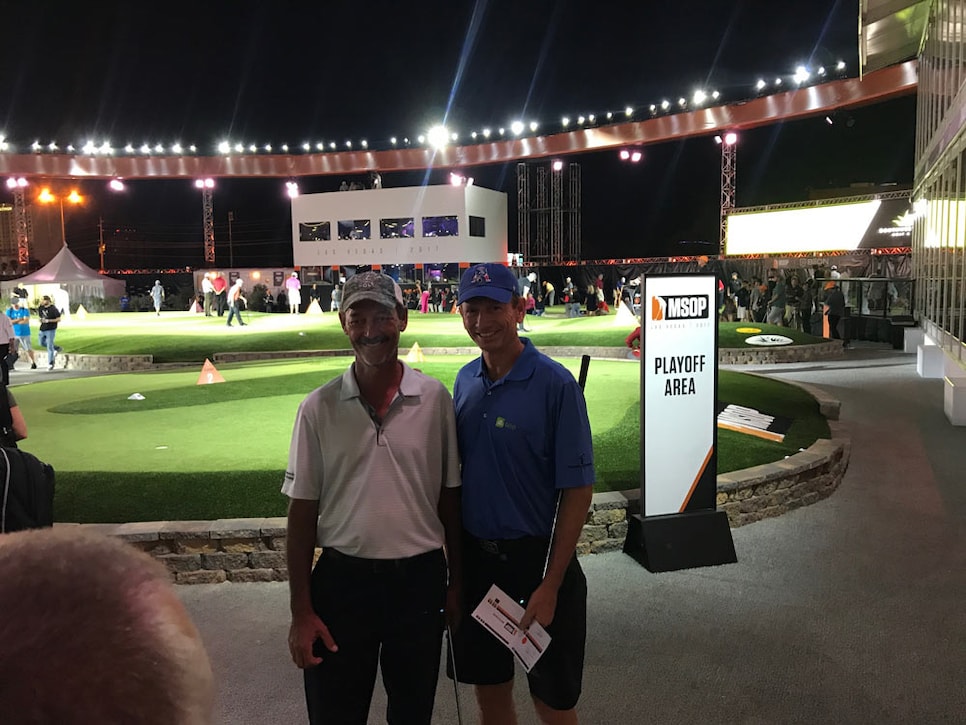 And then the putt-putt pro from Houston dusted Faxon and everyone else in a qualifier by firing a pair of seven-under-par 29s. Yeah, these dudes can putt. And they all displayed different methods for rolling the rock. This guy still anchors (legal in this event) and wears two golf gloves.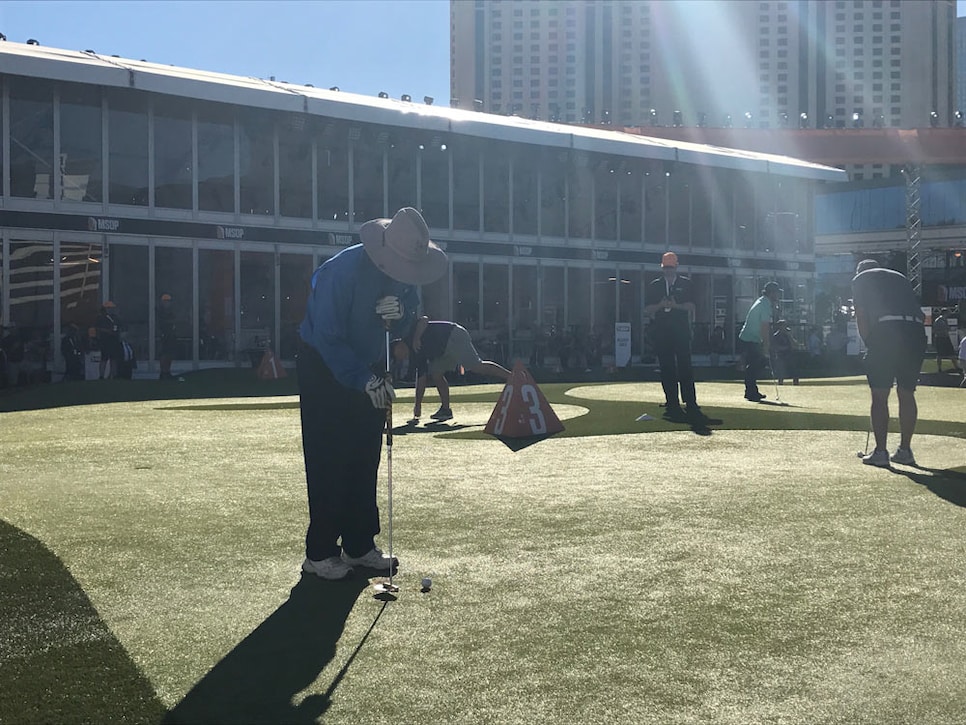 This guy uses a putter that stands up on its own to line up putts.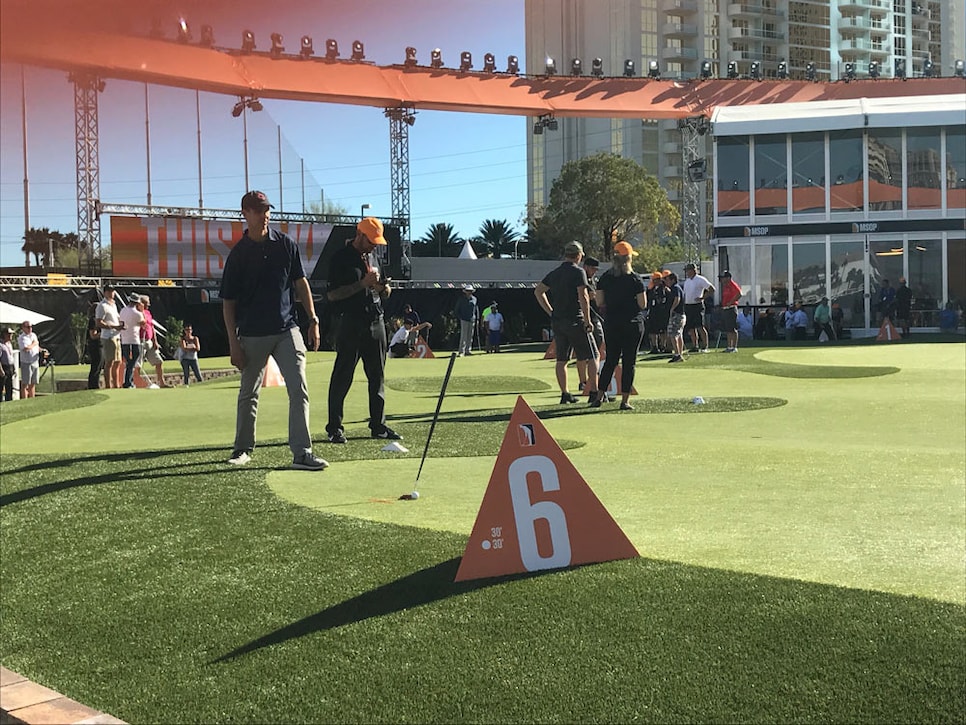 And this guy, well, um, I've never seen anything like it.
Anyway, if you happened to be in Las Vegas and you saw people walking around with putters, the MSOP is the reason why.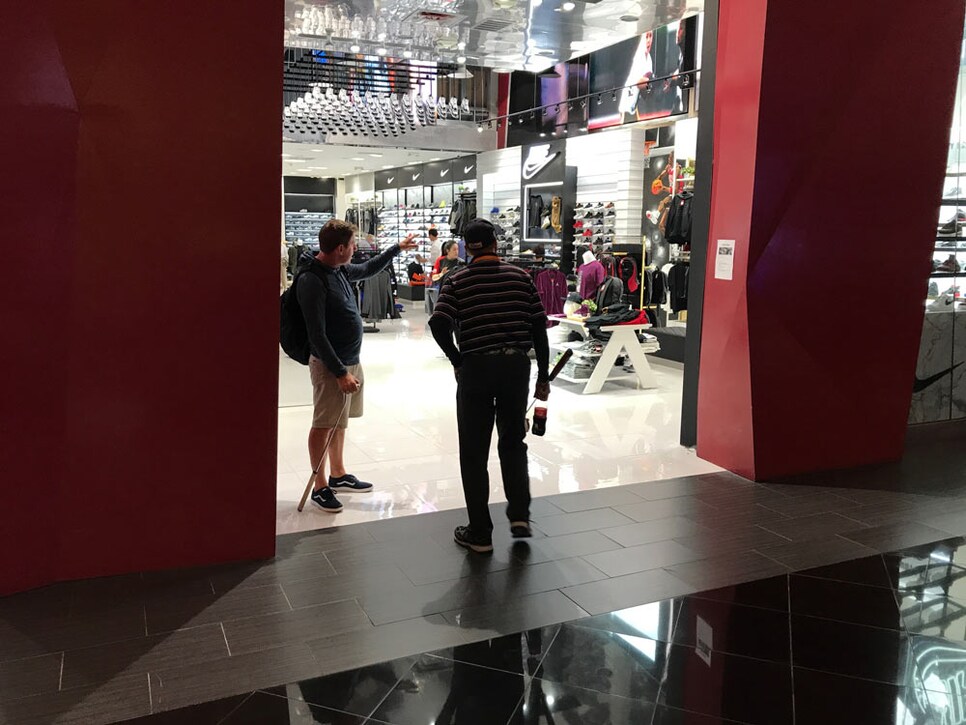 Let's hope it's here to stay.