DP World Tour
Morikawa and McIlroy see opening rounds in Dubai turn into 'coulda, woulda, shoulda' starts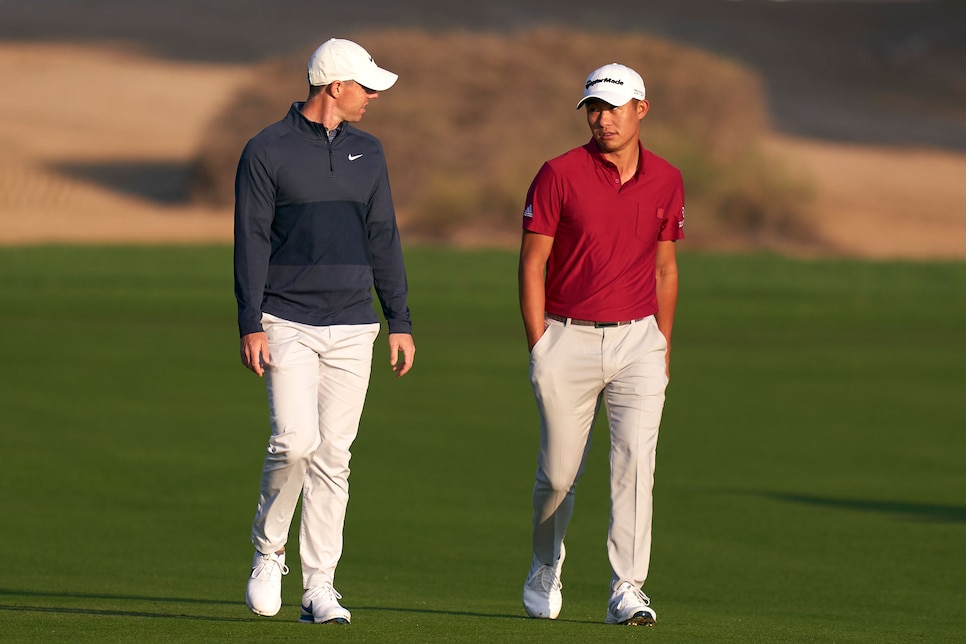 Rory McIlroy and Collin Morikawa walks during the opening round of the Slync.io Dubai Desert Classic.
Quality Sport Images
DUBAI — For a while at least, it was quite a match, one Collin Morikawa would have won 3 and 2. And they would, for that same while, have made quite the four-ball partnership. Not until the uphill, into-the-wind, 601-yard par-5 third hole (their 12th) on the Majlis course at the Emirates Club did Morikawa and his able playing partner, Rory McIlroy, fail to make a birdie. Indeed, to that point, the pair formed the ultimate "ham and egg" partnership in this opening round of the Slync.io Dubai Desert Classic. Not once in those 12 holes did they dip under par simultaneously. Throw in Bernd Wiesberger, the third member of the group, and the best-ball for the round was a nifty 59.
Sounds great, doesn't it? And it was. But it didn't last. Where once there was nothing but excellence, eccentricity gradually became the less-stimulating norm.
Seven under par standing on the sixth tee, Morikawa made three bogeys in the remaining four holes to shoot 68. McIlroy was one over for the same stretch and finished in a ho-hum 71, the same score returned by Wiesberger, who rounded off his day with a bogey on the ninth. When they were good, they were very, very good. But when they were bad, they were just bad.
Not surprisingly, Morikawa expressed more than a little disappointment at the total he had accumulated. Out in 31 after missing a very makeable eagle putt on the 18th green, he was entitled to expect something a bit lower. But this is a man currently lacking confidence in his swing, and one who has been laboring long on the range since Monday to rectify that fact. It's not just one aspect of the game that has him concerned either; it's "everything."
"From when I tee the ball up to when I take it out of the cup, I'm trying to figure out what to do," said the Open champion, who nevertheless made seven birdies and finished the day tied for ninth, three off the lead of Joachim B. Hansen. "Sometimes that's all you have and you've got to play with it. And that's what I'm doing. I'm trying to not worry about too much and just show up on the course and know what my miss is going to be. That's the biggest thing. But when you are thinking about so much, you always have to remember to go play golf. Still, I'm happy enough with four under. Not thrilled, but was nice to see some things I've been working on show up on the course."
Given time to cool off after a one-under-par effort that could and should have been maybe four shots better, McIlroy was making equally philosophical noises. But there were too many loose shots and sloppy holes for the Northern Irishman to be anything other than dissatisfied overall, sitting outside the top 40 and looking at a second straight tournament in which he'll have to sweat out a cut during the second round. Perhaps most frustrating was the fact that he dropped shots at three of the easiest holes on the course—the 18th, the second and the seventh.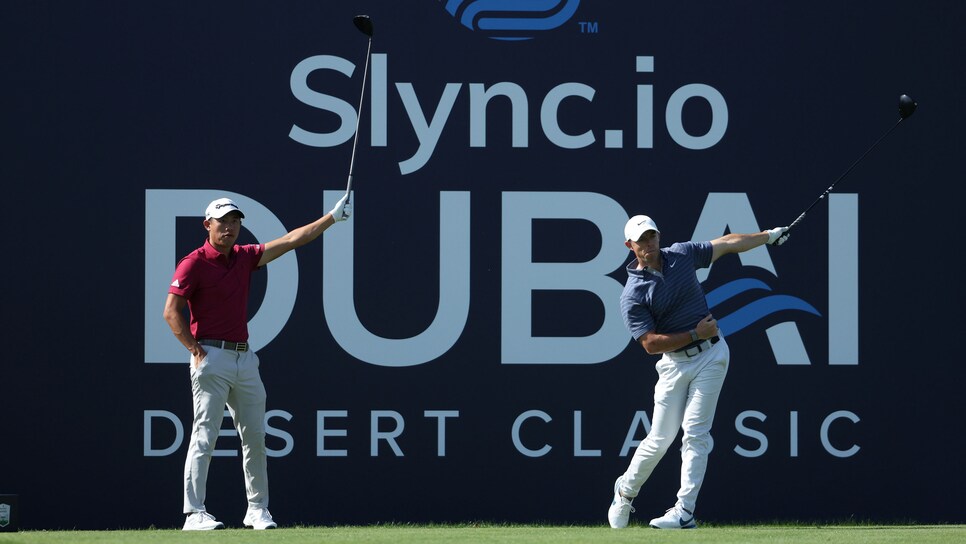 Morikawa and McIlroy gesture 'fore' on the second hole during Day 1 of the Slync.io Dubai Desert Classic.
Andrew Redington
On the last of those, McIlroy's badly pushed tee shot on the par 3 was followed by a plaintive lament—"oh Rory, that's so bad"—and, soon after, the application of a dent in the advertising hoarding behind the tee. That he was on the range hitting balls within half an hour of tapping-in for par on the ninth green, tells its own story.
"I started well," said McIlroy, who was three under through eight holes. "I hit the ball nicely. I thought I did that most of the day, although there were a couple of loose shots in there. I got away with the tee shot on 17 (where he pushed his drive into the scrub way right of the fairway and was lucky to find his ball in a playable spot). And then the last few holes, I feel like I made a couple of bad decisions and mental mistakes. And maybe made a couple bad swings were in there as well. I did most things pretty well but just need to tidy a few things up."
Indeed, the same can be said of Morikawa. For both men, this was a "coulda, woulda, shoulda" day in Dubai.