Genesis Invitational
Collin Morikawa, not known for his chipping, is chipping lights out at Riviera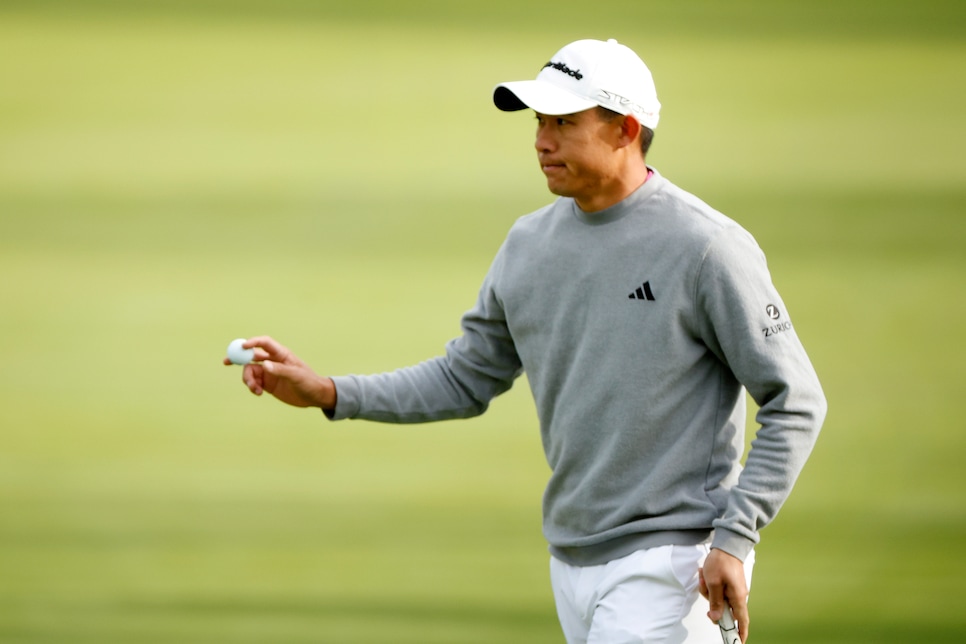 PACIFIC PALISADES, Calif. — One of the great cliches for a number of players on tour is "if he could just chip and putt well, he'd be a problem." For Collin Morikawa, it's actually true.
Look no further than his two major championship victories, both coming before he turned 25. At both the 2020 PGA and the 2021 Open Championship, Morikawa paired his elite iron play with a scorching hot putter and solid around-the-green play. Each week, he went on to win by two. In his two other strokes-gained measured PGA Tour wins at the Workday Charity Open at Muirfield Village in 2020 and the 2021 WGC Championship at The Concession Golf Club, he was a plus player both on and around-the-green.
So far in 2023, Morikawa's putter has been cooking, resulting in a runner-up at the Sentry Tournament of Champions and a solo third at the Farmers Insurance Open. One thing holding him back each of those weeks, however, was his chipping, potentially costing him his first win since the Open at Royal St. George's. It also led to a missed cut last week at the WM Phoenix Open, his first on tour since the 2022 Open Championship this past July.
In a shocking turnaround, Morikawa's chipping has carried him over the opening 36 holes at Riviera. Two times on the front nine on Friday, Morikawa's back nine, a massive roar could be heard throughout the property, and it wasn't coming from the mega group of Tiger Woods, Rory McIlroy and Justin Thomas. It was coming from the group behind thanks to a pair of chip-ins from Morikawa, which propelled him to a second-round 68 that has him in contention for the second straight year at the Genesis Invitational.
The first came from behind the green at the par-4 third, while the second, which was technically not a chip-in, came from the collection area right of the fifth green. After some mental gymnastics, Morikawa decided to putt it from 42 feet, hammering one that may have rolled off the green had it not hit the flag stick and dropped for another birdie.
"I could describe that shot pretty easily," he said, explaining the chip it vs. putt it debate. "You just open up a little 60, toe down, land it in the upslope, check up and roll. Just the lie wasn't as good as I wanted and kind of got comfortable with, you know, convincing myself.
"Sometimes that's the problem with golf is that you convince yourself that like, 'Oh, man, I know I can do this shot, but in reality like what's the percentage play?' It was a terrible putt. It went in, but it probably would have went to eight, 10 feet. In my head the worst putt I would have hit was five feet. With a great chip shot, it might have looked a lot better, but like I said, you play the percentage plays and kind of just go from there."
Percentage-wise, Morikawa is at 83 percent when it comes to scrambling this week. After two rounds, he's currently first in the field in strokes-gained/around-the-green, a stat he entered the week 135th in on the PGA Tour. When you pull off a switch-flip like that, does it even matter if you chipped it or putted it?
"It's really nice," Morikawa said of his around-the-green numbers this week. "But you know what, it's a little frustrating just not hitting more greens. You know, coming into the week, the ball-striking still felt fine even after last week. I knew it was going to be a small little fix, just haven't found it. I want to make it a little more stress-free and just a little more enjoyable. Fairways are going to be really key, especially how firm these greens are getting. Just when you have a tad bit of downwind when you're in the rough, it's just hard to judge whether it's going to come out spinny or come out a little jumpy."
Morikawa was similarly good in the short-game categories at Riviera a year ago, leading to a runner-up finish. Despite that result, he never really felt in it with Joaquin Niemann running away with the tournament. That won't be the case this week with Morikawa firmly in the mix at eight under heading into the weekend, which is a great feeling for a guy coming off a down year, by his standards.
"The kind of work I've been putting in behind the scenes. Just different attitude, just really going out and enjoying it," he said. "Trying to get back to that first summer when we came out here just eyes wide open just enjoying every single moment and take what you take and whatever happens, happens. That's been a big thing this year."
There'd be no better place for that new outlook to pay off than at Riviera, a course Morikawa has fallen in love with in a rather short period of time. Even though he was born in Los Angeles and went to Cal-Berkeley, he had never stepped foot on property until he did a few recon trips ahead of the 2017 U.S. Amateur. Given all the California tie-ins, you think he'd be next in line for the hometown hero storyline after Max Homa, but Morikawa has no stories about coming to Riviera as a kid and getting Tiger's autograph. Or shooting 65 from the tips as a 16-year-old. Or even watching the course on television. Good news is, a tour win in his backyard would trump all of those anyway.