Reality Check
Tiger Woods stumbles to 74 on Friday at Riviera but ends up making his first cut since May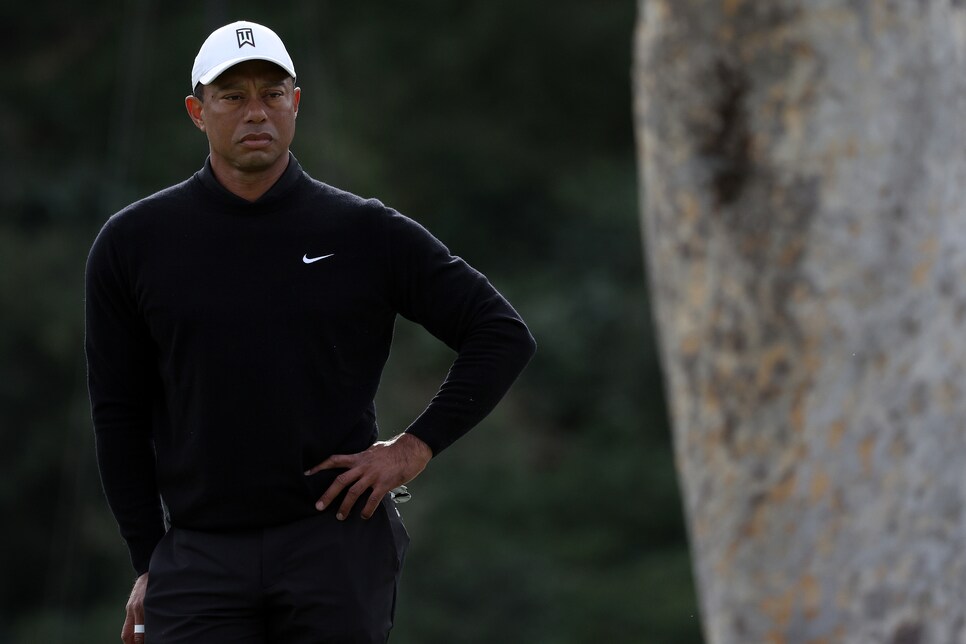 PACIFIC PALISADES, Calif. — A young fan in the crowd at Riviera tried to warn media and officials that Tiger Woods was soon to start walking through a busy crowd after finishing his second round Friday at the Genesis Invitational.
Good point, kid. But the question is, at one over par and right on the projected 36-hole cut line, will Woods stay around for the weekend rounds at Riviera Country Club? It's (very) likely, but he'll have to wait.
Play was suspended at 5.39 p.m. local time Friday and 14 players will need to finish their second rounds Saturday morning. Only then will Woods get confirmation of playing weekend golf for the first time since last May's PGA Championship.
Woods, the 15-time major winner doubling as tournament host, shot a three-over 74 at Riviera to drop from a promising two-under-par to one over. Teeing off No. 10 Friday morning, Woods battled to an even par on the front nine with birdies at the par-3 14th and par-5 17th. But the 82-time PGA Tour winner made sloppy mistakes on his back nine. Among those was putting it straight into the famed bunker in the middle of the green on the par-3 sixth, one of three back-nine bogeys that halted his momentum.
"If I chipped it up on top, there's a chance that it could actually come back to the front part of the green," Woods said of the decision to putt around, rather than chip it over, the bunker. "So I did that. I was trying to give myself a chance at making par and at worst bogey."
Woods also made bogeys at No. 8, where he drove it into a fairway bunker, and No. 9, where he left his approach short into the greenside bunker and failed to save par. He ranked near the bottom of the leaderboard for strokes gained/putting on Friday, with his 36 putts covering a total of just 55 feet.
"I just blocked the [putts]; they were just bad putts," he said. "They were not very hard, I had good reads. I brought [caddie] Joey [LaCava] in on a couple of them, and I just hit bad putts. So I could have easily got off to a very hot start and I did not. Then the middle part of the round I could have turned it around a little bit, and I did not."
Woods finished nine shots off the lead Friday night, after 2021 Genesis champion Max Homa carded a 68 to take the outright lead. He's 10 under, while Keith Mitchell (69), Jon Rahm (68) and Lee Hodges (66) are a shot back at nine under.
Woods is all but assured of making the cut, although six players who are close to either side of the cut line, and who will finish their rounds on Saturday morning, could technically bring the cut back to even par and send Woods home—as unlikely as that seems (DataGolf.com says the cut line is safe at 1-over).
The top 65 players and ties make the cut at the $20 million Genesis Invitational.
Woods has not played weekend golf since the Saturday of last year's PGA Championship, when he made the cut at Southern Hills only to withdraw injured before the final round. He played the Open Championship at St. Andrews in July but didn't advance past the second round. The 47-year-old Woods was involved in a single-car accident in 2021, which severely injured his right leg, then took seven months off after the Open to heal from plantar fasciitis.