It's his world
With a five-shot lead at the Hero World Challenge, Collin Morikawa can smell World No. 1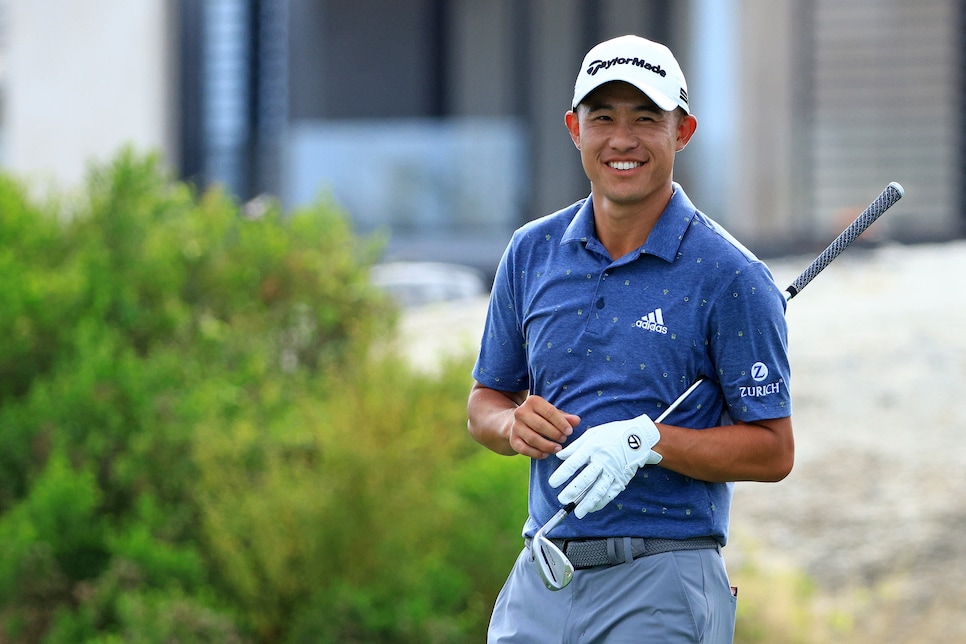 NEW PROVIDENCE, Bahamas — With Collin Morikawa, it's only a matter of time. He will summit the World Ranking. It is a when, not an if. That was true before this week. It would've been true had he finished dead-last this week. But Collin Morikawa is not finishing dead-last this week or any other week. He is the finest golfer in the world at present, capable of building a five-shot lead through 54 holes against a who's-who field of superstars without his A-game. He has done exactly that at the Hero World Challenge, his eight-under 64 on Saturday pushing him to 18 under and within a whisper's distance of a moment every golfer dreams of: becoming World No. 1.
"I don't know if comfortable's the word, it's just exciting," Morikawa said of his growingly frequent spot atop leader boards. "You love being in these spots, and you don't get them every week. You wish you did, but when you do, you want to take advantage of them, so hopefully we can take advantage tomorrow."
This is an exhibition in the Bahamas. Tiger's exhibition, to be exact. But Woods never treated it as such—he only has one gear—and hoisted his own trophy five times. Morikawa also seems to know only one speed. As he marauded Albany with the sun setting on Saturday, flashing a much-improved short game that does not bode well for his peers, Morikawa had the tunnel-vision focus of a man chasing a major championship.
He won his first World Golf Championship in February. His second major in July. His first Race to Dubai title in his last start. Hell, all this kid does is win. (He scored another W on Tuesday, when he proposed to his longtime girlfriend Katherine Zhu. (She said yes.) Through Tiger's first 60 starts as a professional, he had nine wins and one major. Through Morikawa's first 60 starts as a professional, he has six wins and two majors. With a win on Saturday, he will become the second fastest player to reach World No. 1, doing so less than three years after turning professional. The only one faster was … well, you know the answer.
"It feels good," Morikawa said of his round. "Just piggybacking off a couple weeks ago in Dubai. Look, I'm dissecting my game in a really good way of just figuring out what I need to do consistently to be a better player and to be in contention a lot more. Chipping, putting has put me in a spot so far through three rounds that I feel great and I've just got to keep doing that. I really need to figure out how to play hole 18 though a little bit better."
He bogeyed it each of the first two days and seemed destined for another on Saturday after he hit his worst shot of the day, a tugged approach that left him in a shortsided bunker left of the green. He swung full-speed from that trap, nipping his third perfectly and pulling off a shot that Brooks Koepka, his closest chaser at 13 under, called "unbelievable."
Koepka will join Morikawa in the final twosome. It wasn't so long ago that the 31-year-old sat in the No. 1 spot that Collin has his eyes on, but he now sits at No. 16 after a two-year stretch that has left him disgusted with his results. His knee has improved to the point where he is able to spend hours on the range—he headed there directly after signing for his three-under 69—and he has a new ball and a bunch of new sticks in the bag after inking an endorsement deal with Srixon just a few weeks ago. This, then, will be his first chance to test the new gear amid the heat of competition. Yes, this is an exhibition, but it won't feel like one when these two tee it up on Sunday afternoon.
"I'm just more excited seeing the equipment than anything," Koepka said. "It's been very, very easy, which is nice. Everything's reacting the way I want it to, so I'm pleased with that, but I'm still not playing—clicking on all cylinders, but yeah, it's definitely a step in the right direction, so I'm very happy."
Koepka will be fighting a steeply uphill battle, as will the quartet of players at 12 under, for Morikawa has blossomed into an excellent closer. Five of his six professional wins have come from behind, and he now has a five-shot lead. Morikawa said he wouldn't change up his game plan at all playing from the front. Koepka understands why.
"He's done a pretty good job so far," he said, "so I wouldn't switch it up if I was him."