DP World Tour Championship
With McIlroy and Morikawa in the hunt, Euro Tour finale set for dramatic finish while the Race to Dubai is all but decided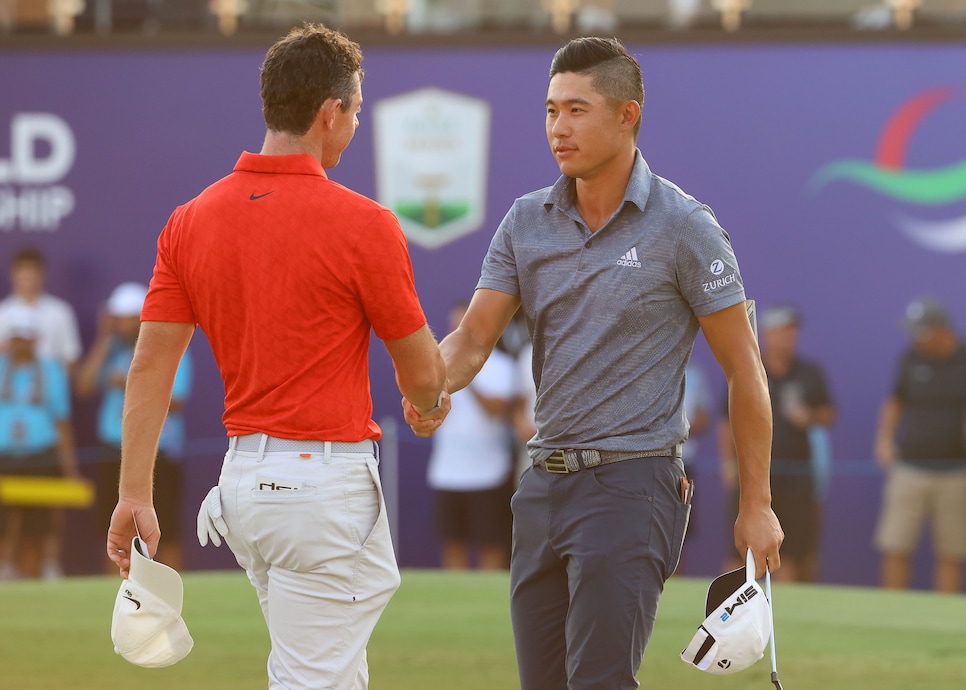 Rory McIlroy holds the lead entering the final round of the DP World Tour Championship, but Collin Morikawa is in firm control of Race to Dubai title.
Andrew Redington
DUBAI, U.A.E. — It's all over really. Never mind the usual platitudes about "focusing on winning the tournament." Barring something truly extraordinary in the closing round of the DP World Tour Championship on Sunday, Collin Morikawa has already won the European Tour's season-long Race to Dubai.
Consider the facts. Even if Morikawa were to fall 47 places from his current position of T-5 into last place in the 52-man field, he would still almost certainly top what was once called the Order of Merit. But let's say the Open champion is overcome with a startling combination of nerves, putting yips and an unprecedented bout of wild driving. Let's say he does finish last. Even then, Billy Horschel, currently T-37 after 54 holes, would have to rise to eighth and one of four others (Tyrrell Hatton, Min Woo Lee, Paul Casey and Matt Fitzpatrick) would have to win the tournament. Best placed of that quartet is Fitzpatrick, who is T-13 and six-shots behind the 54-hole leader, Rory McIlroy.
So it's not going to happen. With 18 holes to play, Morikawa is 99.999999 percent certain to claim the $1 million bonus that goes with the Race to Dubai title. More significantly, at least historically, the World No. 2 will underline his status as "champion golfer of the year" by also becoming the first American ever to top the Old World money list.
Hang on though. While Casey was openly scornful of any suggestion that Morikawa has not already crossed the finishing line—"you're having a laugh aren't you?" was his response—Fitzpatrick remains defiant.
"It's not over," he said, with a smile. "Definitely not. If I shoot the lights out tomorrow, you never know. I need to be at least eight under to have any kind of a sniff. Which is 'on,' depending on where they put the pins for tomorrow. And Colin needs to play really poorly, of course."
Of that there has been no indication so far. One of only five men to have broken 70 in all three rounds, Morikawa is 11 under par, three behind McIlroy and, publicly at least, refusing to discuss the Race to Dubai. Instead, he adopted a familiar and repetitive mantra that was actually in keeping with his steady but frustrating play.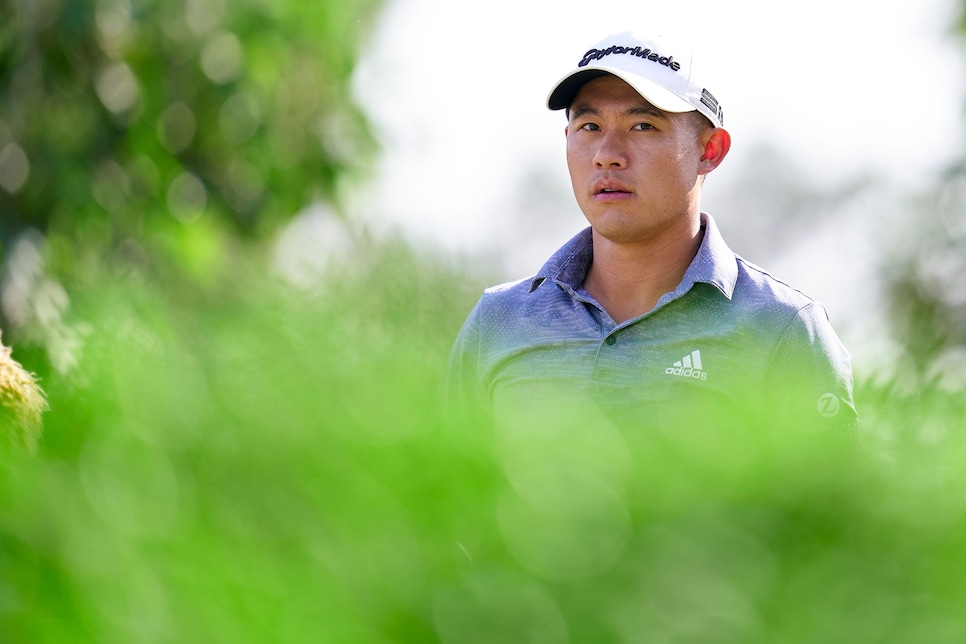 Morikawa looks destined to be the first American to win the Race to Dubai title on Sunday.
Quality Sport Images
"I'm focused on the tournament," Morikawa said after completing a round of 69, one that finished with 12 straight pars. "That is what is going to settle everything. I'm just trying to win the tournament. I'll think about the Race to Dubai after tomorrow. I've put myself in position to come out tomorrow and hopefully make a run on the front-nine rather than stall-out as I did today.
"I wouldn't call my position a 'cushion,'" he continued. "Like I said, I'm focused on winning the tournament. If I start worrying about who I need to beat, I'm just going to end up right around them and who knows what they might shoot. I'll be trying to win tomorrow. That's all I'm thinking about."
OK, let's talk about the leader board a little. McIlroy will enter the last round with a one-shot edge over Englishman Sam Horsfield. Robert MacIntyre of Scotland and Alexander Bjork of Sweden are T-3, two-shots back. Morikawa is part of a four-strong pack that contains JB Hansen, John Catlin and Shane Lowry.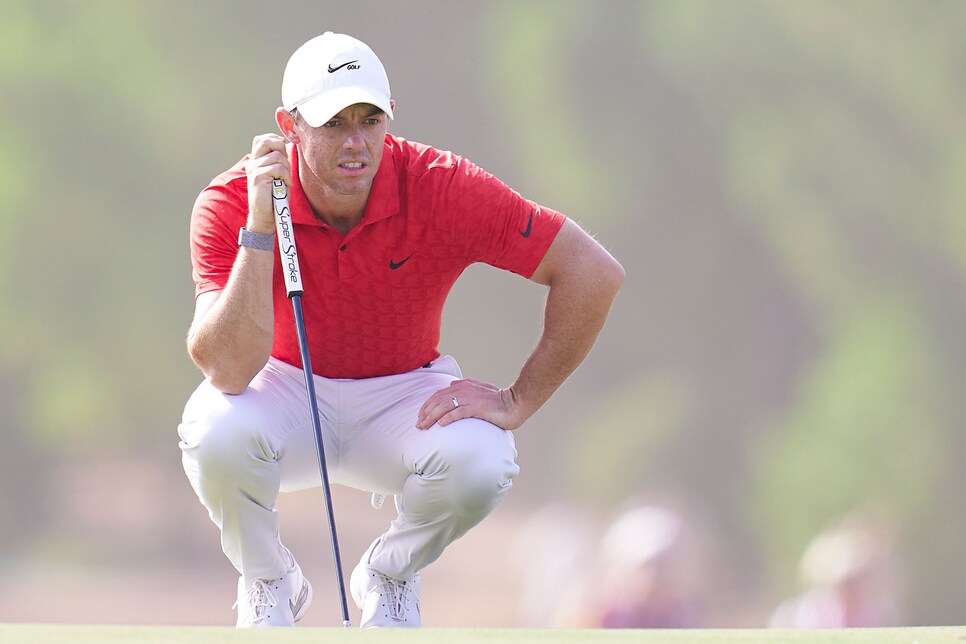 McIlroy is trying to win the DP World Tour Championship for a record third time in his career.
Quality Sport Images
"I'm looking forward to tomorrow," said McIlroy, already twice a winner of this event over the 7,675-yard Greg Norman-designed Earth Course. "I'm right where I want to be. I want to be contending on Sundays in golf tournaments. I feel like I'm back to playing the way I should and the way that will get me back contending. I'm excited. I'm excited to go out there and try to pick up another one."
Indeed, golf McIlroy style is rarely less than compelling. And his third-round 67 lived up to expectations, a state of affairs he is looking to repeat on Day 4.
"I've never really enjoyed hitting it to 40-feet and trying to two-putt," he said. "I'd rather take shots on. That's the enjoyment of the game. The joy I get out of it is pulling that stuff off. I'd rather lose trying to win than lose playing defensively. I've learned that the hard way over the years. I can live with myself if I take shots on and they don't come off. At least I'm giving myself the best chance."
Given that promise to attack, anything could happen with so many players in close contention (12, including three major champions, are within five shots of McIlroy). Which is more— a lot more—than one can say about the Race to Dubai. One day early, it is done and dusted in the desert.