Tough Luck
Incoming college freshman fires rounds of 63 and 66, somehow does NOT qualify for U.S. Amateur
We interrupt your Open Championship coverage to let you know about another important golf tournament going on stateside. Or, rather, qualifying for the 2023 U.S. Amateur. And one particular qualifying site where some jaw-dropping scores were posted.
It's been well established that the pro game is deeper than ever these days, but that is certainly the same with the amateur level. And while there were plenty of impressive stories from the 89 qualifying sites being held around the U.S., plus Canada and Mexico, we're focusing on what happened last Thursday in Franklin, Tennessee.
That's where University of Kentucky incoming freshman Michael Hake fired rounds of 63 and 66 at Franklin Bridge Golf Club (par 70). Pretty good, right? Too bad he missed out on qualifying for the main event. By two shots.
Yep, that's right. Hake's 36-hole total of 129 was NOT good enough to earn a spot at Cherry Hills in August, settling for first alternate instead. Ouch. Hake was topped by both Blades Brown and Beck Burnette (Great names!), who shared co-medalist honors with a 127 total. Look at this crazy leaderboard: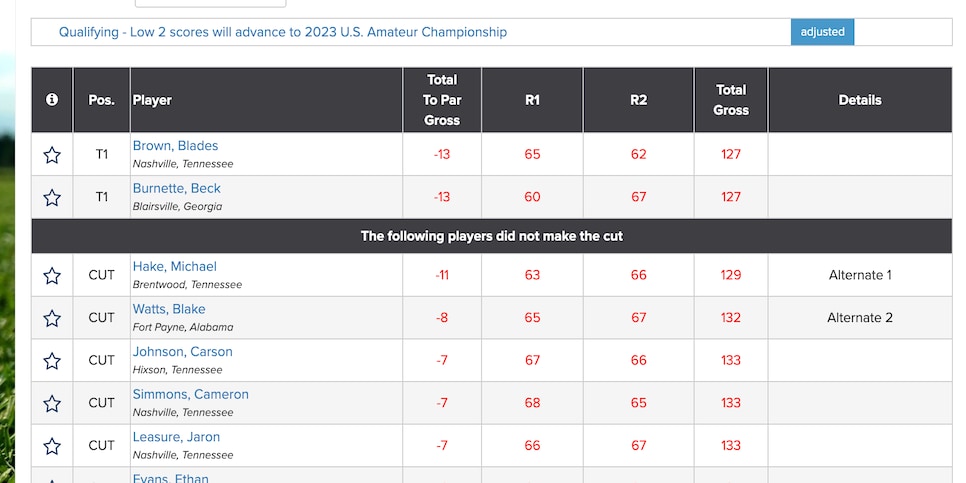 Incredible. Brown, a 16-year-old(!) from Nashville, shot 65-62. While Burnette, a former Division II All-American at Lee University, who is now a graduate transfer at the University of Georgia, shot an opening 60 before cooling off with a second-round 67. You can check out all the results here on the USGA's website.