The Loop
College Football Week 1: 9 bets we absolutely love this weekend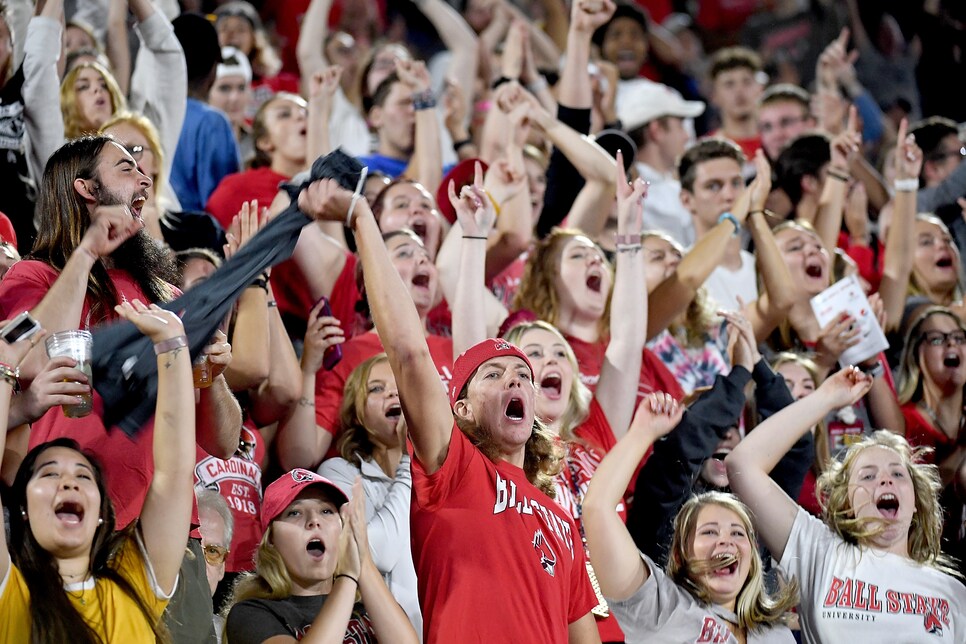 (Photo by Bobby Ellis/Getty Images)
Those months and months of waiting have finally paid off. Football is officially back—and not any of that NFL preseason crap. We're talking Week 1 of college football. Meaningful games. Odds are, your alma mater is playing this weekend. And there are a significant number of really strong games on the slate for Week 1, so it should be an awesome first week of college football.
It's now legal in states like Delaware, New Jersey and Mississippi to place sports bets, and other states are closing in on joining in the gambling parade. So hey, there's no more judging. We're here to help you manage this litany of college-football games this first week and provide some friendly advice who we're leaning with to win … or crush the books. Like we said, no judging, right?
Here's who we like in Week 1:
Wisconsin (-34) vs. Western Kentucky, 9 p.m., Friday, ESPN
We're told a bettor at the South Point sportsbook in Las Vegas threw $10,000 on a parlay with the Badgers laying 37.5 points, alongside fellow Big Ten powerhouse Ohio State (-38.5). On top of that, the same guy came back and added $30,000 straight up on Wisconsin. Talk about confidence. We can get behind that. (Lost)
Florida Atlantic at Oklahoma (over 67.5), Noon, Saturday
Offensive guru and certified crazy man Lane Kiffin takes his talents to Norman for what should be a shootout of a game. Though the Sooners lost Baker Mayfield, Kyler Murray and the offense is stacked, and hopes in OU land are for another playoff run under first-year coach Lincoln Riley. Kiffin won't stop running offensive plays until the cows come home. Both teams shouldn't have trouble throwing up points.
U-Mass vs. Boston College (over 63), Noon, Saturday
UMass put up 63 points alone in its opening win last weekend against Duquesne. Though Boston College's defense figures to be somewhat more stellar than Duquesne, we still like this number. And so does the public. This number opened at 58 and has been bet up five full points. Vegas is basically begging you to take the under. We won't fall for it.
Ohio State (-38.5) vs. Oregon State, Noon, Saturday, ABC
Oregon State won one game last year ... that's it, one game. And normally that's not enough to get behind a team. But Ohio State has some motivation behind it with their head coach Urban Meyer being suspended for the first three games. You can bet the team will use that as a rallying cry. We will. Oh, and remember the crazy guy at the South Point betting tens of thousands on the Big Ten teams? We don't know who he is. But we're thinking he knows his stuff.
West Virginia (-10) at Tennessee, 3:30 p.m., Saturday, CBS
West Virginia has a potential Heisman Trophy-level quarterback in Will Greer V and a pair of elite wide receivers. Tennessee has a new coach with a depleted returning core on defense. Though we've seen some sites liking the Vols at home, we also saw Clay Travis likes Tennessee, so that's a good enough reason for us to back WVU.
Central Michigan (+17) at Kentucky, 3:30 p.m., Saturday, ESPNU
Kentucky as a program is on the up. But the Wildcats didn't end last season on a positive note. They lost their final three games to close the year. Central Michigan won eight games in 2017, and the Chippewas return star running back Jonathan Ward. Though Kentucky might not lose this game, the Cats are known to get off to slow starts to begin the season. Take it from a Wildcat fan. We wouldn't be surprised if Kentucky sweats out this win.
UNLV (+26.5) at USC, Saturday, 4 p.m., Pac-12 Network
UNLV is 6-0 since 2014 in games where they're a road underdog of more than 21 1/2. We like that logic.
Florida International (+10.5) vs. Indiana, Saturday, 7 p.m., CBS Sports Network
The Hoosiers lost their stud running back Morgan Ellison to a suspension, and on the defensive side, only three starters return from last year. The public is high on this Indiana this year. And rightfully so. But thanks to SI for this stat: Florida International was a home underdog four times in 2017, and it won all four games. Three of them by double digits. Under second-year coach Butch Davis, the Panthers should continue to improve. We'd think they'll keep this game close at home.
Michigan (+2) over Notre Dame, Saturday, 7:30 p.m., NBC
The biggest game of the weekend: Jim Harbaugh takes what is probably his best team in his tenure into South Bend for a prime-time clash in Week 1. The Wolverines' defense is one of the best in the nation, which will test Notre Dame quarterback Brandon Wimbush. The Fighting Irish boasts a strong defense as well, but we like Michigan's new QB, Ole Miss transfer Shea Patterson, to make a game-changing play down the stretch to win this one in South Bend.