The Loop
CIMB Classic expert picks: We predicted Kevin Tway's win last week—can our handicappers pick a winner again?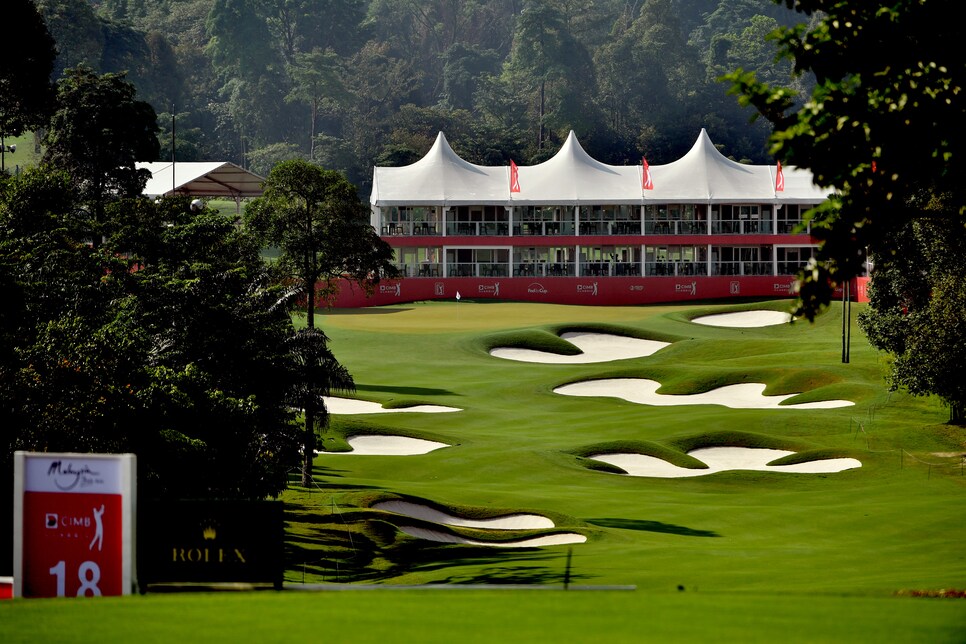 (Photo by Paul Lakatos/Asian Tour/Asian Tour via Getty Images)
If last week is any indication, we might've assembled the right crew. One of our staff writers (Christopher Powers) set the standard for our golf betting advice column by predicting Kevin Tway's win at the Safeway Open at 55-1 odds, a heavy longshot in the PGA Tour opener. One of our other experts (Brandon Gdula, Fanduel) picked Ryan Moore as his winner, so we had the final two players in the playoff covered. The pressure is on the rest of us to keep up.
Below you'll find comprehensive betting analysis and daily-fantasy picks for this week's CIMB Classic in Malaysia—a no-cut, 78-player event with a handful of pros who play predominantly on the Asian Tour, so you might not be familiar with their names. Scott Vincent? Who is that exactly? Someone who has played consistently lately over in Asia, and who's worth a look as a play this week, according to one of our experts.
Is Justin Thomas bettable at +490? (Betting $10 to win $49.) Those are some really, really low odds for a golf tournament, but with only 78 players in the field, Thomas is properly priced based on his elite talent. We're even seeing a "Justin Thomas vs. the Field" bet, with similar odds to what Tiger Woods would've garnered in years past. But there's more value in this field beyond Thomas. Our group has done its best to find another winner for our readers this week. Again, our group includes PGA Tour caddies, a Columbia University statistician, a Las Vegas golf handicapper, DraftKings expert Pat Mayo, FanDuel senior writer Brandon Gdula and Golf Digest writers and editors. (Results from last week at the bottom.)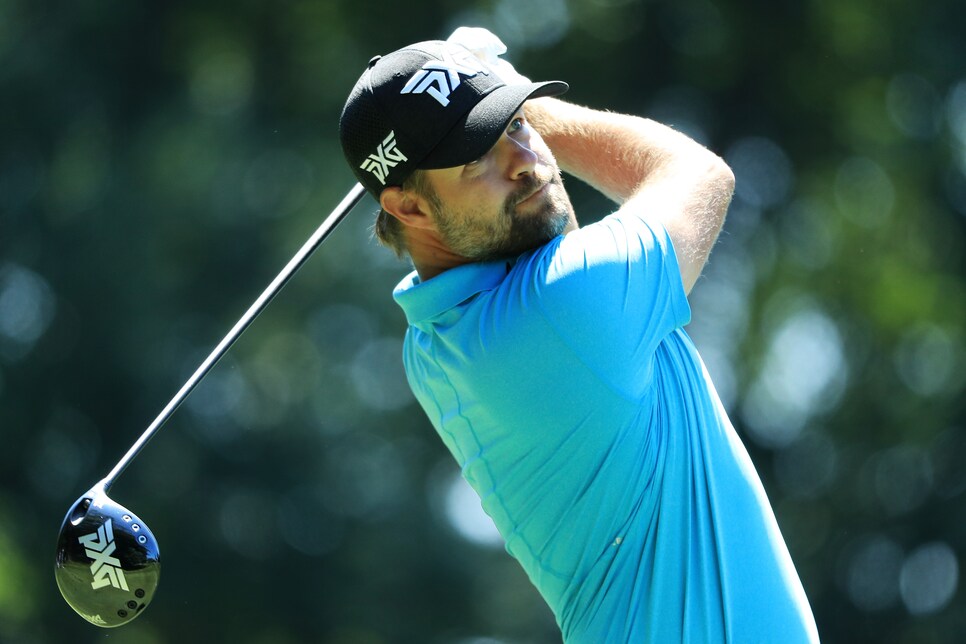 CIMB Classic picks to win (odds based off Sportsbook.ag):
Brandon Gdula, Senior Writer, FanDuel/numberFire: Ryan Moore (14-1) — While it's tough to pick against Justin Thomas (5-1), there's more value to be had by looking elsewhere. Moore just missed out on a win last week and now heads back to a course where he's won twice (2013 and 2014) and finished T-10 and T-17 after that. The conversion to Bermuda greens should help, as Moore has been a strong Bermuda putter in his career.
Gdula: Rafael Cabrera-Bello (30-1) — Cabrera-Bello has a pair of top-10s at the CIMB Classic the past two years and has three more top-25s at this course if you include the Asian Tour. Among the field, Cabrera-Bello ranks top-15 in strokes gained: tee to green, birdies gained, and greens in regulation gained over his past 50 rounds, via FantasyNational.com.
Pat Mayo, DraftKings analyst and FantasyNational.com board of governors: Brandt Snedeker (30-1) — Seems like blatant disrespect for a high-quality talent in great form like Snedeker. He's coming off a playoff loss, and he has wins at the two primary corollary courses to TPC Kuala Lumpur—East Lake and Sedgefield. As long as his wedges stay dialed in, Snedeker will continue to linger at the top of leaderboards.
Mayo: C.T. Pan (33-1). Looking long(ish) term, Pan has been inching himself toward a win for a while now. Per www.FantasyNational.com, over his past 24 rounds, Pan rates out second in Par 4s gained, seventh in Strokes Gained: Approach, and 12th in birdies or better gained against this field. Factor in his elite wedge game, and success at a corollary course like Sedgefield, and you'll quickly realize 40/1 is short whatsoever.
Brady Kannon, VSIN.com golf specialist and golf sales at TeeTimesUSA.com: Billy Horschel (14-1). This event has a limited field and is a bit of a birdie fest. I'm looking at guys that excel in three areas, Greens In Regulation, Putting, and Par 4 Scoring. I think that Emiliano Grillo (30-1), Rafa Cabrera-Bello (30-1) and Kevin Na (40-1) will also contend.
PGA Tour caddie #1: Ryan Moore (14-1). We almost called his win last week. Nobody has consistently looked as good on the range as Moore over the past six months. He'll bring the confidence from Napa to Malaysia and threaten to win once again.
Dr. Lou Riccio, Columbia University professor: Justin Thomas (5-1): JT has an impressive probability of winning - 12%. His winning advantage is good enough to still make him a good pick for both Fan Duel and Draft Kings even with his high salary, and to win here—warrants the 5-1 odds on him to win.
Christopher Powers, GolfDigest.com associate writer: Beau Hossler (50-1). Get used to me picking Big Hoss this season, because he's bound to win an event sooner or later. Not a strong showing last week at Safeway Open but I expect a bounce back, and in a limited field like the CIMB, Hossler has one of his best chances to date at a breakthrough win.
Alex Myers, GolfDigest.com senior writer: Cameron Smith (28-1): Back-to-back third-place finishes in the first two FedEx Cup Playoff events make Smith especially appealing at 30/1 against a 78-man field. After winning the Australian PGA and the Zurich Classic (with Jonas Blixt) in 2017, Smith's 2018 was arguably better. The Aussie didn't win, but his seven top 10s bettered what he had done in his previous two seasons on the PGA Tour. In three prior trips to Malaysia, he has a pair of T-5s, including last year when he shot book-end 64s.
Joel Beall, GolfDigest.com staff writer: Cameron Smith (28-1): I'm with Myers here. The Aussie's distance, or lack thereof, somewhat curbs his ceiling from a season-long outlook (141st sg/off-the-tee), but given Kuala Lumpur's short confines, it won't be an issue this week.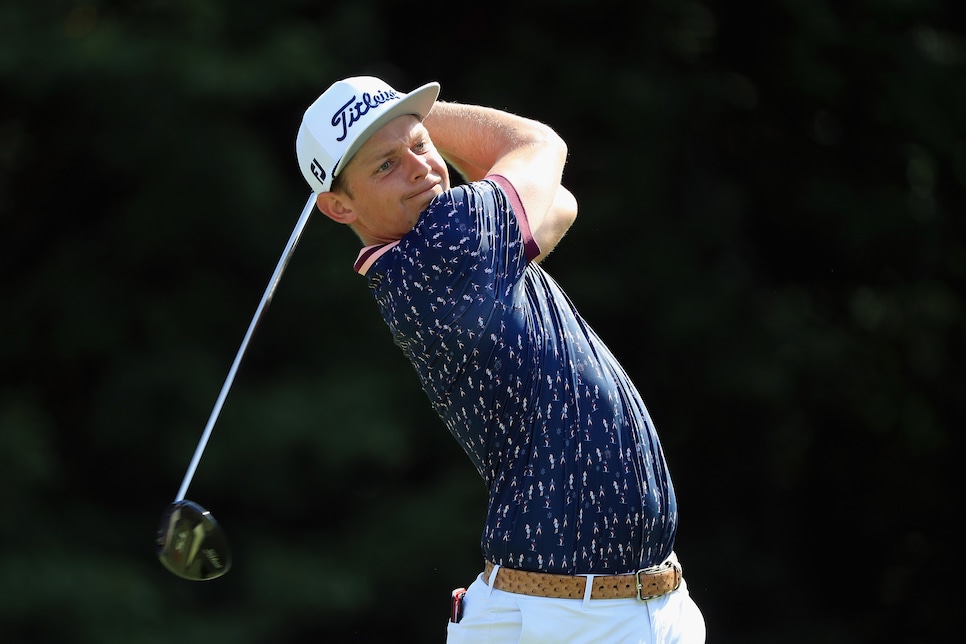 (Photo by Andrew Redington/Getty Images)
Stephen Hennessey, Golf Digest associate editor: Ryan Moore (14-1). I really like Cam Smith, too—but it's hard for me not to pick Ryan Moore. We know his game is sharp after last week and the course history and stellar approach-the-green stats make him a must-play for me.
(Powers 1 for 1 with winners this year)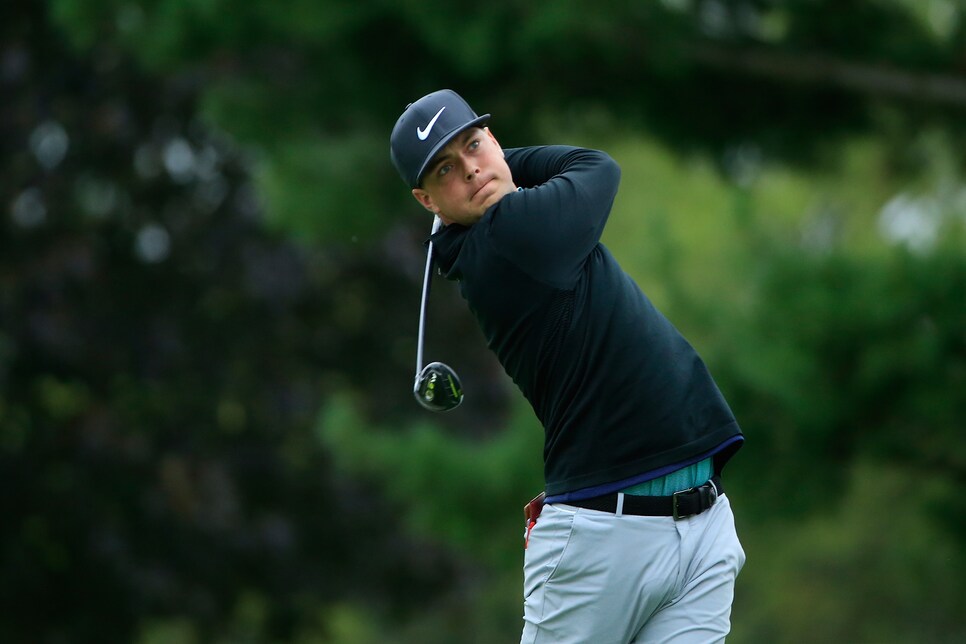 (Photo by Michael Cohen/Getty Images)
Gdula: Keith Mitchell (120-1). Out of 23 events in 2018, Mitchell has four top-10 finishes and just four missed cuts. He also ranks eighth in greens in regulation gained and 10th in birdie or better rate over the past 50 rounds, suggesting he can score enough to contend on this historically easy course.
Beall: Mitchell (120-1). The average winning score in the last three CIMB Classics has hovered north of 24 under. Enter Mitchell, who ranked 13th on tour in birdie average last season, the second-best mark in the field after Justin Thomas. While Mitchell's putting is usually his Achilles' heel, TPC Kuala Lumpur's greens are as tame as they come, circling the 26-year-old as a breakout candidate.
Kannon: J.J. Spaun (80-1).
Hennessey: Thomas Pieters (66-1).
Kannon: Sam Ryder (-125) over Jimmy Walker; Emiliano Grillo (+100) over Kyle Stanley; Rafa Cabrera Bello (-115) over Byeong Hun An; Cameron Smith (+100) over Keegan Bradley; Kevin Na (-130) over Kevin Tway.
Powers: Bronson Burgoon (-120) over Si Woo Kim. These early-season events are great for players still finding their way on tour and looking to build some confidence, just like we saw with 30-year-old Kevin Tway last week. Burgoon, 31, was a former college standout at Texas A&M, but still hasn't quite produced similar success on tour. This could be a big year for him, and after making the cut at Safeway, I like him to finish higher than Si Woo Kim, who has just one top 10 in his last 16 starts.
Powers: Billy Horschel (-105) over Ryan Moore. We've seen plenty of guys come close one week than winning the next, but I don't see it for Moore at TPC Kuala Lumpur. He emptied the tank in his comeback bid on Sunday at Safeway, then had to make the long trip to Malaysia right after. Horschel, meanwhile, is coming off a month's rest and a hot streak that saw him finish T-3 or better in three of the four playoff events. Love him as the mini underdog in this one.
Hennessey: Austin Cook (+100) over Beau Hossler (DraftKings). TPC Kuala Lumpur is a course that should fit Cook's strengths: Keep the ball in play and knock down flagsticks. Hossler missed the cut at the Safeway Open but stayed around through the weekend before flying across the world to Malaysia, whereas Cook was off and got to TPC Kuala Lumpur before the week started. Give me the well-rested, more veteran player in Austin Cook over a youngster like Hossler who is better suited on a course where he can bomb it around.
Hennessey: Cameron Smith (+130) over Marc Leishman (DraftKings).
Hennessey: C.T. Pan (+100) over Branden Grace. Riding Pan's stellar play of late, and fading Grace, who struggled at the Alfred Dunhill.
(Matchup results last week: Kannon: 1 for 3; Powers: 0 for 1; Beall: 0 for 1.)
Hennessey: Kevin Chappell (80-to-1): These are really high odds to get an elite player like Kevin Chappell, so bettors will likely be tempted to back Chappell. But consider that since April, Kevin Chappell owns just one top-10 -- though it was a big one, at the Open Championship at Carnoustie. Chappell has battled injuries and hasn't played consistently enough to inspire confidence in contending this week in Malaysia. I'd stay away.
(Results on fades last week: PGA Tour caddies: 1 for 3; Hennessey: 1 for 1; Beall: 0 for 1.)
PGA Tour caddie #1: Justin Thomas (+105). Being able to get Justin Thomas at plus-money on any bet this week is a bargain. The kid is so good: Would it surprise you if he won this week? Didn't think so. That's why this is a good bet.
Myers: To win/Top 5: Kevin Na (40/1 and +750): Na's four top 10s last season actually matched his lowest total for a full season in a decade, but a second career victory at the Greenbrier in July helped propel him into the Tour Championship and a career-best $3.578 million in earnings. Another player who will benefit from TPC Kuala Lumpur's light rough, Na could also have an edge if the course's new greens aren't as receptive as normal. Na ranked 10th on tour in strokes gained: around-the-green last season, and his caddie, Kenny Harms, feels he has the best short game in the world.
(Results on top-5 picks last week: Kannon: 0 for 1; Powers: 0 for 1.)
Gdula: Kevin Na (+315). Na has twice finished top-10 here (2nd in 2014 and 3rd in 2015) and has strong putting splits on Bermuda greens, placing him near the top of the field. He's been on the precipice recently, netting three top-20s in his past five events.
PGA Tour caddie #1: Kyle Stanley (+240). He's lethal with irons in his hand. The switch to Bermuda greens here at TPC Kuala Lumpur should fit his game.
Myers: Jimmy Walker (+600). A year after being diagnosed with Lyme disease, Walker regained the form that made him a major champ and a Ryder Cupper last spring and posted top-6 finishes in three of four weeks, including a T-2 at the Players. He was quiet down the stretch, but will enter a new season feeling better than he has in two years. TPC Kuala Lumpur's light rough is the perfect setup for this erratic driver, as evidenced by his sixth-place finish in his last trip there in 2014.
Powers: Ryan Palmer (+1300). Following a T-2 last year at Torrey Pines, Palmer struggled, missing eight of his next 12 cuts, but he was able to find some consistency to finish out the season. He made seven of his last eight cuts, sprinkling in a pair of top 10 finishes along the way. After getting over a full month off, he's a nice long shot pick to pick up his third top ten in his last nine starts on tour this week.
Hennessey: Anirban Lahiri (+475). Lahiri won the European Tour's 2015 Malaysia Open on the same course, then went onto finish T-3 at this event that fall. Lahiri got into this field as an alternate when Andrew Landry withdrew, speaking to how Lahiri's game hasn't been too sharp over the past year. But he made some comments earlier in the week how much he loves this course, and how his game is trending in the right direction. That's enough for me.
(Results on Top-10s last week: Mayo: 1 for 2; Gdula: 0 for 2—though he narrowly missed on both of his: Harold Varner III (T-14) and Hunter Mahan (T-17); Riccio: 1 for 2; Hennessey: 0 for 3; Beall: 0 for 1.)
Gdula: Joel Dahmen (+375). Dahmen hasn't played here before but presents solid value as far as top-20 bets go. His two missed cuts in the FedEx Cup Playoffs had a lot to do with his putting, and with a neutral putter last week, he was T46 at the Safeway Open. Dahmen ranks fifth in approach and ninth in bogey avoidance over the past 50 rounds among the field.
Mayo: Scott Vincent (+550). Who is Scott Vincent exactly? Well, Zimbabwean is the world's 138th ranked player, with three consecutive Top 15 finishes on the Asian Tour. He's a complete unknown to almost everyone in North America but has held his own in this these types of conditions in the past.
Mayo: Satoshi Kodaira (+750). Look, you should't expect big things from Kodaira, who has been pretty dismal since breaking through at The Heritage in April. However, the price just doesn't match the talent. His odds are the same as players ranked beyond No. 500 in the world rankings. Kodaira still sits inside the Top 50. Whether he pans out or not, there's significant value on his price.
Hennessey: Brandt Snedeker (-120). These aren't the type of odds you're supposed to target for a top-20 pick. But Sneds, coming off a near runaway victory in Napa, isn't getting the respect he deserves from oddsmakers for the CIMB. It's likely his
Pan (+150, DraftKings price). Pan hasn't been getting the respect he deserves as an elite ball-striker with the ability to score well on par 4s. The fantasy community seems to agree that Pan will contend this week, so I'll take this top-20 pick to the bank.
(Results on Top-20 picks last week: Mayo: 0 for 1; Gdula: 0 for 1; Riccio: 0 for 2; Kannon: 0 for 1; Powers: 0 for 1.)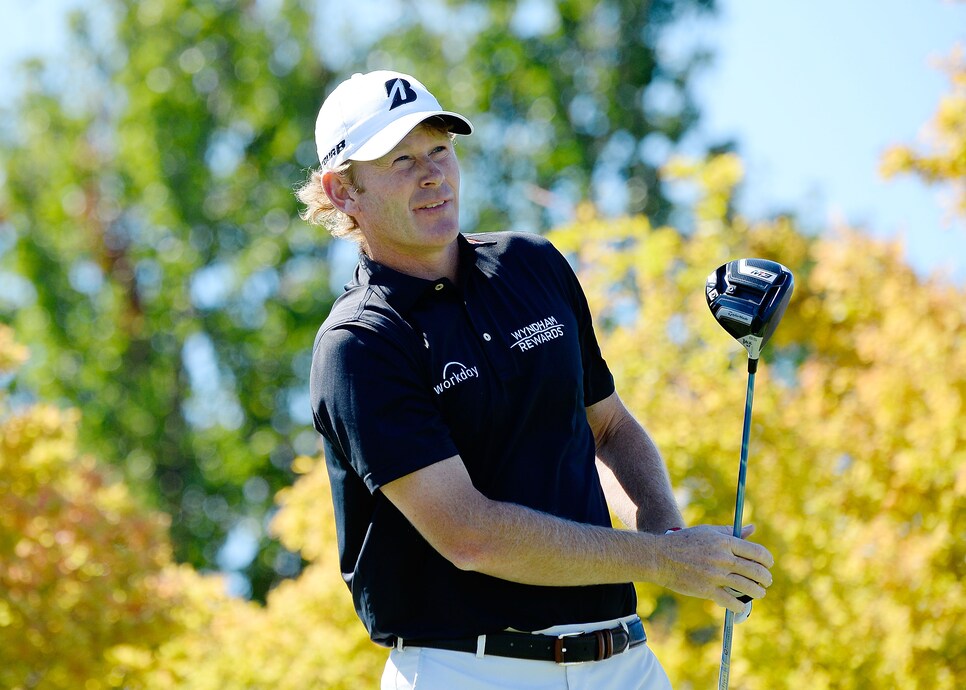 (Photo by Robert Laberge/Getty Images)
Mayo (Mayo, who writes for DraftKings, can't give his lineup by law, but can give some advice): Here are players who I'll build my lineups around this week, opting to fade the higher-priced favorites in lieu of strong value lower on the board:
Rafa Cabrera-Bello: $9,300
Gdula (like Mayo, Gdula is an employee of FanDuel, so he cannot give out his lineup construction—just advice for making your own picks):
Justin Thomas ($13,000) - Even at $13,000, Thomas is playable on FanDuel, given that there are solid value options this week. Thomas is a two-time winner here and can anchor your cash game lineups (head-to-heads, 50/50s, and double-ups), and there are enough low-owned pivot options to use to roster him in tournaments, as well.
Billy Horschel ($10,400) - Horschel's betting odds don't leave a lot of value, but his FanDuel price does. Horschel ranks eighth among the field in strokes gained: approach over the past 50 rounds and enters with top-three finishes in his past three completed events.
Emiliano Grillo ($9,000) - Grillo's price dipped a lot from last week on FanDuel ($11,000), but he's still missed just two cuts in 2018 — the US Open and the British Open. He's solid across the board statistically and has finished 17th and 54th in Kuala Lumpur in his career.
Sam Ryder ($7,800) - Ryder ranks top-10 in strokes gained: approach, greens in regulation, and bogey avoidance over the past 50 rounds and is coming off a T-4 at the Safeway Open.
Joel Dahmen ($7,200) - I like Dahmen for a top-20, and he's priced at just $200 above minimum salary on FanDuel this week.
Hennessey: Contrary to what most experts are suggesting this week, I'm going top-heavy with my FanDuel lineup. To me, I have four players who could put up big time points for FanDuel scoring, while rounding out my lineup with Burgoon and Spaun, who could put up a bunch of birdies. I like Paul Casey in this no-cut format—and he's good for birdie streaks, and his tendency to mix in bogeys won't cost him a chance of putting up points on the weekend.
Picking the Winner: 1 for 1 — Christopher Powers nailed Kevin Tway at 55-1.
Fades (players finishing top 35 or worse deemed as a win):
PGA Tour caddies: 1 for 3.
Gdula: 0 for 2—though he narrowly missed on both of his: Harold Varner III (T-14) and Hunter Mahan (T-17).
PGA Tour caddies: 1 for 5.