News
Days after keeping his tour card, Chris Kirk revealed the most underappreciated part of his accomplishment
Chris Kirk, playing in his last start on a major medical extension, walks from the 18th green after his final round of the Sony Open in Hawaii aware he had finished well enough to have kept his PGA Tour card.
Cliff Hawkins
A few days removed from needing a top-three finish at the Sony Open in Hawaii to secure his PGA Tour card for the rest of the 2020 season, Chris Kirk can breathe a sigh of relief as he tees it up at this week's American Express. He has full status again after a tie for second last week at Waialae Country Club fulfilled his major medical extension.
But that's also only a small part of his remarkable story.
The dark days that once plagued Kirk have been well-documented—in 2019, he took a leave of absence to deal with alcohol abuse and depression. In the years leading up to that, Kirk says he found himself nervous and uneasy any time he found himself in contention at a tournament.
"I don't know how that related to the personal issues that I was going through—I think they probably went hand in hand more than I realized at the time—but I just, I just hated it," he said this week. "So I got to the point where I was kind of like, Why am I doing this? Because obviously you're the most nervous when you're playing well and you're having success. So it's like, I'm out here playing every week and I want to do well, but then when I do well, I just feel like I'm going to throw up. It just feels awful."
Kirk entered the final round one of five players tied for fourth and three strokes back. He bogeyed two of his first three holes on Sunday but bounced back to shoot a 65 that included a birdie on the final hole to tie for second.
"It certainly felt like a win to me," he said. "It just totally kind of changed my year to say the least."
That's an understatement.
Instead of a mixed bag of Monday qualifiers and a piecemeal calendar of PGA Tour and Korn Ferry Tour events, the 35-year-old four-time PGA Tour winner will again have the kind of regular schedule that he enjoyed for much of his career before things took a dark turn.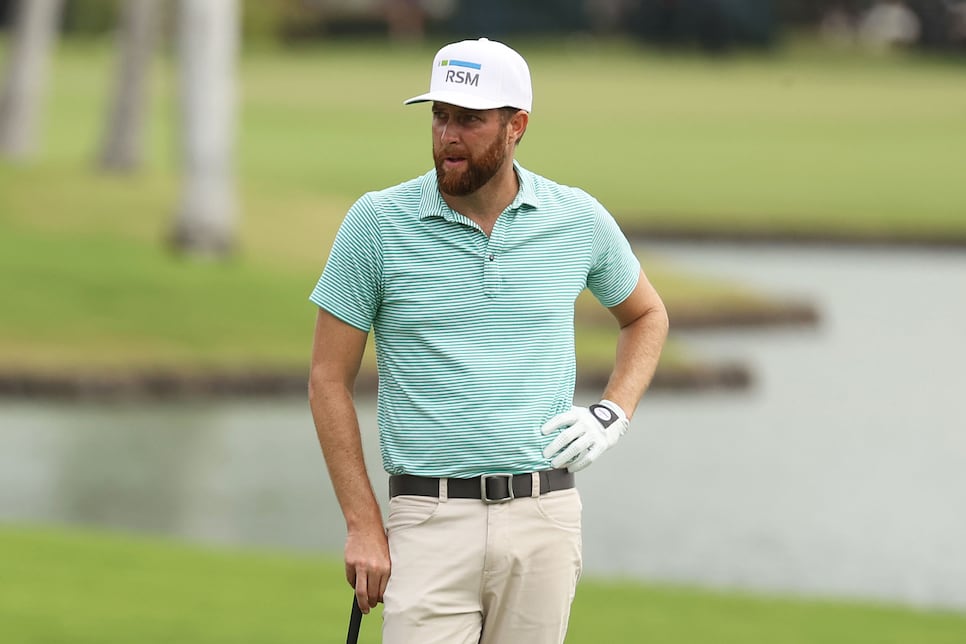 Kirk admitted to being nervous down the stretch Sunday at the Sony, but that it was a good nervous.
Gregory Shamus
Still, even though one set of demons was behind him, playing through similar feelings of anxiety that he'd experienced before his leave of absence wasn't easy. Yet that became the overlooked revelation from Kirk's performance on Sunday in Hawaii. To his credit—and perhaps even a bit of his surprise—Kirk found himself embracing the anxiety because it meant that something good could happen.
"So that's something that's been awesome, to have that come back, where obviously being really nervous it's never going to be like a comfortable feeling, but you can still like it," he said. "And I'm back to where now when I start to feel a little bit nervous, no, it's not comfortable, but I love it."
Given his low point off the course Kirk added that he'll take things step-by-step on it when it comes to his goals moving forward, beginning this week in the desert.
It's a cliche but one that in this case is understandable.
"I've never really been someone that's set a whole lot of goals for myself," he said. "Obviously winning out here is what all of us want to do, but I am really just enjoying being back in the process again and spending the time, putting the work in to try to feel like I can be as competitive as possible and just enjoying working on it every day. I am definitely a big process person versus a goal and goal-oriented person, so I love getting out there and putting the work in, practicing and just kind of seeing what it gives me."