The Players Championship
Players 2021: Chris Kirk, who lost interest in golf not too long ago, is contending once again at TPC Sawgrass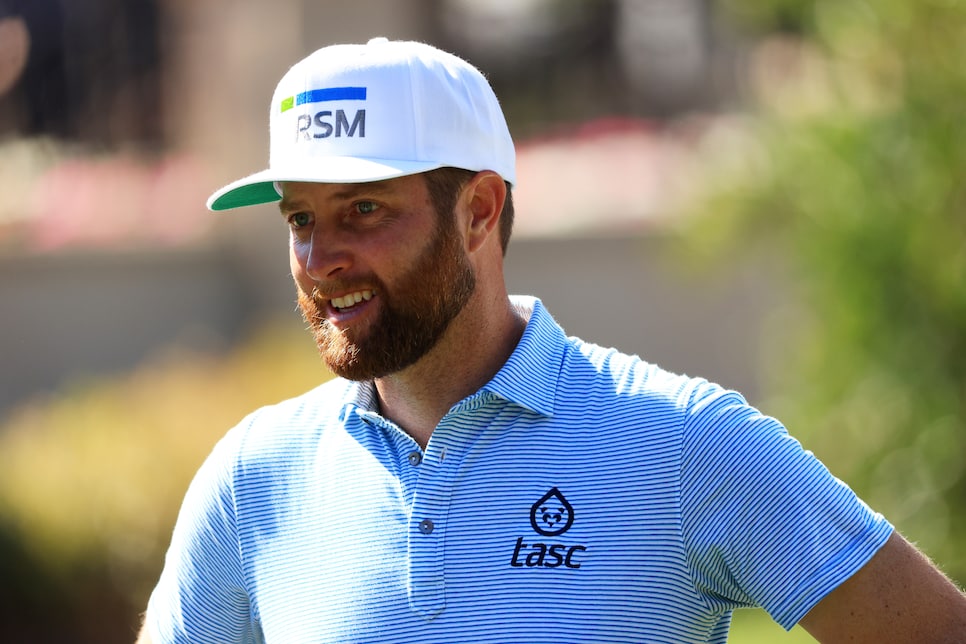 PONTE VEDRA BEACH — As Chris Kirk goes through the media gauntlet, his eyes widen, constantly darting in every direction. Nearly two years after revealing he's had issues with alcoholism, anxiety and depression, his battle is still far from over, something he made clear in a TV interview before meeting with a pool of reporters outside the media center at TPC Sawgrass.
But Kirk hides the demons well in the way he talks and acts, walking slowly from mic to mic and speaking in a soft, laid-back manner. He's much happier with who he is now, and it'd be impossible not to be pleased after torching the Stadium Course to the tune of a seven-under 65, which has him near the top of the leader board at the Players Championship. It's been a bumpy road since 2015, when he held the 54-hole lead in this very event before stumbling to a Sunday 75 to tie for 14th.
"I try to mostly just remember that I had a one-shot lead going into Sunday and I didn't play very well," Kirk said on Friday when asked his recollections about that week. "But I won the next week at Colonial, so I mostly just remember that."
That Colonial victory was one of the many highs Kirk experienced between 2013 and 2015, the peak of his golfing career. He picked up three of his four career wins during that period, climbed all the way to 16th in the Official World Golf Ranking, finished second in the 2014 FedEx Cup Playoffs and made the victorious 2015 U.S. Presidents Cup team. He also had the second of his three sons with his wife Tahnee. Life was very good.
In the years since the highs have been replaced by many more lows, both on and off the course. By the end of 2020 he had fallen all the way to 261st in the world, and he finished inside the top 10 just four times in 68 starts between 2017 and 2019. The poor on-course results led to very dark moments off the course, especially as he spent more time in solitude on the road, away from his family.
"I have gone from this perfect scenario that I had always dreamed of, to now close to 30 weeks a year on the road by myself," Kirk told the PGA Tour in November 2019. "I was like 'This was not part of the plan. This was not what I ever wanted.'
"I think my drinking was accelerated by that and maybe my fitness level and my mental capacity were probably brought down as my drinking went up. I still was playing reasonably well, but not to the level I was a few years before that."
The pressure to provide for a family of four at the time only heightened, which added to his anxiety and drinking problems. He attempted to stop on his own, but after multiple relapses he realized he couldn't do it alone.
"For an alcoholic, if you just stop drinking on your own and do not really do anything else and just fight it every day, then everything gets worse," Kirk said in 2019. "That was definitely the case for me. My anxiety about my golf. My anxiety about money. My anxiety about my relationships."
While Kirk says he never drank before or during a round, he did say it was often difficult to function the next day if he didn't drink the night before. On Friday, he said "there were times on the 15th hole where getting in and having a drink was all I was thinking about."
Kirk, who will turn 36 in May, decided to finally get help after a particularly bad night in New Orleans in April 2019. Not long after, he announced a leave of absence from the PGA Tour, explaining he had been dealing with alcohol abuse and depression for quite a while.
Almost two years later, things have steadily improved for Kirk on and off the course. After missing four of five cuts at the beginning of 2020, Kirk grabbed his first professional win in five years at the Korn Ferry Tour's King and Bear Classic last June. In 14 PGA Tour starts since, the former Georgia Bulldog has finished inside the top-20 five times, including last week's T-8 at the Arnold Palmer Invitational. On Friday, he matched the low round of the week, making seven birdies and an eagle on the Pete Dye design. It's been a remarkable resurgence for someone who had considered giving up the sport entirely when things got really bleak.
"There were months where I didn't think that I really had any interest in playing golf at all again, much less competitive golf," Kirk said on Friday. "But yeah, thankfully my mindset has changed a lot now in numerous ways, and I'm back to really truly enjoying playing and really enjoying competing, and I love being out here and playing against the best players in the world and kind of seeing what I can do. Days like today are a lot of fun. That's for sure."
The mindset reset is clearly producing results, perhaps good enough to see him reach the heights he reached between 2013 and 2015. He, of course, is not looking that far ahead, instead taking it day by day. For most tour pros, that would sound cliche, but for Kirk, that's his only option.
"I'm just enjoying playing, and ... I have no idea what I can get to in the World Ranking or if I can win a bunch of more tournaments or not or ... I have no idea, and I'm not really worried about it. I'm just really enjoying playing golf, and that's plenty enough for me."
Of course, golf can still punch back every now and then, especially on this tour. It speaks to the way Kirk is handling things now that he realizes that's always going to be the case.
"I certainly have my highs and lows still, like anybody, but my perspective is so different now that a bad day or a bad week is just not really going to bother me. If I go shoot 75, no, I wouldn't call that fun, but I wouldn't say that's fun, but when I walk off the golf course, that's it. It doesn't matter anymore."
In the past, a not-so-fun day on the golf course would linger for Kirk, potentially leading to some bad decisions. Now, he's just taking it day by day.