Charles Schwab Challenge
Phil Mickelson had the perfect response for a rough start at Colonial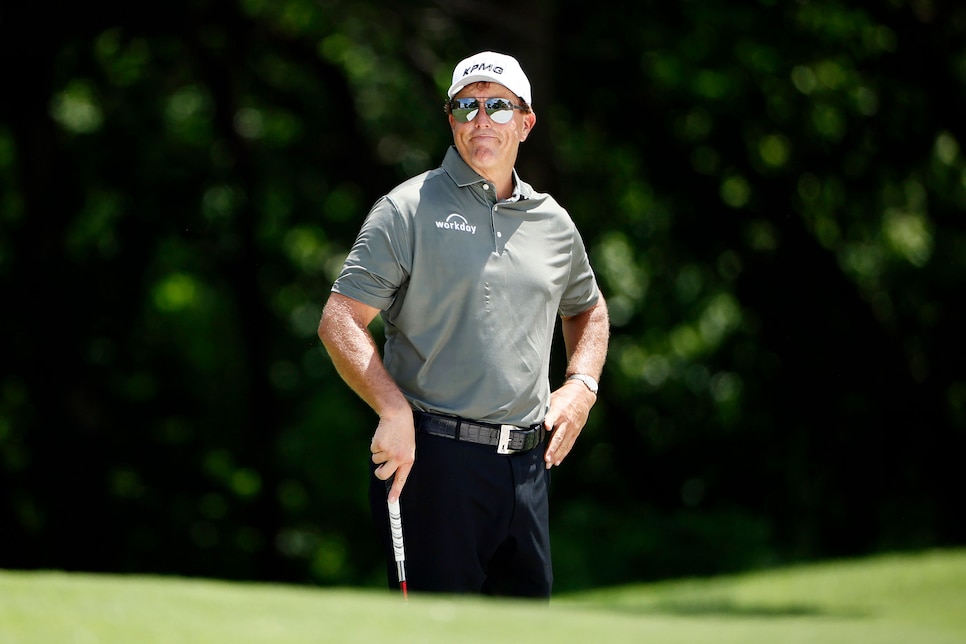 Phil Mickelson stands on the fifth hole during the first round of the 2021 Charles Schwab Challenge.
Tom Pennington
It was unrealistic to expect Phil Mickelson to come out for the first round of the Charles Schwab Challenge on Thursday at the peak performance level he showed for four days at the Ocean Course. Not with all the energy expended en route to victory at the PGA Championship, or in the days afterward as the 50-year-old got comfortable with his new status as oldest golfer to win a major championship.
That said, there was some obvious disappointment from Mickelson when he spoke to the media after signing for a three-over 73 on Day 1 at Colonial Country Club, a score that left him 10 shots back of co-leaders Jordan Spieth and Sergio Garcia. Still, the six-time major winner rightfully noted there was probably no result so bad as to completely dampen his spirits.
"Yeah, I didn't play well. But I won the PGA, so..." said Mickelson, indicating he trip on Cloud 9 isn't quite done yet.
Mind you, the same issues that gave Mickelson fits before his magical week at Kiawah appeared to return in Fort Worth. He hit just five of 14 fairways (a low number that's even worse than it looks considering the short par-70 layout doesn't require driver off many tees) and only nine of 18 greens. Compounding his struggles tee to green, his putting was -.554 strokes gained on the day.
"I missed fairways with irons," Mickelson said. "You can't play this course out of the rough because then you have tree trouble, which I had repeatedly, and I didn't putt well."
Perhaps it was a result that could have been foreshadowed before he even stepped on the first tee. Cameras on PGA Tour Live caught Mickelson tinkering with as many as five different drivers on the practice range.
So what gives? After a week in which Mickelson expertly worked to maintain his focus, he remarked that the seemingly simple task proved a challenge once more.
"It was almost like I was trying a little too hard, and I wasn't just calm and let it happen, and I was a little bit antsy," Mickelson said. "What would be the word? Unsettled would be the word. Like I just couldn't quite get calmed down in that same frame of mind."
Mickelson has said that this will be his last start before playing in the U.S. Open at Torrey Pines. In that, he has work to do if he wants to extend his time at Colonial into the weekend.
"Kind of a lot went on the last couple of days in a good way, and I'll have some time tonight, tomorrow to get settled in and hopefully I'll come back and play a good round," Mickelson said. "I know even though I didn't play well today, my game is not far off. I've been playing well."
Indeed, in case you weren't aware, he did just win the PGA, so …