PGA Tour
More chaos, more cash: Players are embracing the madness of WM Phoenix Open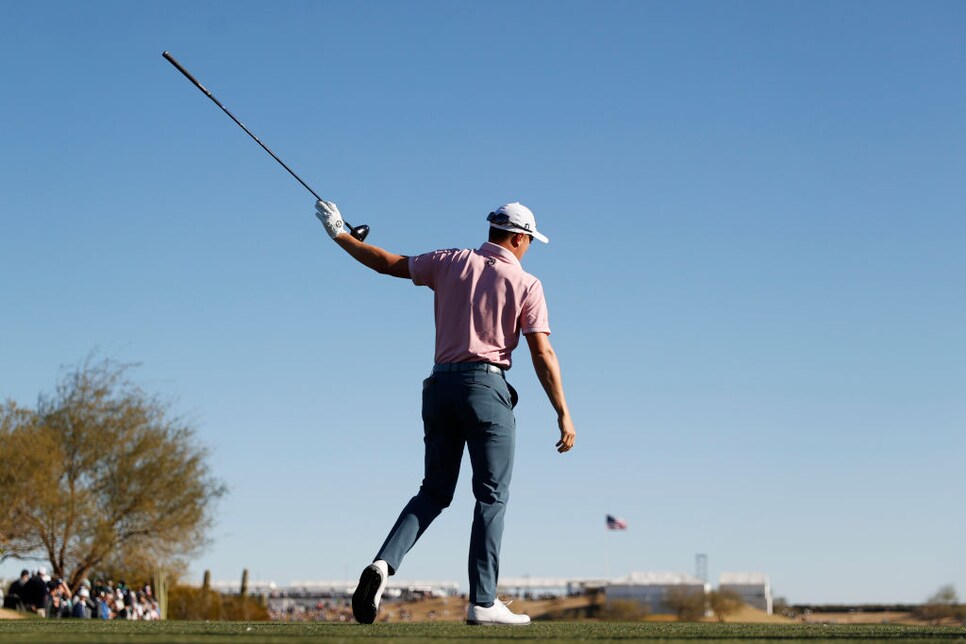 SCOTTSDALE — There's a different vibe at major championships. There's an uncomfortable edge to the place. Every conversation is a little more tense, and even slightly uncomfortable. Players have a job to do, and they know it.
That's not the vibe this week at TPC Scottsdale.
"It feels just like another week, to be completely honest," said Xander Schauffele, who shot an opening-round 67. "I'm assuming most of the guys aren't really thinking about the payout when they're playing golf, but I can't speak for everybody."
When you have as much of it as these guys do, it's not a few extra million (OK even if that means they're playing for a $20 million purse) that gets the juices flowing any more than usual. Yet that doesn't mean players aren't operating in the comfort zone this week. The WM Phoenix Open brings with it its own unique set of challenges: Larger and louder crowds. Stadium seating. And on Thursday, some strong gusts.
"I've seen a lot of wind conditions, but this was one of the toughest stretches I've played out here," said Nick Taylor, who led the morning wave with an opening-round 66.
"It was hard," said Rory McIlroy, who shot two-over 73. "So it really felt like my ball was getting lost in those left-to-right winds pretty hard and just never really got a handle on it."
Wind in many ways is golf's great equalizer. It disproportionately punished golfers with more skill, because those golfers hit the golf ball higher, and often with more spin. It means they need to work harder to keep their ball under the wind by altering their technique, and when they don't, it sends the ball veering wildly away.
Add the massive, raucous, heckling crowd and it may not have tension of a major championship week, but it did present a certain chaos befitting its newly-minted "designated-event" status.
As for how players deal with it?
"It can go one of two ways," McIlroy explained. "You can embrace it and try and enjoy it or try to shut yourself away."
The "embrace it" mantra was common among pros, and in practice, it means pros would actively try to engage with the crowd. Players are interacting with them lightly between shots, and not fretting about trying to hush them into silence like they may during other weeks. Accept the unique challenge for what it is, and lean on your pre-shot routine when the time comes to hit the shot.
"It almost becomes white noise," Schauffele said. "I'd say 16 would almost feel creepy if it was completely quiet, which is impossible anyway. You've just got to enjoy the experience."
In many ways, it gives this event an identity. It may not have the prestige and carry the same pressure of a major championship, but in its own way, it's just as unique.