The Loop
Certified madman Travis Pastrana survives Evel Knievel tribute with trio of Vegas jumps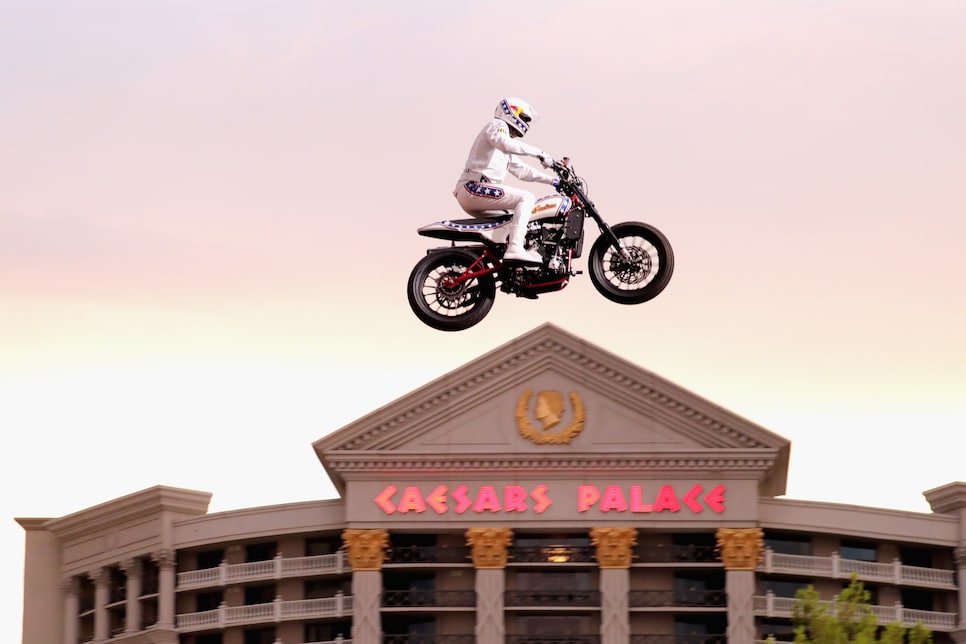 A modern therapist would have a field day with Evel Knievel—a man willing to shatter his own bones by performing stunts he knew had a 100% chance of failure all to entertain a bunch of bloodthirsty strangers transfixed by your seemingly imminent death. Travis Pastrana—motocross phenom turned rally champion turned NASCAR driver turned walking, talking deathwish—has a little bit of that in him; a dangerous combination of showmanship, adrenaline addiction, and god-given skill that prompts him to do things like jump out of an airplane sans parachute and, as part of History Channel's Evel Live!, recreate three of Evel's most iconic (read: disastrous) leaps live on national TV basic cable.
The mission? Jump 52 cars, 16 buses, and the Caesars Palace Fountain in searing 110-degree Las Vegas heat on a 340-pound Indian Motorcycle while wearing a star-spangled cape and costume boots. Simple right? Well, Pastrana made it look like it on Sunday night, going three-for-three, breaking a trio of the fabled stuntman's records in the process. Behold the insanity:
Now granted, Pastrana has the advantage of modern stunt science and (slightly) improved bike tech, but for reference, here's what happened the first time Evel Knievel tried jumping a mere 13 buses...
and here's what happened the one and only time he attempted to jump the Caesars Palace fountain:
In those two jumps alone, Knievel shattered his femur, crushed his pelvis (twice), broke both ankles, his hip, his wrist, and suffered a severe concussion. On Sunday, Pastrana walked away maybe slightly dehydrated. Needless to say, if you're wondering who the sports hero of the weekend was, well, let's just say it wasn't Russell Knox.