Media
Jim Nantz has answers for viewers who thought CBS slighted Phil Mickelson in Masters coverage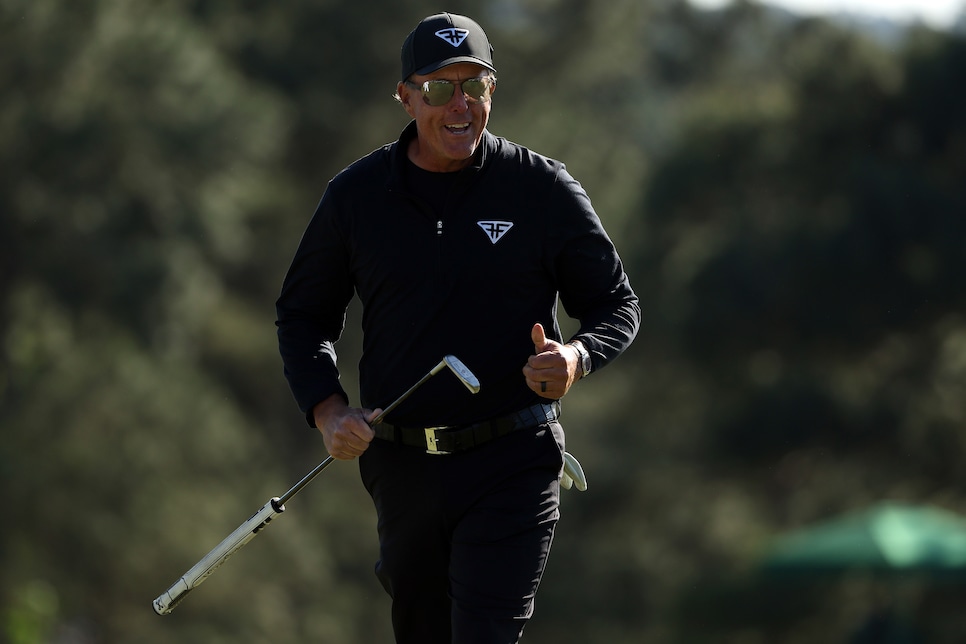 It may not be the best reason to explain CBS's sporadic coverage of Phil Mickelson's surprising Sunday charge and tie for second in last week's Masters, but it was certainly a revealing one from anchor Jim Nantz. "Phil has been a buddy of mine for a long time," he said this week on Jimmy Traina's Sports Illustrated podcast. "There was no effort to conceal him or hide him at all."
Nantz had to take an explanatory posture following what some perceived as CBS and ESPN slighting Mickelson, a three-time Masters champion, during the entire week at Augusta. Among the theories posited was that Lefty's play was shown less because he is an outspoken proponent and member of LIV Golf, and this was his first Masters appearance since moving over to the Saudi-backed circuit. He missed last year's Masters while taking time off following his controversial comments in February.
The social media chatter about how coverage of Mickelson would be handled came early in the week, when the 52-year-old had a typically entertaining first round that included hitting in the water at 11 and 16 and a shot played right-handed on 14. None of that action was shown on the ESPN broadcast that is produced by CBS personnel, though Nantz was not part of that show and didn't comment on it during the podcast.
By Sunday morning, when the weather-delayed third round was being completed, Mickelson looked out of contention by finishing up with a 75. At that point, he wasn't among the top 14, and that didn't change when he scored even par on the front nine of the final round.
It wasn't until Mickelson began to mount a furious charge late in the afternoon that there was reason to pay attention to him. He birdied 12, 13 and 15, but was still four shots back with three challenging holes to play.
"With two holes to play, he was tied for fifth with eight other guys at six under par, and he happens to be facing two holes that you're lucky if you come through there unscathed in 17 and 18," Nantz said. "The odds are, if you had to make a prediction on it as you stood on the 17th tee, he's probably going to make bogey on one of the last two holes and he'll finish in the top 10.
"To Phil's enormous credit, he knocked it to an inch in 17 and made birdie. We showed his entire playing of 18, and all of the sudden he finishes birdie-birdie, and it was a tremendous close by him."
So, in a rarity for a player of Mickelson's stature, he basically got lost in the heat of the action. It wasn't a great look for CBS, but it happens on occasion.
"At the end, the leaderboard looks like, 'Well, he should have gotten that much coverage because he finished second,'" Nantz said. "But you don't know how it's all going to play out in the end. There was no effort at all by anybody at CBS to treat anyone any differently."