Cup Goes pro
The Curtis Cup moves in historic new direction with the R&A's pick for the 2024 GB&I captain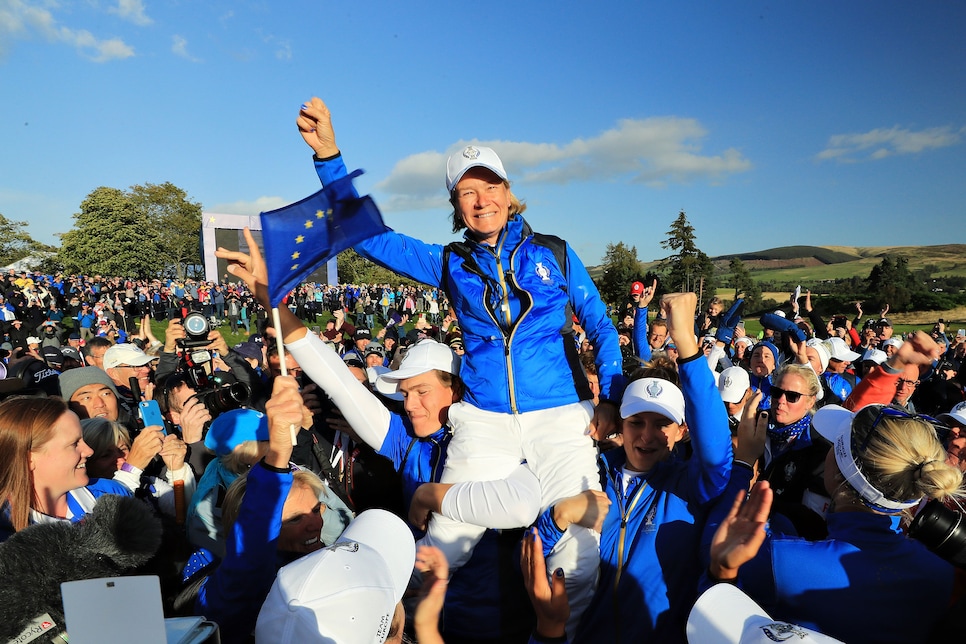 After more than nine decades in the unpaid ranks, the Curtis Cup is going pro. Well, in a manner of speaking.
In a groundbreaking move by the R&A, two-time Solheim Cup captain Catriona Matthew has been named to lead the Great Britain & Ireland side against the United States at Sunningdale when the 43rd edition of the biennial contest between the best women amateurs on either side of the Atlantic takes place in Aug. 30-Sept. 1, 2024.
Matthew, a three-time Curtis Cup player (1990, 1992, 1994) before going on to make nine Solheim Cup starts for Europe between 1998 and 2013, will be the first professional to fill the non-playing role when she takes charge of the eight-woman squad hoping to bring GB&I its first victory since 2016.
"The Curtis Cup has long been a prominent event for women's elite amateur golf, and Great Britain and Ireland has enjoyed some fantastic wins," said R&A CEO Martin Slumbers. "We are now seeing the amateur level of the sport evolve into a more competitive era and believe that Catriona is the best placed captain to guide the team in this period.
"Just like professional golfers, amateurs are now focused on a holistic approach to their game. Catriona will bring her years of professional experience to the Great Britain and Ireland team and help them combine all facets of their game to be in peak form for the Curtis Cup."
Approached just before Christmas, Matthew, the first Scot to win a women's major when she claimed the title at the 2009 Women's British Open, barely hesitated before accepting the captaincy.
"I got the offer just before Christmas last year," said Matthew, who went 7-4-1 in her 12 Curtis Cup matches as a player. "I was delighted. I loved my team as a Curtis Cup player and team golf is something I have always enjoyed. Plus, it's nice to give something back to the game too. I've been helping out a bit with Scottish Golf and their elite women's squad. So I'm reasonably familiar with the names and faces at that level of the game. I'll go to a couple of events with the Scottish girls and meet some of the others at those. I'm really looking forward to it."
Still, as she was quick to emphasize, Matthew will need some help in a role that, while clearly similar, will contrast with her Solheim Cup captaincies.
"I think it will be different from the Solheim in the sense that the players there are all pros and have their own caddies," she says. "They know exactly how to prepare for big events. The caddies are a huge asset in that. They know how to analyze courses and advise their players accordingly. So there will be more advice-giving in the Curtis Cup. In the Solheim there isn't a lot of that. They all know what they are doing. Which is not to say they won't in the Curtis Cup. Every team member will be there because she is a good player. But they might need a little more help. They won't have the experience you typically get in a Solheim Cup player."
To help with all of the above, both of Matthew's assistants make perfect sense, quite apart from the fact that both have Curtis Cup experience.
Kathryn Imrie, the first Scot to win on the LPGA Tour, lined up alongside Matthew in the heavy Curtis Cup loss GB&I experienced at Somerset Hills in 1990. And Karen Stupples played twice, at Killarney in 1996 when GB&I emerged victorious, then again in a losing cause at Minikhada two years later. The 49-year-old Englishwoman, now a much-respected television commentator, also will bring some "local" knowledge, having won the Women's British Open at Sunningdale in 1994.
"In my roles with the Golf Channel I cover a lot of college golf," says Stupples, one of Matthew's "helpers" during the Scot's second Solheim Cup captaincy, a time when travel to the United States was severely restricted by the pandemic. "I'll be at the NCAA Championships and a number of other events. I see all the players on a reasonably regular basis. So I'm looking forward to being involved in the process, especially given where the matches will be played. Any chance I get to go back to Sunningdale is always special for me."
"Karen was an easy choice," says Matthew, whose opposite number as U.S. captain will be Meghan Stasi, a four-time U.S. Women's Mid-Amateur champion. "She is based in the U.S. so will be able to keep an eye on the players out there. And I've asked Kathryn, who was with me as an assistant at the Solheim Cups. As a performance coach at Scottish Golf, she will attend many of the amateur events on this side of the Atlantic. So I am well covered with those two. They will fill in any gaps in my knowledge. This is a learning experience for me too. I won't know the players as well as I did at the Solheim. But I can't imagine my approach to the job will change too much."
One thing Matthew, who will complete her eight-woman side by adding three picks to the five automatic selections, will have to alter is the recent trend in Curtis Cup results. Since that 2016 victory at Don Laoghaire in Ireland, the combined score in the three subsequent matches—45-15 in favor of the Americans—makes for ugly reading from a GB&I point of view.