ARDMORE, Pa. — In the 90-year history of the Curtis Cup, there have been just two interruptions to the biennial schedule: World War II, canceling play in 1940, 1942 and 1944, and COVID. The global pandemic forced the 41st edition of the matches between the United States and Great Britain & Ireland to be delayed a year, pushed from August 2020 to August 2021.
At the time, it was disappointing for the Americans anxious to represent their country, and the same for their captain Sarah LeBrun Ingram, a three-time participant who was on the losing end all three times she appeared. Little did they know that the frustration would eventually result in a unique 10-month odyssey that culminated on Sunday at famed Merion Golf Club outside Philadelphia.
Two hundred eighty-eight days after rallying on the road to win 12½ to 7½ at Conwy Golf Club in Wales, the Americans shined on a rainy Sunday, winning seven of the eight singles matches to post an emphatic 15½ to 4½ victory. With a 2-and-1 win over Caley McGinty, Rachel Kuehn grabbed the Cup clinching point, just as she had the previous year.
"You did it again bro!" said Emilia Migliaccio, her college teammate at Wake Forest, as they ran toward each other, embracing beside the 17th green to celebrate.
Kuehn was far from the lone returner on Team USA. Four other players—Migliaccio, Rachel Heck, Rose Zhang and Jensen Castle—got to make it two straight starts. And two straight wins. This group will stand out in the record books not just for playing in the unconventional back-to-back events, but for winning them both in the shortest-ever span between matches.
"It was a really quick turn around, but I think it was a cool opportunity because the core of the team kind of stayed the same," said Kuehn after the win on Sunday. "We had a couple newcomers, but it just gave us a chance to get to know each other even better."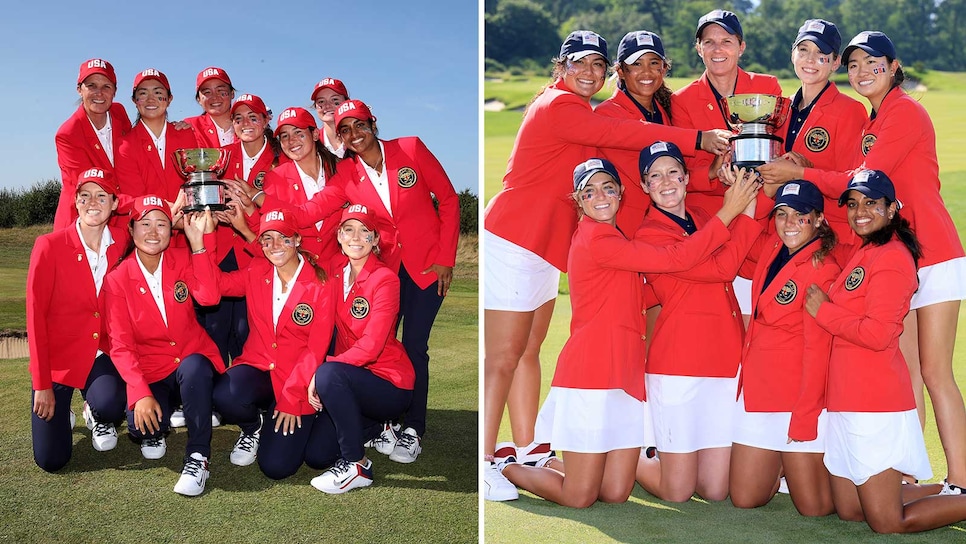 The 2021 and 2022 U.S. teams have five carryover players—Rose Zhang, Emilia Migliaccio, Rachel Heck, Rachel Kuehn and Jensen Castle—along with an alternate (Megha Ganne) and the captain, Sarah LeBrun Ingram.
Those newcomers included Amari Avery, Latanna Stone and, technically, Megha Ganne, who was an alternate in 2021 and traveled with the team. The trio seamlessly merged with the team's core, as many of the players have known each other for years of junior and amateur golf.
"[At Conwy] we were somewhat isolated [due to COVID]. We just bonded there really well," said Ingram as her players hoisted the Curtis Cup trophy behind her. "We didn't have any parents there, we didn't have many spectators of ours, we had to be together there. I think we were able to carry that over to this year. Amari and Latanna fit right in and were welcomed with open arms."
In last year's singles session, Ingram put Zhang, the world's top-ranked women's amateur, in the final pairing. Her win didn't impact the ultimate outcome as the scoreboard had already turned red by the time the 19-year-old had finished. This year, Ingram gave Zhang a chance to have her match influence her teammates, putting her out in the lead-off match.
"GB&I is tough, and they weren't going to quit, so I wanted to make sure we had a strong opening," said Ingram. Zhang made Ingram's decision look golden when she defeated British Women's Amateur champion Louise Duncan, 7 and 5.
From there, Team USA rolled. Heck beat Lauren Walsh, 2 and 1. Castle beat Hannah Darling by the same score. Stone won 1 up over Charlotte Heath. Migliaccio was a 6-and-5 winner over Annabell Fuller, Ganne took down Amelia Williamson, 2 and 1. And while Avery was the lone American to lose on Sunday, she was 4-0 over the first two day of the event, making sure she had a lasting impact on the victory.
There was something fitting, too, that this unparalleled week played out at Merion, the venue that has played host to more USGA championships than any other (19 and counting). The property couldn't feel more revered with its signature red wicker-baskets and themed six-hole sections. Merion is divided into three "acts," like a play. The long and tough first six holes are "The Drama," while the light and birdie-able middle stretch is "The Comedy." Holes 14 through 18, which mark a sharp shift in mood with severe elevation changes and twisting fairways, are "The Tragedy." And as we've seen this week with some down-to-the-wire finishes, the name is apt.
The 2024 Curtis Cup will be held at Sunningdale Golf Club, the dates still to be determined. By then, a new group of Americans will be representing their country, and a new captain. They will no doubt make their own memories. But it's unlikely they'll have the emotional bond that the 2021-22 Americans will carry into the future.