AIG Women's Open
Carnoustie's 18th hole sees more major heartbreak with Nanna Koerstz Madsen's shank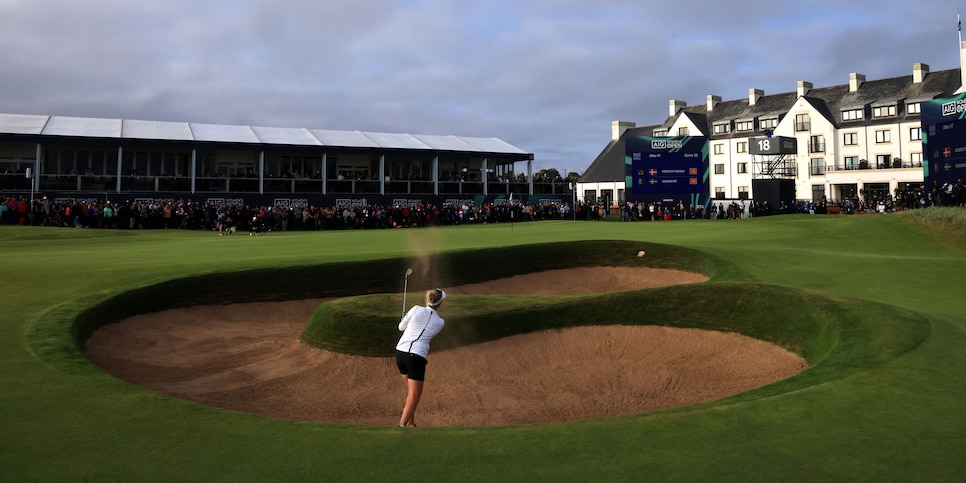 Nanna Koerstz Madsen's bunker shot on the 18th hole hit off the hosel and blew over the green. Tied for the lead coming into the hole, her double bogey dropped her to T-5.
David Cannon/R&A
The 18th at Carnoustie will forever be remembered for Jean Van de Velde's aquatic adventure, a triple-bogey 7 after hitting it in the Barry Burn costing him the 1999 Open title. But now the home hole has another major horror story for fans to recall with sorrow after Sunday's final round of the AIG Women's Open.
Nanna Koerstz Madsen was tied with Anna Nordqvist for the lead at 12 under as they played the 18th in the final twosome of the day. Three players—Madeline Sagstrom, Georgia Hall and Lizette Salas—were in the clubhouse at 11 under, watching anxiously to see if final twosome might falter.
Both Nordqvist and Koerstz Madsen were in reasonable shape off the tee, with Nordqvist hitting her approach to roughly 28 feet setting a reasonable birdie opportunity. Koerstz Madsen, however, couldn't match Nordqvist, flaring her iron approach right, the ball carrying the Burn but coming to rest in a greenside bunker.
Koerstz Madsen's third shot would have been difficult in a casual round—the ball on the downslope requiring a particularly deft touch to get near the hole—let alone with the Women's Open on the line. But what followed was the type of shot that can haunt all golfers, tour pros alike.
We can all empathize with Koerstz Madsen, and she recovered reasonably with a fourth shot that stopped eight feet from the hole. But that meant if Nordqvist two-putted she's win the third major of her career. And given her successful lag putting on Sunday, that was a near virtual certainty.
Sure enough, Nordqvist's birdie try just burned the left edge. She marked to let Koerstz Madsen finish up before locking up the victory. Unfortunately, Koerstz Madsen's frustration on the hole would continue when she missed the putt and made a double bogey.
"I was nervous all day," Koerstz Madsen said afterward, having shot one-under 71. "Did really well in trying to still hit good shots, trying not to make mistakes, and on 18, I tried to not make a mistake and that was the only thing I shouldn't do."
Koerstz Madsen's mishap on the final hole proved costly, literally. Nordqvist took home $870,000 for her victory, a prize that obvious was also within Koerstz Madsen's grasp. Instead, she finished two shots back, in a tie for fifth place that earned her "only" $233,764.
Even Nordqvist had empathy for her competitor at the end of the round.
"Nanna played really well," Nordqvist said. "She made a lot of great up-and-downs, a great up-and-down on 17 and a couple good ones in the beginning. She's a great player. She's going to play well in the future. It's tough to see that, finishing with a double."