LPGA
Tour pro tangled in recent slow-play affair starts strong at AIG Women's Open, continues to defend actions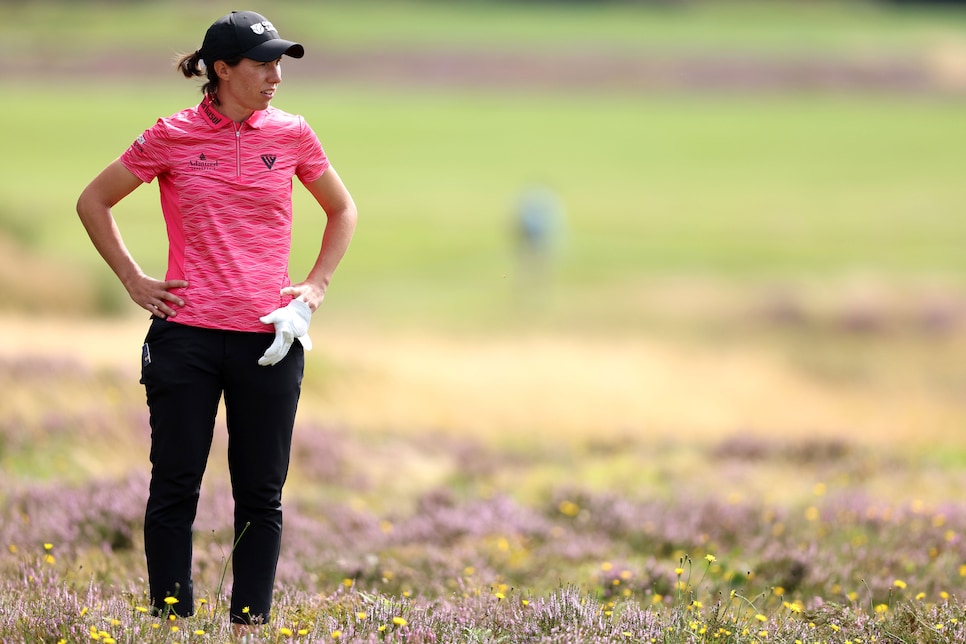 After being disqualified two weeks ago at the Amundi Evian Championship for not adding two shots from a slow-play penalty, Carlota Ciganda worked her way into contention on Day 1 of the AIG Women's Open.
Warren Little
TADWORTH, England — Carlota Ciganda is still having none of it. Almost two weeks after her refusal to accept a two-shot penalty for slow play that led to her disqualification from the Amundi Evian Masters, the 33-year-old Spaniard continued to argue her innocence following a fine opening round of 70, two-under par, in the AIG Women's Open at Walton Heath.
"I know I am not quick and there are players who are quicker," admitted the five-time Solheim Cup player who sits one shot off the lead mid-way through Day 1 of the year's final women's major. "I can improve and I can do better. But there are other slow players who don't get timed or penalized as much as I do. I don't think that is fair. They should be doing the same thing for everyone."
Still, knowing this is a battle she is never going to win, Ciganda did acknowledge that she has been practicing a new pre-putt routine on the greens. It was on the putting surface that she fell foul of the regulation at the Evian.
"I think on the greens I was a little bit quicker," Ciganda said. "Today, we were fine. We were waiting on the group in front on a few holes so we did a good job."
Ah, but she wasn't quite done there.
"They [the officials] have to understand we are professionals and playing for a living," continued Ciganda, a seven-time winner on the Ladies European Tour in addition to her two victories on the LPGA Tour, both in 2016. "Sometimes in majors we hit it in the rough or into a bad situation and it is going to take longer. Making a bogey takes a couple more minutes. I think they should understand that a bit more.
"They always say the time starts when it is your turn to play. But when is that? It is all subjective. If they put a referee with every group a lot of girls would be penalized. Sometimes it is not fair. I would want them to [apply the rules] every time. But this is not something that I can control."
As far as the specific circumstances surrounding her penalty, Ciganda clearly continues to feel singled out. Third of three to play, she claims she would have had no time to assess her putt had she stuck to the rules.
"I just had to put the ball [down] and hit the putt," she went on. "I had no time to read the putt. That is fine when no one has been in your line. But I could not do that. I did not want to interrupt my partner from reading her putt. So in that specific case, I just had to putt. I am a professional golfer and I do this for a living. I just read the putt and hit it."
Still, Ciganda's final words on this on-going saga were slightly more conciliatory.
"At the end of the day I am here to play golf and do my best," she said. "I think I am a nice person and I am nice to everyone when I play. I hope they are all the same to me. Some players play quicker; some are slower. A lot of them can play quicker. I don't want too much focus on this. I love what I do and that's it."
Well, until the next (bad) time at least. While she is far from alone in her propensity to be ponderous, Ciganda remains one of the slowest players in the women's game.