Rules
Carlota Ciganda DQ'd from Evian after refusing to add penalty strokes for slow-play violation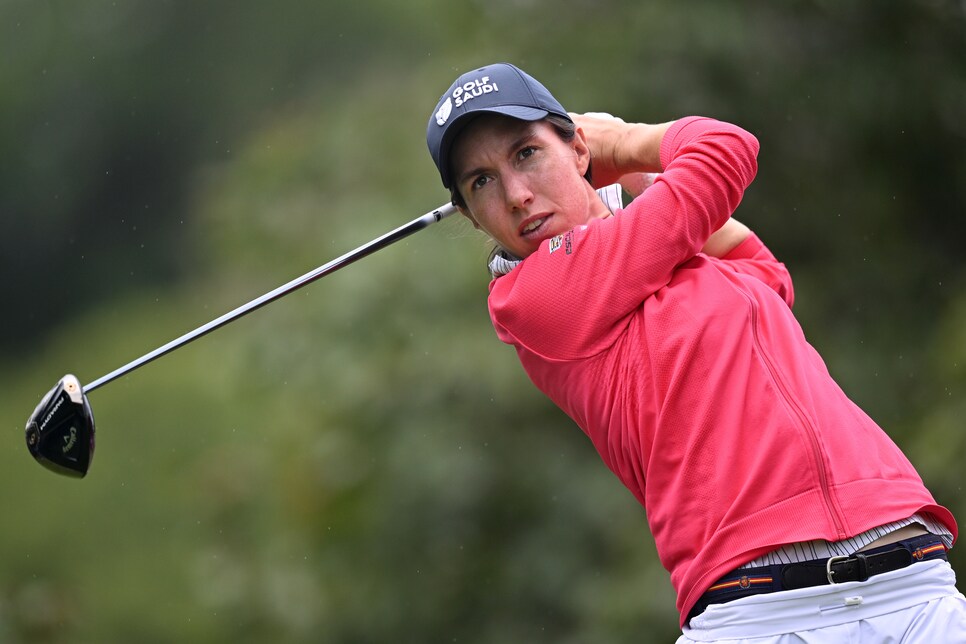 Carlota Ciganda hits a shot during practice round for the Evian Championship.
Stuart Franklin
After Carlota Ciganda's one-over-par 72 in the second round of the Amundi Evian Championship in France on Friday, the 33-year-old Spaniard left the scoring tent without signing her card following a failed appeal of a two-stroke slow-play penalty on the ninth hole. In turn, Ciganda was disqualified from the major in a bizarre turn of events over a rules violation.
An LPGA spokesperson emailed a statement that read, in part, "Group 14 ... received a warning on No. 7 after being out of position. The group failed to make up time through the seventh hole, therefore the group was timed starting on No. 8. On the ninth hole [the group's last hole of the day after starting on No. 10], Carlota Ciganda's shot times prompted a two-stroke penalty per the LPGA Tour's Pace of Play Policy. Ciganda was allowed an appeal with the advance and lead rules officials before returning her scorecard, which was heard and denied. Therefore, a two-stroke penalty was upheld. Ciganda opted not to add the two-stroke penalty to her signed scorecard. She was told that leaving the official recording area with a signed score lower (without the penalty strokes) would lead to disqualification, and left on her own accord.
"Rule 3.3b(3) states that if a returned score is lower than the actual score, the player is disqualified from the competition. The exception to this Rule does not apply because Ciganda was aware of the penalty strokes received and upheld before signing her scorecard and leaving the recording area."
Ciganda played with Anna Nordqvist and Celine Herbin. The difficult, windy conditions during the second round moved the field average from under par at 71.75 in the first round to 74.7 on Friday. The two-stroke penalty would have moved Ciganda to six over for the championship, likely keeping the Spaniard outside the cutline for the weekend.
This is not the first slow-play penalty Ciganda has received. At the 2021 Bank of Hope LPGA Match Play event, she initially thought she won the 18th with a birdie and, in turn, the match with Sarah Schmelzel. After the round, she was notified of a bad time, turning the hole and match from a victory to a loss due to the penalty.
Ciganda came into her 11th career start at the Amundi Evian Championship in solid form. She finished in the top 25 over her last five starts, including a T-3 at the KPMG Women's PGA Championship in June. She also had recently won the Ladies European Tour Aramco Team Series event at Trump International in Florida. The last of her two career LPGA victories came at the 2016 Citibanamex Lorena Ochoa Invitational.