SprinkleTown, USA
My 3 favorite bets for Capital One's The Match between Patrick Mahomes/Travis Kelce and Stephen Curry/Klay Thompson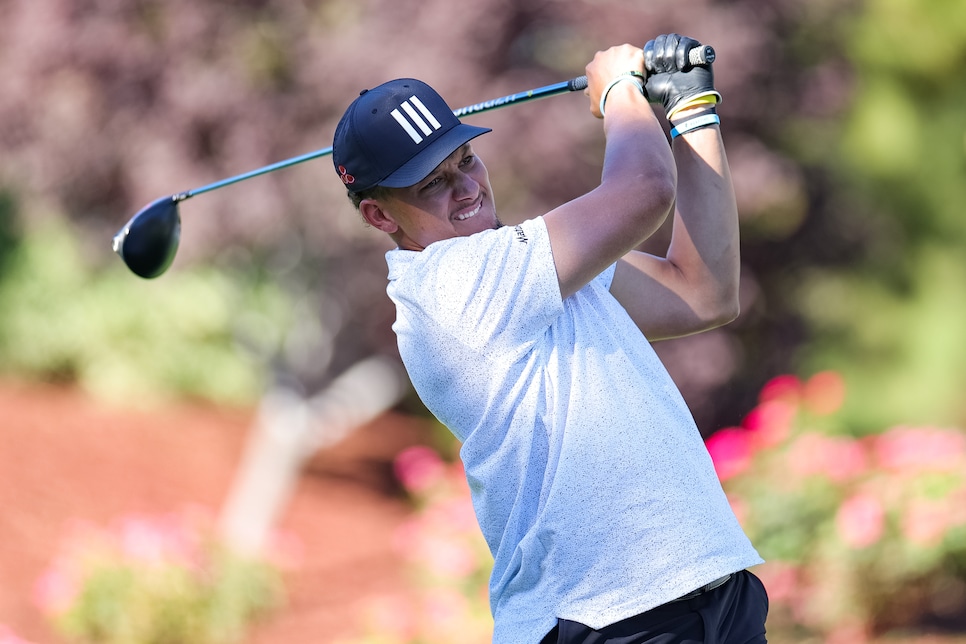 With the eighth iteration of Capital One's The Match headed back to Las Vegas, it wouldn't be right if we didn't place a few wagers on the made-for-TV event.
This Thursday's tussle at Wynn Golf Club, much like last year's, will be incredibly difficult to handicap, as it yet again features four athletes who play a professional sport that isn't golf. The 2022 version featured quarterbacks Tom Brady and Aaron Rodgers battling Josh Allen and Patrick Mahomes, with Brady and Rodgers outlasting them to win 1 up on the final hole. Mahomes returns this year but has a new teammate—his actual Kansas City Chiefs teammate and go-to target, Travis Kelce. They'll square off with Golden State Warriors legends Stephen Curry and Klay Thompson in the 12-hole scramble format.
Outright odds on the DraftKings Sportsbook are live, with Curry and Thompson checking in as a sizable -230 favorite. There are also tons of prop bet offerings already up, including hole winners, birdie-or-better bets and more. I've plucked my three favorite plays for Thursday's duel in the Vegas sun below. All odds are courtesy of DraftKings.
Stephen Curry/Klay Thompson To Lead First (-150) — During media availibility on Tuesday, Mahomes said the first tee in The Match last year was the most nervous he's ever felt, which is obviously saying quite a bit for a player who has appeared in three Super Bowls. That, plus Josh Allen's struggles, were no doubt part of the reason Aaron Rodgers and Tom Brady were able to take an early lead. I see a much similar scenario playing out on Thursday at Wynn Golf Club, where these four world-class athletes start with a mildly-hard par 4, then a gettable par 5 and another par 4 after that. I'd lean with the best golfer of the group here in Curry, who can carry Thompson these first few holes and likely win a hole on his own ball as a +1 handicap.
Longest Tee Shot - Hole 5: Patrick Mahomes/Travis Kelce (+175) — After watching Mahomes up close last year, that man can move the golf ball, which is not all that surprising given his athleticism. Kelce claims he can pound it too, so it's hard not to back the two NFL mutants on this par 5, which actually plays quite nicely to Mahomes' power slice. Of course, you have to hit the fairway to cash a longest-drive bet, so it's hard not to stick with Curry here knowing he'll likely find the fairway. But the value is clearly with Mahomes and Kelce possibly connecting on one and keeping it on the planet.
Patrick Mahomes/Travis Kelce to win (+195) — While I do think the Splash Brothers jump out to an early lead, you have to remember this is a scramble featuring four amateur golfers. Quite literally anything could happen. Kelce and Mahomes will get there holes, there will be momentum swings, and, as good as Curry is, this format gives the underdogs a much better chance than the odds suggest. Remember, Mahomes and Josh Allen were similarly large dogs a year ago, and it took an insanely-clutch putt on the final hole from Aaron Rodgers to squeak past them. The longer this thing goes (generally, these made-for-TV events tend to get interesting late), the more I like Kelce and Mahomes. Plus, these two have some history at the Wynn, and it does sound like Curry will have to do some heavy-lifting with Thompson as his partner.