Vegas, Baby
'We've never lost in Vegas': Why you shouldn't sleep on Patrick Mahomes and Travis Kelce in Capital One's The Match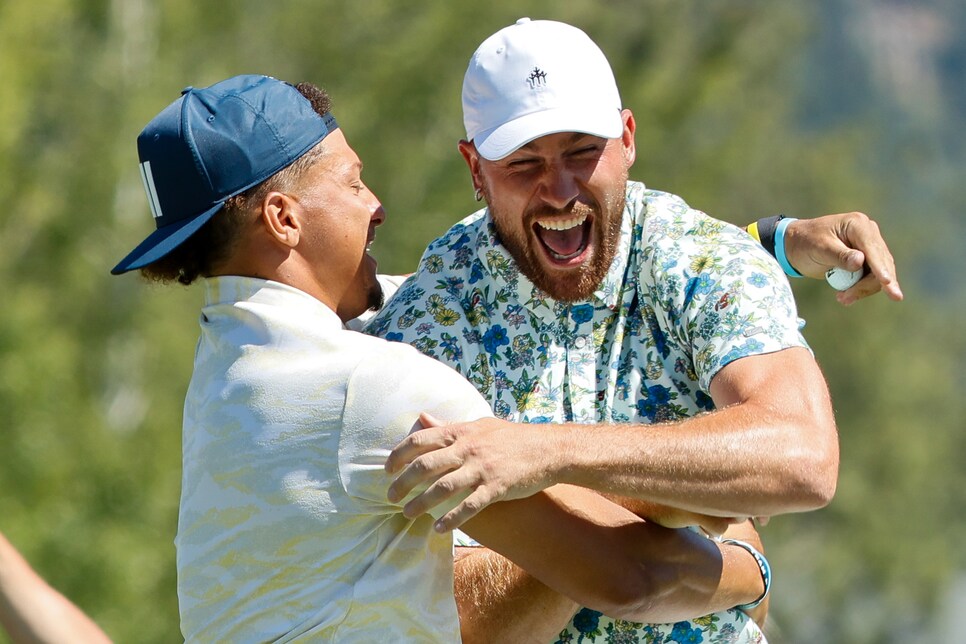 Isaiah Vazquez/Clarkson Creative
As of this writing, Patrick Mahomes and Travis Kelce are a rather large underdog (+195 at the DraftKings Sportsbook) against Stephen Curry and Klay Thompson in Capital One's The Match, which is set to take place on Thursday at the Wynn Golf Club in Las Vegas. Though you wouldn't know it by the way the dynamic Kansas City Chiefs duo was talking on Tuesday.
As Kelce put it, Sin City has been quite kind to he and No. 15 over the years.
"I don't think we're underdogs in this at all," Kelce said. "I don't know about Steph and Klay, but me and Pat have never lost in Vegas, and that's not a shot at the Raiders at all. We've won Pro Bowls there, we've won golf tournaments. I'm not sure if the Wynn wants to see us on the roulette table or the craps table as much as they want to see us on the golf course. We just like to have fun and Vegas has been real good to us."
The golf tournament Kelce was referring to was the 8AM Golf Invitational, hosted by fellow celebrity golf junkie Justin Timberlake. The QB-TE tandem won the event in April of 2022 with a score of 18 under par, beating the squad of actress Kathryn Newton and actor Chace Crawford. That event also happened to be held at the Wynn, so the strokes-gained/vibes will be strong for the reigning Super Bowl champs.
Of course, the task is a little bit taller this Thursday, when Kelce and Mahomes will face off with one of the best celebrity golfers in the game in Curry and his fellow sharpshooter Thompson. Curry, a top-of-the-leaderboard staple in the annual American Century Championship, was recently seen with legendary golf instructor Butch Harmon, who did give him one golden swing thought he'll be utilizing Thursday (a scary thought considering Curry is already a +1 handicap). As for Thompson, he's been scouring the internet for swing tips of late, claiming he hasn't watched any basketball stuff for the last handful of weeks. It's been all golf, all the time.
"I try not to overcomplicate things, especially this close to The Match, you just want to play your game," Thompson said Tuesday. "But I am a milennial. I've been watching a lot of YouTube. Last night I watched Dustin Johnson and Rory McIlroy's tutorial on the scoring shots, so I learned some things. I've just been trying to pick up little tips from the pros. We're so lucky in the age of the internet with all the information out there, I've just been trying to get in golf mode."
As for Kelce and Mahomes, neither have ever had a lesson, which is very apparent when you see their golf swings. And yet, as Mahomes proved last year and as Kelce plans to prove Thursday, they still know how to get it around, especially in the two-man scramble format.
"I have a good feel for his game," Mahomes said. "We'll know when to go for it, when to kind of hit one in the fairway and let each other kind of be the best at what we're the best at."
"Pat's the more consistent player," Kelce added. "So we know exactly what we're going to get out of his game, and on top of that, when the putter's hot for 1-5, baby, it's going to be a great day. We're going to try to get that thing rolling nice. Our game's kind of compliment each other when we're playing in a scramble-type atmosphere like this. As long as we can keep one of us in the fairway, we've both got some power with the driver, can hit that thing 330-plus. That's definitely an advantage we're going to try and take."
Capital One's The Match will begin live this Thursday, June 29, at 6:30 p.m., simulcast across TNT, truTV and HLN in the U.S. and on Discovery+ in Europe. All charitable donations during the 12-hole scramble will benefit the "No Kid Hungry" campaign. Ernie Johnson, Charles Barkley, Draymond Green, Von Miller, Trevor Immelman and Kathryn Tappen will be on the call.