News
Can Riviera Country Club again host major championships? Its corporate head thinks so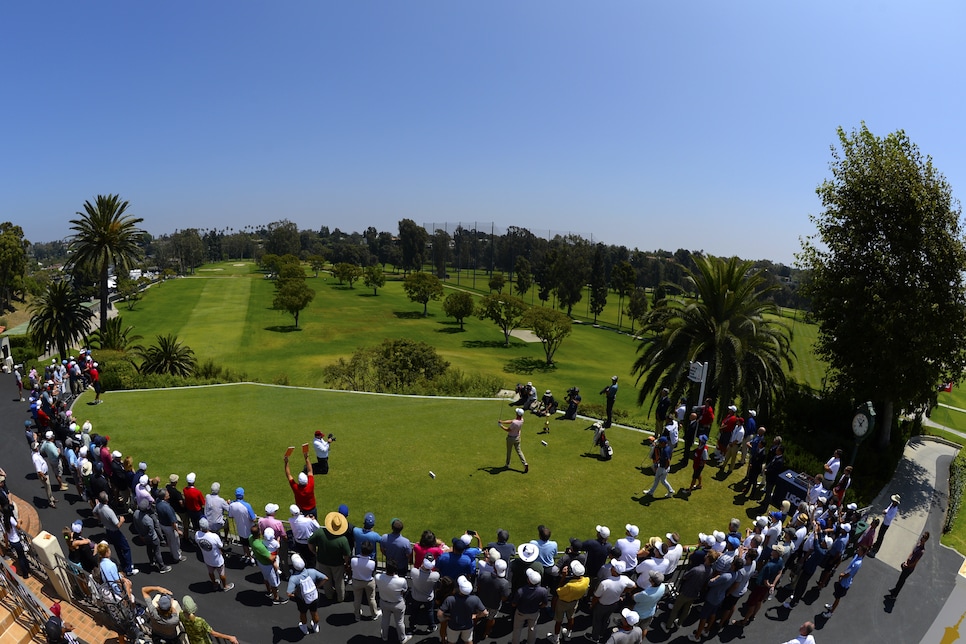 PACIFIC PALISADES, Calif. — Los Angeles is a town defined by stars and the stages on which they perform. It has the Oscars, Emmys and Grammys, the Super Bowl, Rose Bowl and Hollywood Bowl. Go big or go home, as they say.
This is the underlying principle that animates Michael Yamaki, a prominent criminal defense lawyer and power broker in Los Angeles sports.
"Los Angeles is a town that only comes out for the big events," Yamaki, a board member of the Los Angeles Sports and Entertainment Commission, said here last week. "But it's got to be the main event. When it comes to the big events we can showcase and do it better than anyone else."
So it is that Yamaki, who runs Riviera Country Club as its corporate officer , is determined to host championships and competitions commensurate with the course's standing as one of the finest in the country, No. 24 on Golf Digest's ranking of the 100 Greatest Golf Courses, in the heart of the entertainment capital of the world.
His is a short wish list long on history that starts with the U.S. Open and the Ryder Cup.
"Right now, I'm looking forward to the Olympics," he said. Los Angeles was awarded the 2028 Games and Riviera is likely to host the golf competitions, given that it already had an agreement to host the golf competition had they secured the '24 Games. "I'm still talking with the PGA of America. At some point they professed they'd like to see a Ryder Cup on the West Coast. I think we could do that event. I'd still like the PGA Tour [to consider] a Presidents Cup here."
The U.S. Amateur Championship that concluded here on Sunday was Yamaki's effort to court the USGA. "Here at Riviera we have a history of championships. For me, honestly, it was putting the Amateur trophy in our window. I'm looking forward to being a club that has hosted all the major events that we can here. And then having this Amateur just kind of added to it. That was my motivation at the very beginning. The more we can showcase what we do here in Los Angeles the better our chances are."
Yamaki's reputation in legal circles in Los Angeles suggests that the art of persuasion is a strong suit. He'll need it in his attempt to sell Riviera, with its limited space and logistical issues (read transportation and traffic), as a destination for golf organizations that have infrastructure requirements for its showcase events.
"If Merion [site of the U.S. Open in 2013] can do it with that footprint, we could do it. It just has to be a mindset for the USGA. [The Open] has been such a money driver today that everything is getting bigger and bigger and needing more and more space. In that regard we're limited. The course certainly holds its own. But here's the difference. You can make more money here with less volume than you can any place anywhere else because in LA they're used to paying higher prices.
"With the USGA, we drove by San Vicente [Blvd.] and Allenford and saw a Union Station and gas was four dollars a gallon. How much is gas for you? Well, this is how much gas is in this area. You go go a Lakers game it's $75 for valet parking. In LA we would pay a heftier price."
Yamaki, during 20-plus years of attending USGA meetings, detected an East Coast bias that he wishes to counter. An obstacle is that the USGA is less East Coast centric than it once was. The U.S. Open is returning to Pebble Beach in 2019 and to Torrey Pines in 2021 and will be held for the first time at Los Angeles Country Club in 2023. The Olympic Club, meanwhile, seems a certainty to be slotted in again.
He would seem to have better odds of acquiring the PGA Championship. It has been played on the West Coast only four times in the last 71 years: In 1977 at Pebble Beach, 1983 and 1995 at Riviera, and 1998 at Sahalee Country Club outside Seattle. It will venture to the far west once more in 2020, when TPC Harding Park in San Francisco hosts the PGA.
"The USGA at the end of this [U.S. Amateur] is going to say, yes, we can do it. I don't think at the beginning they were sure because of our reputation in LA. Now, I can't do anything about the traffic, but I can tell them it's offset by the weather. We're not having rain and thunderstorms like they have at 60, 70 percent of the U.S. Opens back east."
To his point, Riviera CC, which hosted the U.S. Open once, in 1947, never looks better than it does in the summer, its architectural charms accentuated by blue skies, ocean breezes and daily temperatures in the low to mid 70s, as it was every day last week.
"Its [the USGA] perception of us here in Southern California is that we're just in our hot tubs or surfing," Yamaki said. "They don't think that we will support sports in the same way as the East Coast."
It is correct in one respect, Yamaki said. "If it's just the prelims they're not going to be there. If it's the main event, they're all going to be there. For Lakers games, I could get floor seats all the time for the playoffs. But not for the finals."