The Loop
Cameron Champ's perfect timing, Paulina Gretzky's interesting Halloween costume, and the worst bet of all time
Welcome to another edition of The Grind, where we're sorry to keep touting Golf Digest, but we're on quite a run. As if helping get an innocent man's wrongful murder conviction overturned last month wasn't enough, this month, our cover correctly predicted golf's next superstar: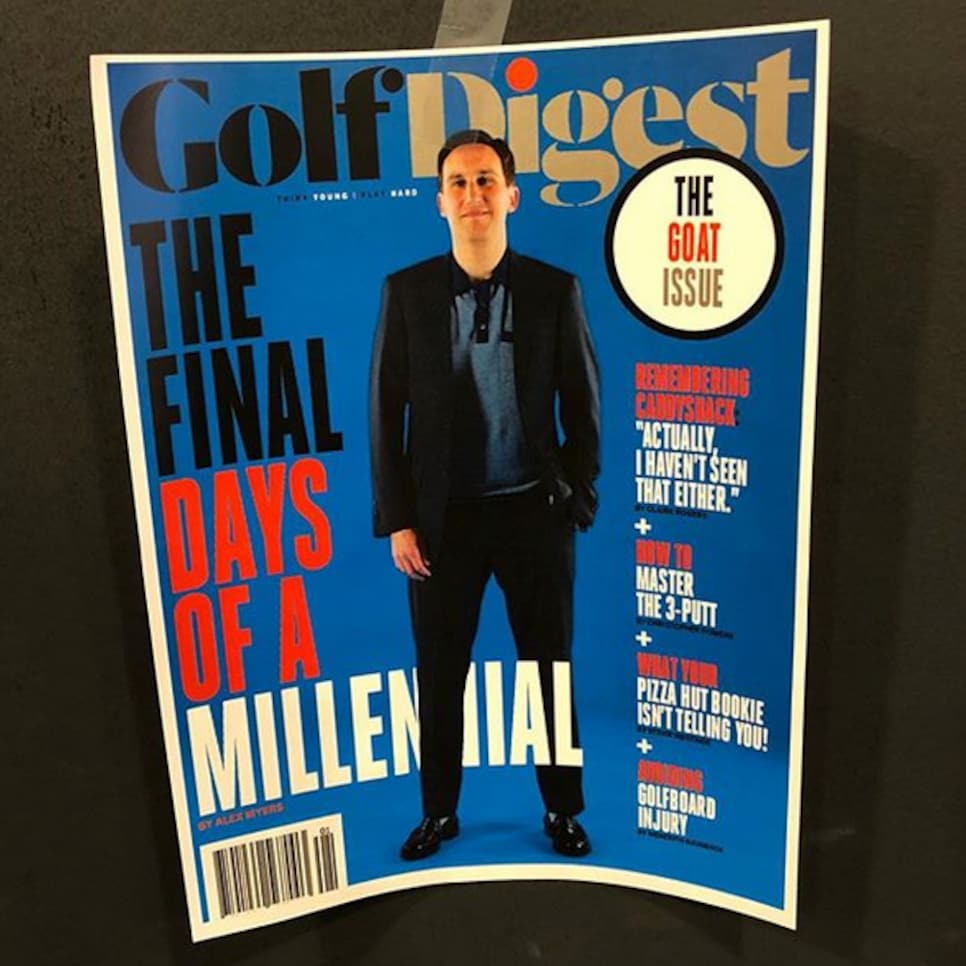 My bad, that was an "alternate" cover featuring yours truly in advance of next week's Seitz Cup. How did that get in there? Looking sharp, though, right? Anyway, here's the actual cover with Cameron Champ:
How's that for timing, huh? And considering how deep PGA Tour fields are these days, picking a winner might be more difficult than freeing someone from prison. So good job, Golf Digest. The last thing you want is having that cover jinx reputation. Anyway, here's everything in golf that has us talking.
Cameron Champ: The power (first in driving distance by 20 yards). The touch (second in strokes gained: putting). And, well, the POWER (again, he led the field in driving distance by twenty yards). Cameron Champ is a freak and he is going to be a problem for fellow PGA Tour pros. He's also a problem for his own golf equipment with that absurd 130-mph swing speed:
But nothing would deter this 23-year-old from winning his first PGA Tour title at the Sanderson Farms Championship (in just his second start as a PGA Tour member) and he did it in spectacular fashion. After a tough start, Champ birdied five of his final six holes, including this absurd birdie on No. 18:
What a name. What a talent. This dude is going to be fun to watch for a long time.
Xander Schauffele: My fellow Alexander (that's his real name) turned 25 on Thursday and then went out and won the WGC-HSBC Champions by birdieing his final three holes including the playoff. That's already three PGA Tour titles with a World Golf Championship and a Tour Championship. He's developing into a Brooks Koepka Lite when it comes to winning big events.
Dave Coupland: Last year I bought shares in a golfer named Dave Coupland on a European mini-tour. The investment resulted in a small loss, but I reinvested in the Brit this year. Good choice. I'm happy to report (for both Dave and myself) that Coupland won the 2018 Order of Merit on the PGA EuroPro Tour after a T-2 in the season finale.
I'm not sure how much my two shares are now worth — and it's not like I won the MegaMillions or anything — but my wife might get an extra-nice present this Christmas.
The best golf bet in history: Or, at least, one of them. Some Irish gambler correctly parlayed Xander Schauffele AND Cameron Champ to win over the weekend. The odds of that (or what was given by the sportsbook he used)? One THOUSAND and ninety-five to 1 meaning his 10-Euro wager made him 10,950 Euros (approximately $12,500). Congrats to this legend, who wishes to remain anonymous. Probably because people like me would be hounding him for his Masters picks.
The worst golf bet in history: This is it. This is THE worst bet in golf— actually, sports—history. And it involves two Golf Digest writers, John Feinstein and John Huggan. Take it away, John F:
Wow. At first I thought this was a joke because admittedly, I'd never heard of Gordon Sherry (I didn't start paying attention to golf until Tiger Woods won his first major). And apparently, I wasn't alone:
But the bet is real! And John H still hasn't paid John F! To be fair, Sherry is only 44. Maybe he hasn't hit his stride yet.
Tony Finau's win total: OK, this is getting a bit ridiculous. Despite all the high quality golf Finau has played the past few seasons he still only has one PGA Tour title. And it came at an opposite-field event in 2016. This boggles the mind—especially because Finau isn't exactly choking these events away, which was the case with a one-under-par round on Sunday at the WGC-HSBC that resulted in a playoff loss to Schauffele. I thought for sure Jimmer Fredette was going to be his lucky charm:
Oh well. Big things are still coming for this big guy.
Ben Walton leaving: Ben Walton, Golf Digest photo/video extraordinaire and co-creator/co-producer/co-director of The (video) Grind, is leaving Golf Digest. I am forever grateful to Ben for suggesting to me that we start a video series, and he'll be missed. Except when this Dallas Cowboys fan is giving horrendously bad sports takes— er, I mean, yeah, Dak Prescott is awesome! (Ben took a job with the Knicks and I might want tickets someday. . . )
With the PGA Tour's Asian Swing in the books, the guys head to Las Vegas for the Shriners Hospitals for Children Open, AKA that event Justin Timberlake used to host and Jonathan Byrd once won on a walk-off hole-in-one.
Random tournament fact: No JT this week, but Jordan Spieth will make an appearance for the first time, which is probably not a coincidence after he got in trouble for not playing in enough events last year. It's also a good spot for a bachelor party ahead of his upcoming wedding if he wants to kill two birds with one stone.
RANDOM PROP BETS OF THE WEEK
— Cameron Champ and Xander Schauffele will both win PGA Tour events on the same day again: 1 MILLION-to-1 odds
— Cameron Champ and Xander Schauffele will both be on the next U.S. Ryder Cup team: Even odds
— Patrick Reed won't have a problem throwing either under the bus if they lose: LOCK
Brooks Koepka looks like he was photoshopped into a jungle:
PHOTO OF THE WEEK (RANDOM DIVISION)
It's going to be tough to top this one, folks. Jon Lovitz and Kendra Wilkinson hanging out. At a senior tour event.
Just a couple of huge senior golf fans. Who knew?
THIS WEEK IN DUSTIN JOHNSON-PAULINA GRETZKY PUBLIC DISPLAYS ~~OF AFFECTION~~
Paulina Gretzky showed off her Halloween costume this year and she's an. . . eskimo?
THIS WEEK IN PROS ARE JUST LIKE US!
After hitting a shot across a cart path and into a bush, Miguel Angel Jimenez was faced with the type of embarrassing situation weekend hackers always find themselves in. The big difference? Jimenez did this in response:
It's just surprising he didn't light up a celebratory stogie on the spot.
"You have a downhill putt, I'll bet you fifty — fifty Gs — that you miss this." — Phil Mickelson on potential side bets with Tiger during THE MATCH. The line itself isn't that amazing, but the way Phil casually says "fifty" when referring to 50 THOUSAND is so good:
There's still hope this event isn't a dud.
Brooks Koepka missed a wedding in which he was a best man while at the WGC, but Skyped in his speech in a shirt and tie. Nice job, Brooks, but couldn't your friend have scheduled his wedding around the Asian Swing? Another snub. . . . Nelly Korda won her first LPGA title, but big sister Jessica seemed more excited, sharing an emotional reaction video. Aww. . . . A Caddyshack festival is being planned for next summer in Kentucky. No word on whether this is just an elaborate scheme to help rid the area of a gopher problem. . . . And finally, check out this magnificent chocolate-chip-cookie CAKE that was served at my nephew's second birthday party in North Carolina: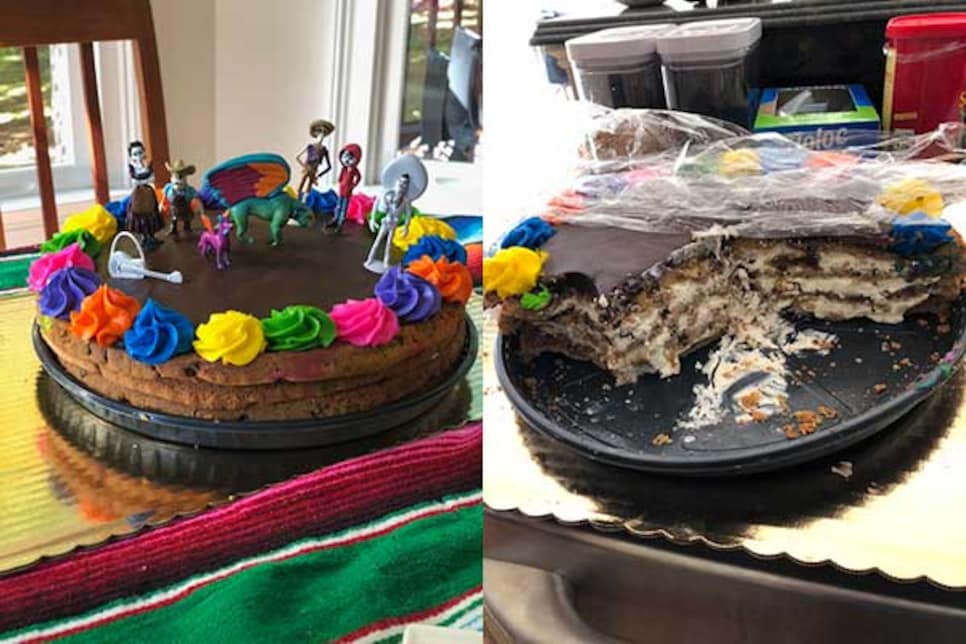 Three thick layers of chocolate-chip cookie, stuffed with whipped cream and topped with a decadent chocolate icing. I will be dreaming about this thing for weeks.
RANDOM QUESTIONS TO PONDER
How many tournaments will Cameron Champ win?
How many drivers will Cameron Champ crack?
Where can I get a cake like that in New York?