PGA Tour
Cameron Champ WDs from Sentry Tournament of Champions after testing positive for COVID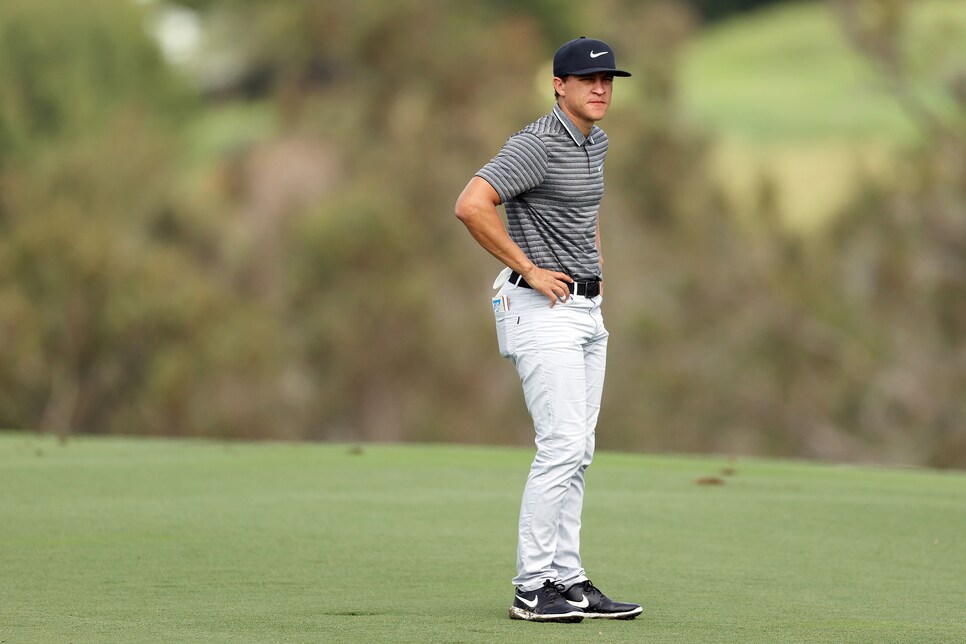 Cameron Champ stands on the fourth hole during the first round of the 2021 Sentry Tournament of Champions. On Tuesday, he withdrew from the tournament after testing positive for COVID before traveling to Hawaii.
Gregory Shamus
With the PGA Tour's wraparound season resuming this week in Hawaii amid a surge in COVID cases throughout the country due to the Omicron variant, a player withdrawal from a tournament seemed inevitable at some time early in 2022. And it happened on Tuesday with the tour released a statement that Cameron Champ had pulled out of the Sentry Tournament of Champions after testing positive for COVID before flying from his home to Kapalua Resort.
"Cameron is naturally quite disappointed not to be able to return to action in Maui," said his management team in a statement. "Thankfully, however, he feels good and we were able to confirm this breakthrough case whilst he was still at home in Houston."
Champ had qualified to compete in the TOC after winning the 3M Open in July, his third career tour victory. It was to be the first tournament that the 26-year-old had played on the PGA Tour since September after suffering a left wrist injury that caused him to take the last three months of 2021 off to rest and heal.
In June 2020, Champ withdrew from the Travelers Championship after also testing positive for COVID, only the second player at the time to have to WD from an event due to the virus. Champ said he didn't feel any symptoms then and eventually expressed that he believed it was a false positive test.
The last time the PGA Tour performed asymptomatic, pre-tournament testing on players was at the 3M Open nearly five months ago. A PGA Tour spokesperson told Golf Digest last week that there were no plans to change virus protocols for the players or other tour personnel with the restart of the tour season in 2022. The spokesperson reported that approximately 83 percent of tour-related personnel are vaccinated. Players won't be tested before or during tournaments, though on-site testing is available for personnel who request one.
In a tour memo, obtained by Golf Digest, sent to the membership on Dec. 22, the tour emphasized that "vaccination, boosters, masking, and social distancing are all critically important."
"The health and safety of everyone involved with PGA Tour tournaments, as well as the communities in which we play, is paramount," a tour spokesman told Golf Digest.