Courses
Cabot Revelstoke, Mike Keiser and Ben Cowan-Dewar's latest project, aims to bring great golf into the mountains of British Columbia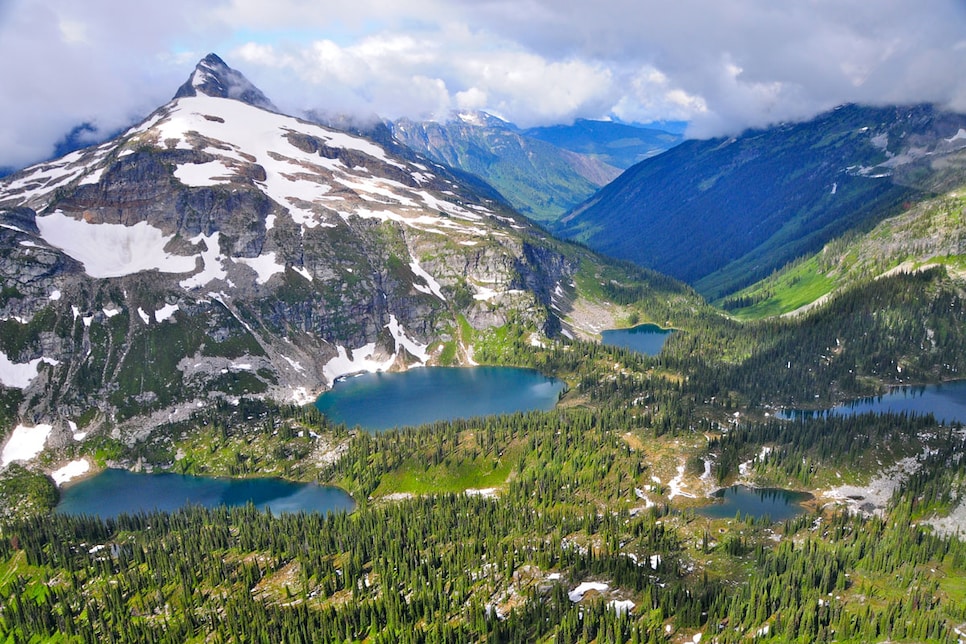 Golf is remarkable in the way it brings together people from different cultures and climates, uniting them for a period of time in mission and experience while remaining an entirely individualistic pursuit. It is social and solitary, as all good travel is, and in this regard is also a passport, a ticket. Golf is the metaphorical vehicle that takes us places and inspires us to see what lies beyond.
Few understand this nuance as well as Mike Keiser and Ben Cowan-Dewar, the partnership behind the Cabot development team. Keiser, who founded Bandon Dunes Resort in the late 1990s, teamed with Cowan-Dewar to open Cabot Links in 2011 on Cape Breton Island in Canada, on a sublime site overlooking the Gulf of St. Lawrence, then added Cabot Cliffs in 2015, and have since added a 10-hole short course called The Nest. More recently they expanded into the Caribbean with Cabot Saint Lucia, a golf and real estate development that commenced construction early in 2020.
Now they announce their latest venture, Cabot Revelstoke, a four-season resort in the mountains of eastern British Columbia.
Revelstoke has long been admired as one of Canada's premier skiing and heli-skiing destinations with vertiginous slopes traversing a 5,600-foot drop. Cabot Revelstoke will consist of a 150-room lodge located at the base of Mount MacKenzie near the Revelstoke Mountain Resort gondola, residential offerings and an 18-hole course called Cabot Pacific.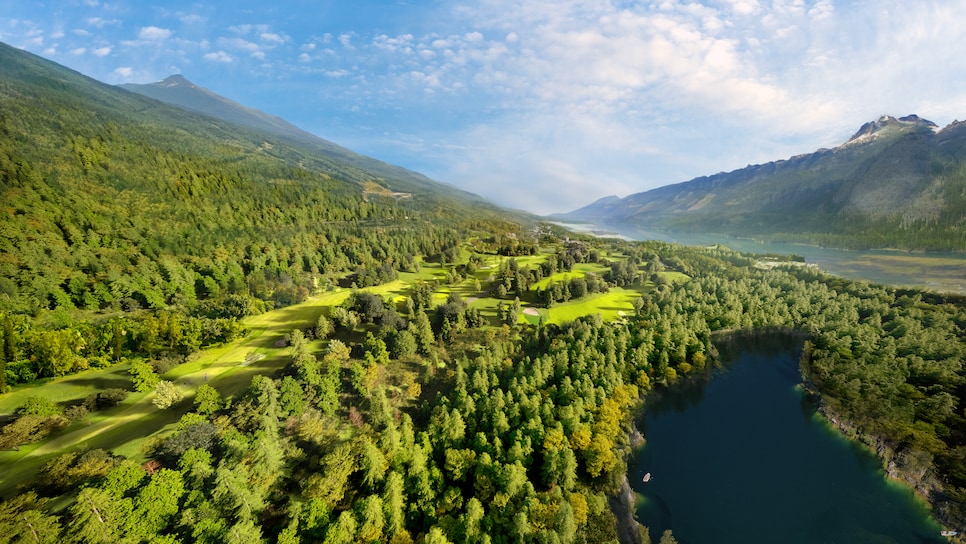 Keiser and Cowan-Dewar have hired the firm of Whitman, Axland and Cutten to design Cabot Pacific, reassembling the team that first produced Cabot Links (Rod Whitman designed and built the course, while Dave Axland was heavily involved in the construction) and built The Nest, which opened last summer. Cabot Pacific will traverse a section of forested property to the north of the Cabot Revelstoke lodge, with upland holes that offer long sightlines toward Mount Revelstoke National Park and across the Columbia River.
The setting's potential fits with the Cabot team's desire to combine inspirational golf sites and aspirational locations.
"We've seen lots of golfers debate the finer nuances of architecture, but what nobody debates is natural beauty," Cowan-Dewar told Golf Digest. "Revelstoke is a reminder of why people have gone to the ocean and the mountains for respite for thousands of years."
The mountains are typically inhospitable to golf courses. Holes there are often forced to take major uphill and downhill orientations, forged awkwardly into landforms or strung lifelessly alongside low river valleys. But the developers here recognized something much more approachable in the Revelstoke property, namely a contiguous parcel with no extreme slopes. Cowan-Dewar describes it as friendly for golf, a lovely piece of rollicking, wooded land with strong but not severe contours.
"It's this benchland at the base of Mount MacKenzie, so in one direction you're looking up at this sheer mountain, and in the other direction you're looking across the wide river valley to the mountain range across the way," he says. "So, the site naturally created this spectacular view-plane for the entire golf course."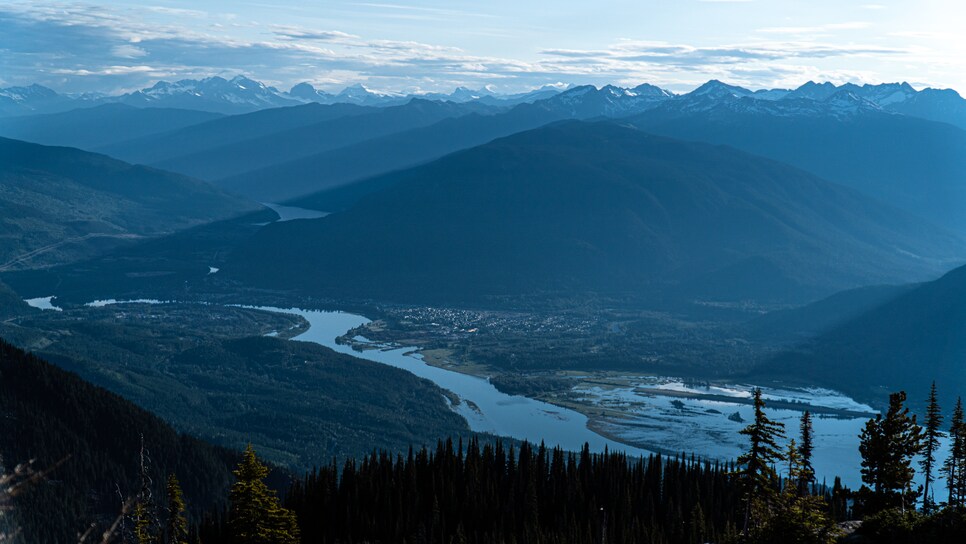 For those traveling to Revelstoke, Kelowna International Airport is two-and-a-half hours away with direct flights from Seattle, Calgary, Toronto, Edmonton, Vancouver, Prince George, Victoria, Whitehorse and Cranbrook.
As Whitman began walking the terrain he identified a high ridgeline along the western perimeter that drops steeply toward Williamson Lake. The ridge will serve as the routing's leitmotif, providing a recurring theme of holes that move in and out, repeatedly returning to the precipice and its views, with five greensites placed along the edge.
"There are some natural features that are pretty spectacular," Whitman says. "(Holes) seven and eight are set against that dramatic gorge. When I first saw it, I thought . . . well, you never want to mention names, but it reminded me of Cypress Point. But instead (of the ocean) it's in the mountains."
Whitman describes the seventh hole as a par 4 that runs south with the green set against the bluff. The par-3 eighth swings east and plays across the deep gorge demanding a long carry of over 250 yards from the back tees for players taking on the direct line to the green, similar to Cypress Point's legendary 16th hole. The holes on the higher side of the property turn back and forth against the side slope of the banked topography and will incorporate rock outcroppings in a variety of ways. Whitman says the course is designed to be walkable.
It's not possible to consider golf in the Canadian Rockies without thinking of two of the world's great mountain courses, Banff and Jasper Park Lodge in Alberta, both designed by Stanley Thompson in the 1920s. Their influence will loom large over Cabot Pacific: both Banff and Jasper Park Lodge are within a five-and-a-half-hour drive by car. Whitman and Cowan-Dewar would be honored if their course is someday considered in their company.
"They are two courses that would be right at home in anyone's top 100—they're spectacular, iconic mountain courses, and really two of the prettiest sites for golf that there are. I saw them as a young person and have always been drawn back to them," says Cowan-Dewar.
Whitman, who grew up in Alberta, agrees. "When I start thinking about mountain courses, I start thinking about Banff and Jasper, those famous Stanley Thompson courses," he says. "I'm thankful to have the opportunity to do a golf course in the Canadian mountains that hopefully one day will be compared to those. But this landscape is different than those properties, too."
When clearing begins in December (with an anticipated opening in 2023), the challenge will be for the design team to build a truly great modern mountain course, "which probably hasn't been done in our lifetimes," Cowan-Dewar says. But doubts are alleviated when he's reminded of taking Whitman to Cabot Links for the first time 15 years ago, when nothing like that course, either, had ever before been built in Canada. That endeavor turned out nicely.
"I put a lot of faith in (Whitman's) abilities," he says. "He's one of the truest artists I've ever met."