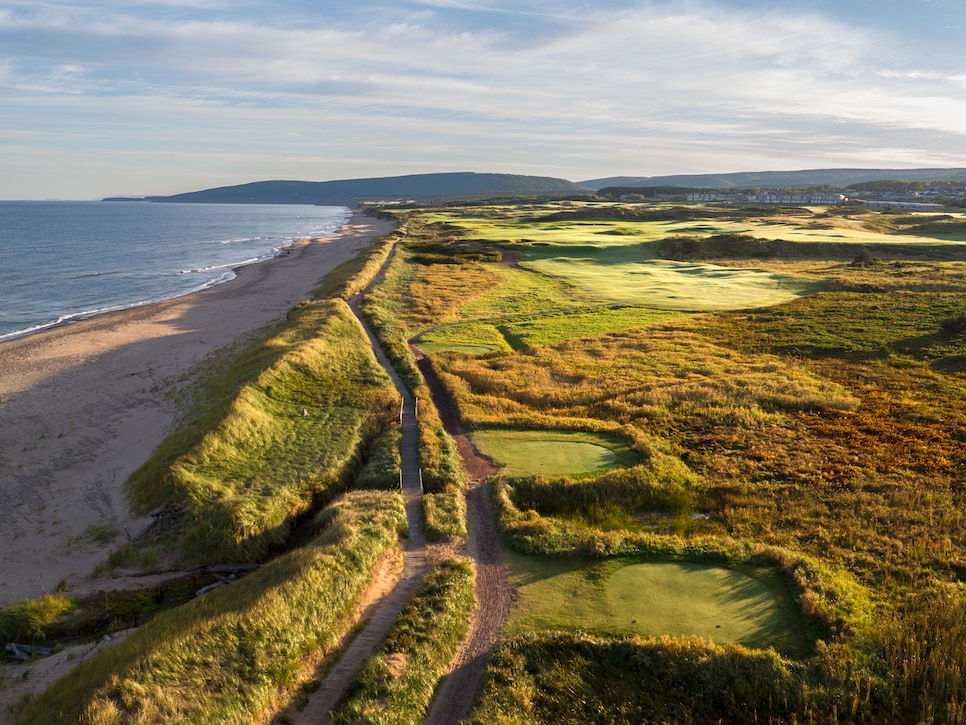 This past summer my wife and I packed up the SUV and drove 939 miles from our home in Connecticut through Maine and New Brunswick to Cape Breton in Nova Scotia to play a couple of courses owned by Mike Keiser and his Canadian partner, Ben Cowan-Dewar. It was my third visit, Beth's first, to Cabot Links resort, or what they should have called Brigadoon.
Keiser is famous for his Bandon Dunes Golf Resort in Oregon: He gives Americans a wee dram of Scotland without crossing the ocean. It's hard to believe, but Cabot Cliffs and Cabot Links are even better in my book—they rank ninth and 43rd among Golf Digest's World 100 Greatest Golf Courses. I should add that Keiser churns out masterpieces at a Picasso pace because he has more projects going in Wisconsin, Oregon, Scotland and California, but if I had to pick one spot anywhere to spend a summer, it would be in this old coal-mining town called Inverness on a beach fronting the Gulf of St. Lawrence.
The proof is in the four caddies who carried my bag over four rounds there: a Scottish farmer, a junior high school principal, a practicing attorney and a renowned pediatric surgeon. Each made their way from far and wide to live or summer in Inverness so they could caddie and play the Cabot courses.
Ken Hunter emigrated from Scotland and tried his hand at dairy farming but was drawn to caddieing when the first course opened. "I always say to players, 'You've come a long way—if your game's not at its best, don't let that spoil the experience of playing two amazing courses,' " he says.
Jim MacMaster grew up in Inverness, then moved to western Canada for a career in education and returned with his wife to build a house on the hills overlooking Cabot. "Knowing when to give advice, listen, encourage or shut up are the primary tools of the trade," he says. "I'm also a golf addict. I tinker with my game all the time, and I love talking to others about theirs. You know the adage: Playing a round of golf is the best way to get to know someone, and it applies to caddieing as well."
Jill McCutcheon is a lawyer in Toronto most of the year, but she bought a villa on the Cabot Links course and took several weeks off last summer to caddie, donating all her fees to an assisted-living facility in Inverness.
"I like fresh air, exercise and golf, not in that order," says Jill, a 6-handicapper. "Being a lawyer involves sitting at a desk and giving advice. I like giving advice, but I don't like sitting at a desk. So in planning ahead to retirement, I asked myself how to combine all the things I love and am good at and came up with being a caddie. As much as I love golf, I think playing seven days a week might be too much even for me! Why Inverness? Because Cabot is a gender-blind golf destination, so I fit in."
Everything about the good doctor seems implausible, including his name: John Wedge. His first job at age 13 was caddieing in Saskatchewan, then came medical school, and 46 years of pediatric surgery; he rose to become the head surgeon at Toronto's world-famous Hospital for Sick Children. He retired last year at 71, travels frequently with his wife, Patty, but has found a home in late summer every year mixing golf and caddieing.
"Meeting interesting people, the camaraderie among the players and other caddies, the spectacular scenery of Cape Breton, the phenomenal exercise carrying a bag and walking seven to 12 miles a day," are the elixirs of Inverness (population: 1,248), Dr. Wedge says. "For a non-intense sport, golfers endure variable degrees of stress. And the essence of their character is unveiled in a broad range of human emotions: humor, anger, frustration, despair, honor, self-deprecation, self-respect, optimism, pride. I've witnessed them all on these challenging courses."
This erudite foursome of caddies would seem out of place at Winged Foot or Augusta National, but not in Inverness. Their lifestyle is from another time. John and Patty Wedge hike in the national park, rappel down the area's spectacular waterfalls, swim in the North Atlantic, take advantage of the caddie rate to play the Cabot courses in the afternoon, and "read a combination of fiction and history in the evenings."
Fiddle-playing at the Red Shoe Pub in Mabou, free samples at the Glenora Distillery, and Pebble Beach views at Canadian prices (79 cents U.S. to the Canadian dollar)—what's not to like? Every golf course is a special place, but you can find your Brigadoon in our World 100.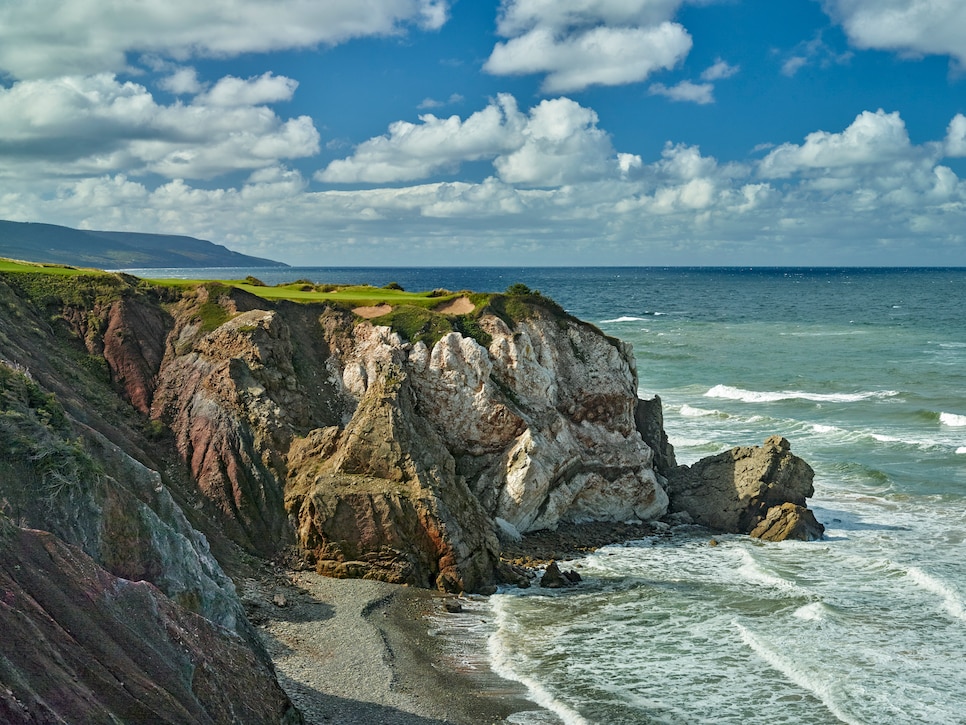 John and Jeannine Henebry