Courses
Cabot Citrus Farms: Architects reveal bold plans for transforming Florida courses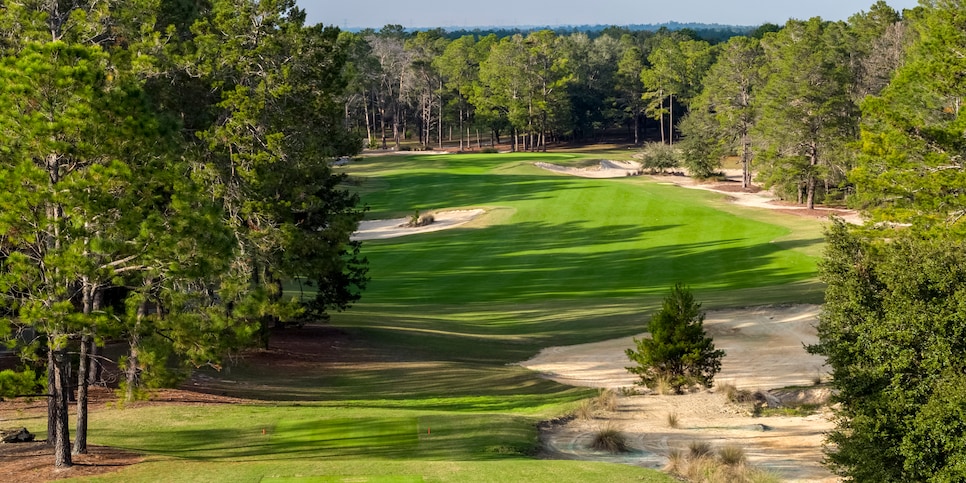 The two original 18-hole Tom Fazio designs, which opened in the early 1990s, were highly regarded. Pine Barrens charted for several years on Golf Digest's ranking of America's 100 Greatest Courses and remains on the 100 Greatest Public Courses ranking, and Rolling Oaks was a perennial fixture on the Best in State lists. Ben Cowan-Dewar, Cabot founder and CEO, was non-committal about either the direction or the extent of the anticipated overhauls of the two courses when asked about them in January. The Cabot group has offered more details with the announcement of the architects who will guide each of the remodels, plus a reimagination of an area that currently includes a large practice facility and auxiliary holes.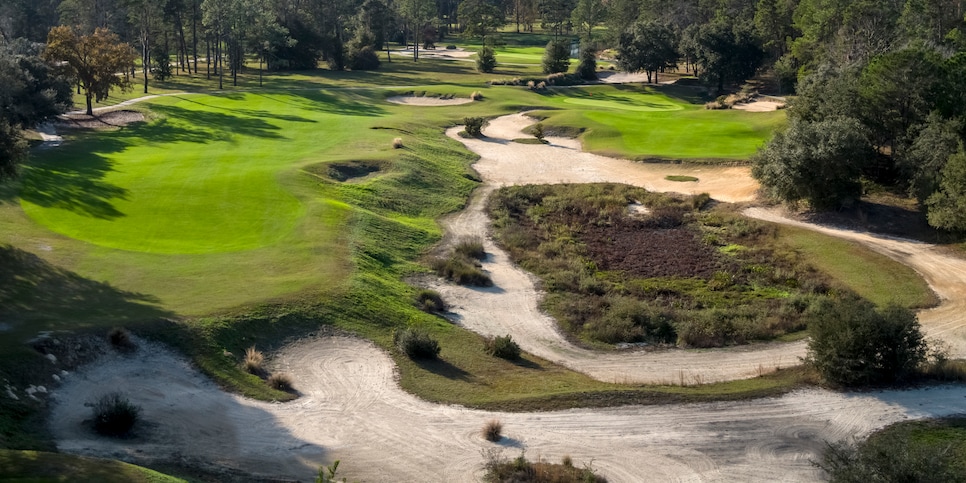 The 15th hole at the current Pine Barrens course at World Woods.
Kyle Franz will revamp Pine Barrens and Keith Rhebb and Riley Johns will manage the re-creation of Rolling Oaks. The job of infusing new life and purpose into the practice area, including building two new nine-hole courses, goes to designer Mike Nuzzo.
Franz's design background is extensive and varied. He came up shaping courses for Tom Doak and Gil Hanse and has worked on an array of national and international projects for a host of other architects. In addition to consulting at historic clubs like The Country Club of Charleston, The Minikahda Club in Minneapolis and Eastward Ho! in Massachusetts (along with Tyler Rae), he's spent much of the last decade in the Pinehurst region restoring Donald Ross' Pine Needles and Mid Pines courses. Last fall he completed a lovely renovation of nearby Southern Pines.
Watch Golf Digest's latest "Every Hole At" course videos below:
When it comes to working in sandscapes like Pine Barrens, few are better. He says the plans for the course is to make it more flexible and diverse, to build courses-within-courses the way George Thomas approached the design of Los Angeles Country Club in the 1920s. In this scenario the entrance angles into large, protected greens can be altered by using hazards to bisect fairway and arranging tees at different distances and on different lines, so holes can be played as par 3s from one position one day, for instance, and par 4s from a different orientation the next.
"By creating alternate fairways and shifting tees around, people will get a little bit different look at the course every day," Franz says. The multiplicity will be enhanced by short-grass green surrounds dipping into swales and hollows. "The analogy I made to the crew was that this could be almost like Pine Valley," a comparison that's existed since Pine Barrens opened, "with Pinehurst No. 2 greens and LACC's flexibility."
Though the routing will remain similar, "It's going to feel like a completely new golf course," Franz says. "Greens are going to get pushed around, tees will be moved, and the puzzle pieces are really going to get reconfigured. It's going to be adventure golf."
Rhebb and Johns previously remodeled the wildly successful Winter Park 9 course near Orlando and designed and built The Bootlegger short course at Forest Dunes in Michigan. Rhebb has also been an associate for Bill Coore and Ben Crenshaw since the mid-2000s, and Johns has shaped features on numerous Coore and Crenshaw projects—including the new Te Arai course in New Zealand—in addition to working with other designers internationally. Neither are unfamiliar with Cabot properties—both helped shape Cabot Cliffs at Cabot Cape Breton, and Rhebb has taken the lead on the ongoing design at Cabot Saint Lucia.
Rhebb says the redesign of Rolling Oaks will develop as he and Johns and their shapers begin working in the field, the same way designs evolve on Coore-Crenshaw projects. In addition to making the course a better, more connected walk, there will be an emphasis on creating firm turf so that balls bounce and glide along the site's up and down slopes. From there the team expects to develop a distinctive bunkering style with strategic placements that shots will have to skirt and maneuver around.
"We'll be working closely with the superintendent to make the turf a highlight of the design and to emphasize the ground game. We want the ball to be able to react off the variety of contours and feeding slopes," Rhebb says. "We're walking into this open-minded because we know working in the sand gives us the freedom to be creative and to build something special, and it's going to take some time to figure out the best way to unlock the full potential of that property."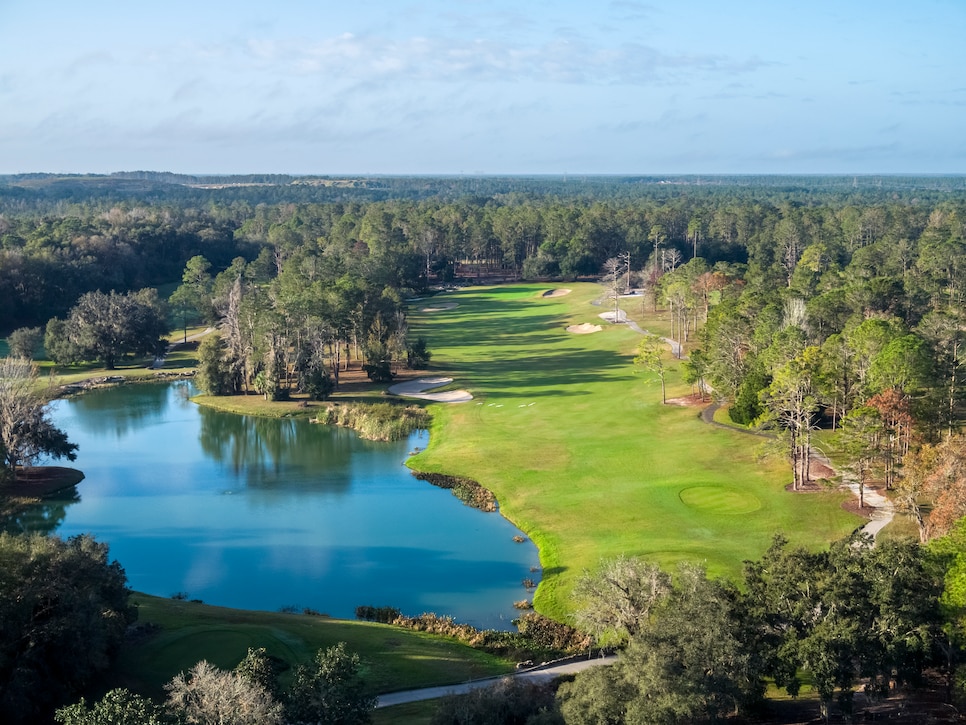 The ninth hole at Rolling Oaks.
Evan Schiller
Mike Nuzzo designed and built one of the great modern courses almost no one knows about. As a little-known architect getting into the business in the early 2000s, he met a wealthy Texan who asked him to build a course south of Houston for his private use. Wolf Point opened in 2007, but aside from the rounds owner Al Stanger and his occasional guests played, the course received minimal outside exposure.
But the low, ground-hugging holes flowing into rolling fairway-grade greens, along with spacious, wind-adaptable holes that encouraged increasing degrees of risk, reminded those who did see it of an inspired variation of traditional links golf. Nuzzo's most recent project is a public development outside Houston that features a full nine-hole course, a nine-hole short course and a large putting green course. These are the same concepts he'll be building at Cabot Citrus Farms.
The section of the property he'll have to work with is about 110 acres that will incorporate a full practice range and short-game area. The regulation nine-hole course will be made almost entirely of half-par holes—six drivable par-4s, a reachable par-5 and par-3s of different lengths. There will also be a wild and tumbling short course of either nine or 10 par-3 holes.
"We don't have any traditional constraints—we don't have to hit a yardage or a number on a scorecard, so we're going to go all-out on fun, creative, play-all-day golf holes," Nuzzo says of the main nine-hole course. "There's nothing holding us back."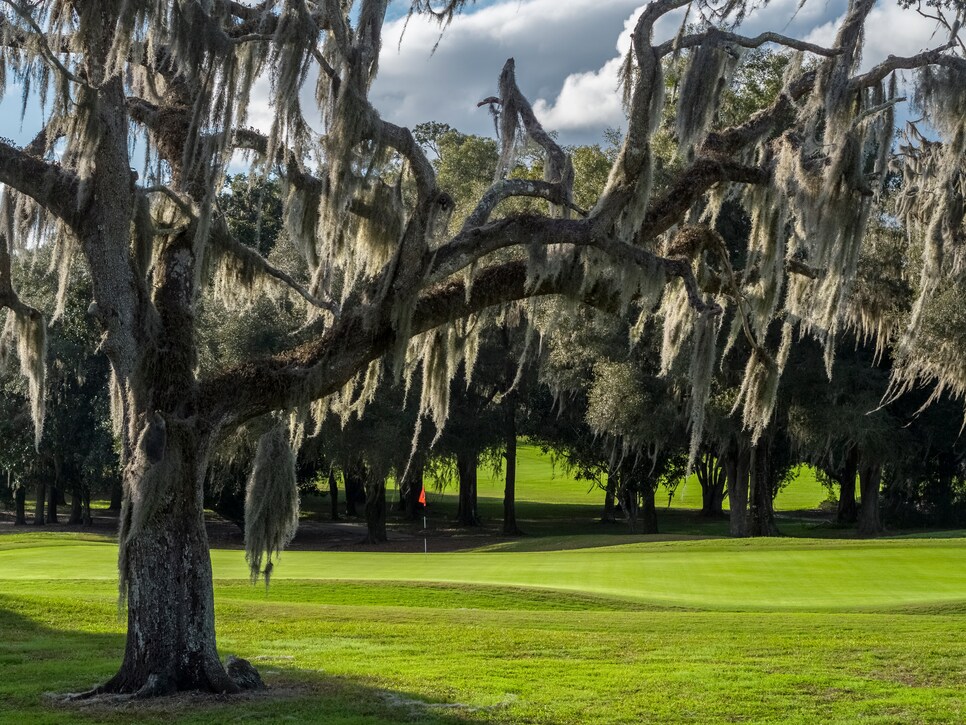 The 11th green at Rolling Oaks.
Evan Schiller
The goal of the short course is to put as much "cool golf" into those holes as possible. "The site is all sand so I'm just like a kid in a playground," Nuzzo says. "The idea is just to blend everything together so it's almost, as much as we can make it, continuous turf from the first tee to the last green with lots of bumps."
Don Mahaffey, a construction and irrigation specialist who helped Nuzzo build Wolf Point (he also assisted Rhebb and Johns with Winter Park 9), will join the teams at Cabot Citrus Farms as the overall project coordinator working with all three teams. Construction across the properties is expected to begin in June, with the target opening date for all three golf elements Winter 2023.