Inside Mickelson's Bag
Phil Mickelson's approach to driving "is like working with a long-drive competitor," says his club builder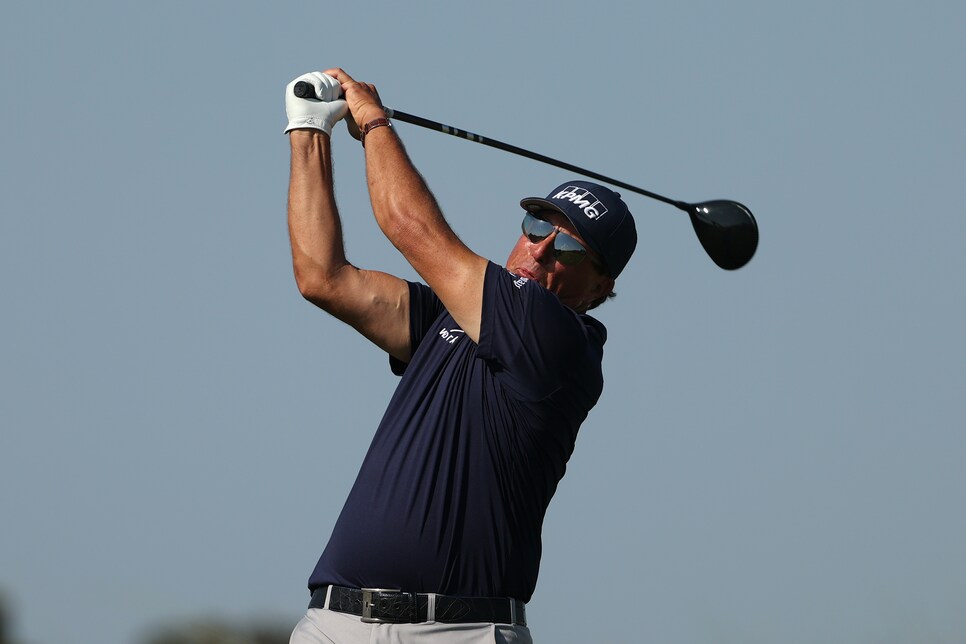 Fact is, Mickelson's average driving distance is 302.5 yards, which puts him in the top quarter of the PGA Tour, and he's seven yards longer than the tour average. How is that possible for a player who should be focusing on the PGA Tour Champions instead of securing his sixth major title? Golf Digest equipment editor E. Michael Johnson spoke with Gerrit Pon, club performance specialist for Callaway and Mickelson's primary clubmaker, about Mickelson's equipment, including a driver with specs that smack of a long-drive specialist, his funky-looking wedges tailored specifically to his short game, and why Mickelson steadfastly holds on to a putter style from a bygone era.
Phil's driver has a pretty long shaft by tour standards. What was the impetus for that?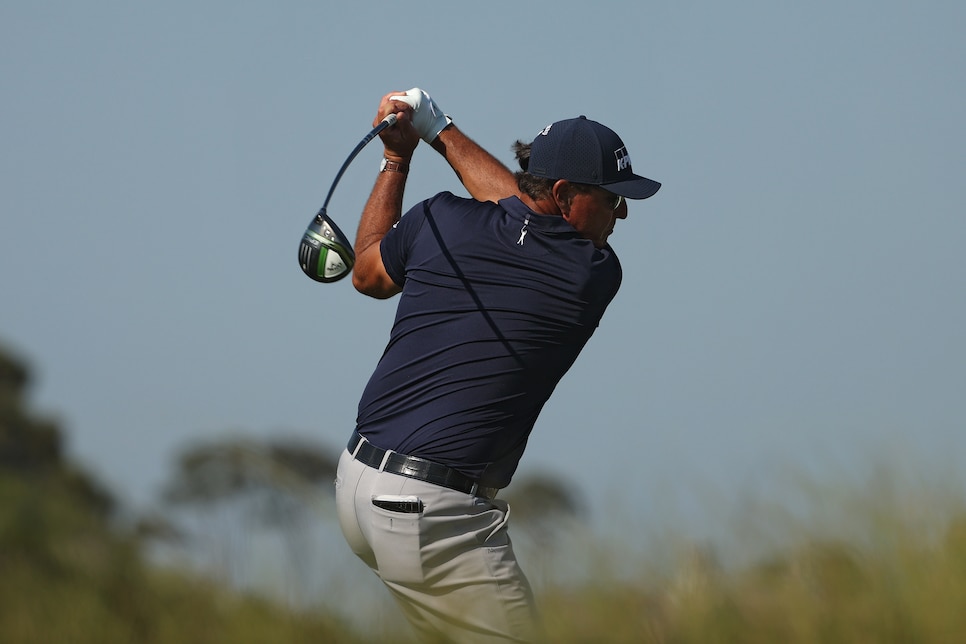 Phil now puts a premium on distance. Going back to 2015 or 2016, he wasn't playing his best and was doing some testing and was not happy with his distance and ball-speed numbers. Someone at the Callaway test center mentioned to him that the list of players that got longer as they got older was pretty small. Phil asked who was on that list, and the reply was no one ... that was the point. After that, Phil took on a process to get longer and equipment is part of that. He changed a lot of other things with diet, exercise routine, etc., but also his equipment. The beginning of changing the length of his driver started three years ago. He went from a 45-inch driver to a 46-inch driver. Then right before his PGA Tour Champions debut he asked me to make him a 47.5-inch driver. Testing out the new Epic product line, there were some things he liked, but some things that didn't work with the longer shaft.
He doesn't want the fade/push to happen on a swing that he feels is a draw swing. The metalwoods team at Callaway led by Evan Gibbs went about trying to design an Epic Speed driver with Phil in mind. To achieve that, we took the standard Epic Speed and modified it to get the right launch and spin with the longer shaft. That meant a 6-degree loft and the center of gravity slightly lower than the retail Epic Speed. Those two things allowed Phil to get launch and spin in his target window. For Phil that means a draw has to spin under 2,000 rpm and a fade is slightly above 2,000 rpm. That's the most efficient spin for him for distance.
Has his attack angle changed over time with the driver? He used to hit somewhat down on the ball but that doesn't work at 2,000 rpm of spin.
For sure. He definitely hit down on it at one time but now it's more upward. The old Phrankenwood was built for him because he wanted a driving club that worked with the downward path. Now, however, he's hitting 5 to 6 degrees up on it to get those "high bombs" he talks about. Hitting 5 degrees up is above tour average and when you hit up that much at 180 m.p.h. ball speed even an 8-degree Epic driver spun too much so we had to get the loft down. He also has the adjustable hosel in the minus position so effectively it is a 5-degree club.
What about the shaft itself?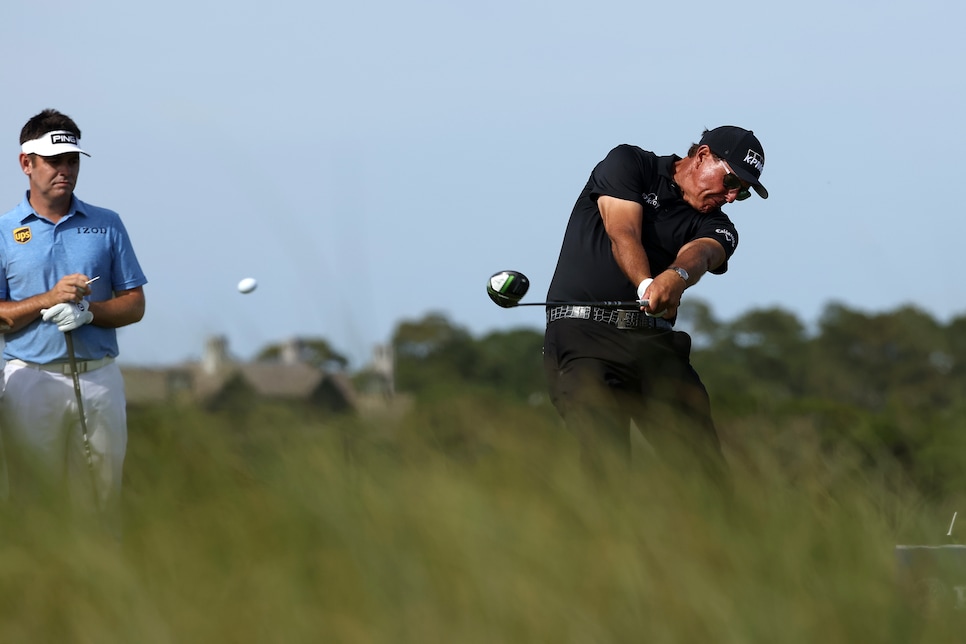 It's near the [USGA] legal limit at 47.5 inches and it's light for a player swinging at that ball speed at 60 grams. Most players at that ball speed are at 70 grams with their driver shaft. It's a TX flex so it's super stiff and that was part of the process of getting this club to work. It's like working with one of the long-drive competitors getting a club at 5 degrees loft at 47.5 inches. The difference is this one has to work under the stress of trying to win a major championship and not just keeping a ball in a wide long-drive grid.
A lot of talk about the 1-iron. Is that a just for Kiawah club or might he use it elsewhere?
That's the first time he used it in competition. In the past in windy or firm conditions or a course that's super tight he's used a low-lofted driving-iron-type club, but this was the first time he used this club. I don't know if you'll see it at the U.S. Open because the rough is so thick a hybrid or fairway wood might be better, but you might see it at the Open Championship.
He also has the 4- and 5-iron as utility irons.
He's historically used more forgiving long irons so these are a natural fit. They're forgiving and launch high.
How does he manage the distance gap between the 5-utility and 6-iron?
Interestingly the lofts of his 5- and 6-irons have not changed over the years, so he's not bending them to get to the proper distance. He tends to hit down on the long irons so he spins his longer irons more, so that takes some distance off and makes the gap manageable. He also manages the gapping simply by being able to hit less than full shots when he needs to. He's worked a lot with Dave Pelz on shots for in between yardages.
What about the wedges? Anything interesting with the grinds?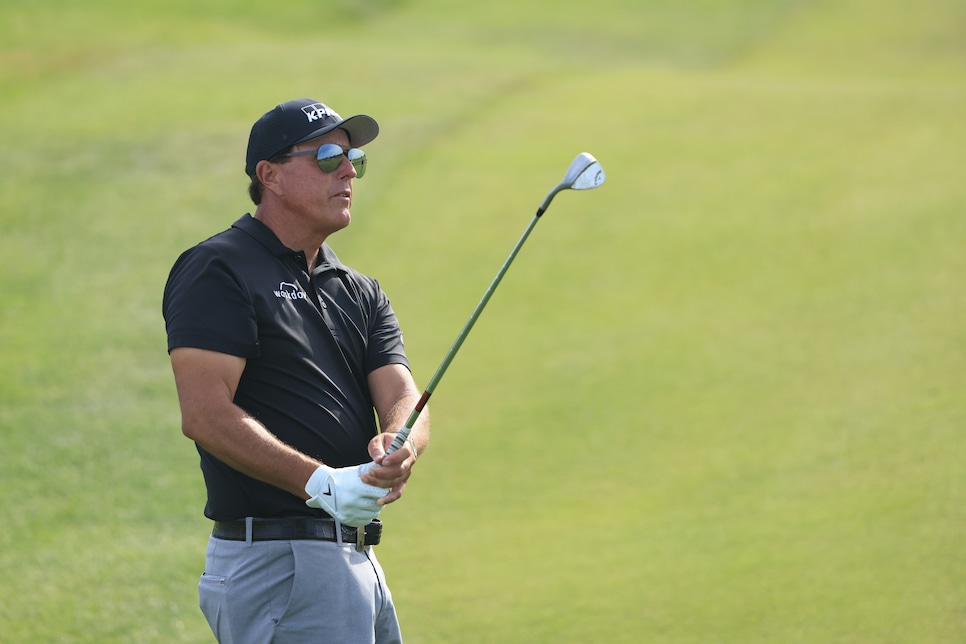 The 55 and 60 are a newer, updated prototype of the Callaway PM Grind he was using. It's the evolution of the PM Grind shape that he designed with us. The shot out of the bunker on 5 was with the new 60-degree wedge He ditched the 64-degree and went to a 55-degree and he has a 50-degree as well. This whole speed and distance evolution has created the need to change loft including the wedges. So instead of a 50, 53, 60, 64 he's 50, 55, 60. Because the 55 acts like a sand wedge at times, it had to have a grind and shape Phil would associate with hitting bunker shots, so it has a little wider sole and a more rounded leading edge. On the 60-degree, that one compared to his previous PM Grind 60 needs to be more versatile in order to hit flop shots since there is no 64-degree in the bag anymore. That means lower bounce. As for head shapes, if you thought the last PM Grind was pretty out of the box with its high toe and rounded leading edge, this one takes it a step further with a more rounded leading edge, which Phil is a big believer in, as it makes it easier to get under the ball. It's more offset than the previous one as well.
He uses an old-school blade-style putter. How, if at all, is it modernized?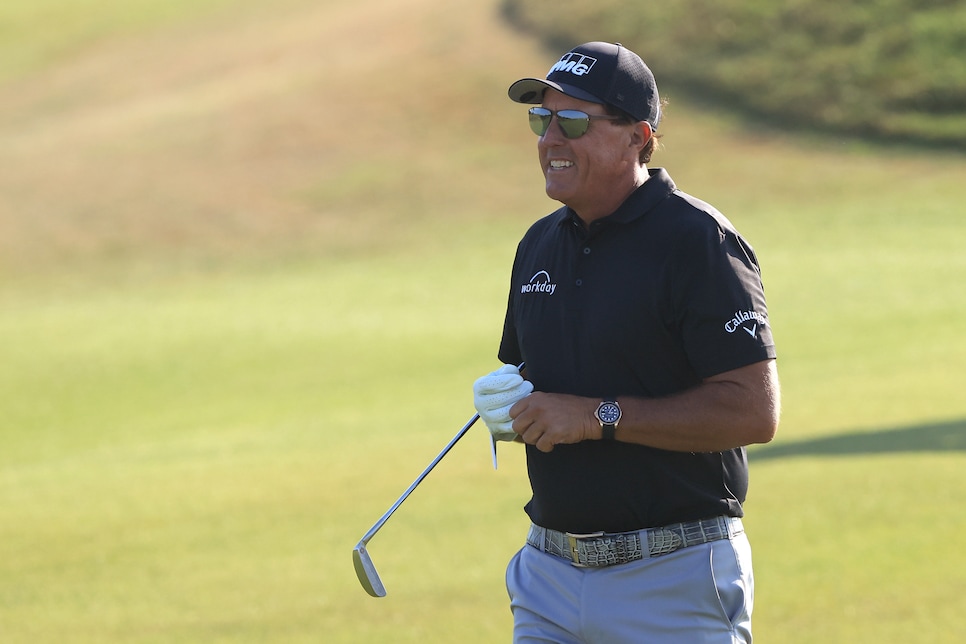 It's not. It's as old school as you'll find in any tour player's bag. We've tried to tech up that style of putter for him in the past. Things like changing the center of gravity to have it right in the middle of the face and he keeps going back to this putter. He's done a lot of alignment studying with one of his putting coaches and they've concluded this shape with very little alignment assistance is what he's best with. We've tried the high moment of inertia putters, and large alignment line putters like the 2-Ball and #7s and he doesn't line them up as well or square them up at impact as well as this blade. It's a unique setup but he's been thorough enough in his attempt to get into the best equipment and the putter is no exception to that. He just believes that's the putter he aims the best and strokes the best.
Well, he's got the Triple Track Chrome Soft X ball to help with alignment.
He loves that ball and uses the three lines to line up on the greens and even some of his tee shots as well. A bit of dual purpose there.
What's some of the more interesting things about his club specs?
His irons are typically three-quarters of an inch longer than standard and 1 degree upright on the lie angle. He plays a heavier swingweight than most. It's D-6 in most of his clubs. However, the driver at the longer length you can't achieve a D-6 swingweight. Interestingly enough, tinkering to get an Epic Speed to feel right, the shaft flex played a big role along with the head weight. It needed to be lighter and that was a big factor in getting the club to feel right at the longer length. The head weight without the hosel tip is 188 grams and the swingweight on Phil's driver is E-0. Standard is around 195 to 200 grams at a swingweight of D-3 or D-4 with a 45-inch shaft. It took some trial and error to get to the right spec but we eventually found the right combination.
Find the right club for your game with our new Hot List interactive: