Puck Luck
Sabres complete wild comeback with literal Nok Hockey goal against the Blackhawks
On Monday, we showed you the worst bad beat of 2022 not just in hockey, but sports in general, when Toronto's Auston Matthews flicked a length-of-the-ice empty-net goal to break the hearts of under bettors with 0.4 seconds remaining. What happened to Chicago Blackhawks money line bettors on Monday evening wasn't quite as depraved, but it was still incredibly painful.
Leading the Buffalo Sabres 4-0 early in the second period, not only were Blackhawks money line bettors feeling good, but so were puck-line bettors. For those wondering, the puck line is always -1.5, hockey's version of a point spread. Even if the Sabres clawed their way back to make it 4-3, chances are the Blackhawks would then have a chance at an empty-netter late.
Welp, the Sabres did claw back. All the way back, tying the game 4-4 with 17 minutes remaining. Even after Chicago took back the lead 5-4, Buffalo tied it again with 2:14 to go. Just over two minutes later, on a power play, the Sabres scored the game-winner with 10 seconds to go, and the way they scored it likely caused projectile vomiting for anyone who wagered on Chicago:
Good lord. There is getting your heart ripped out of your chest, and then there is blowing a four-goal lead, taking the lead back and blowing it again, and finally losing on a literal Nok Hockey goal. Seriously, I haven't seen a goal like that since my parents Santa Claus brought me this bad boy on Christmas Day 1999: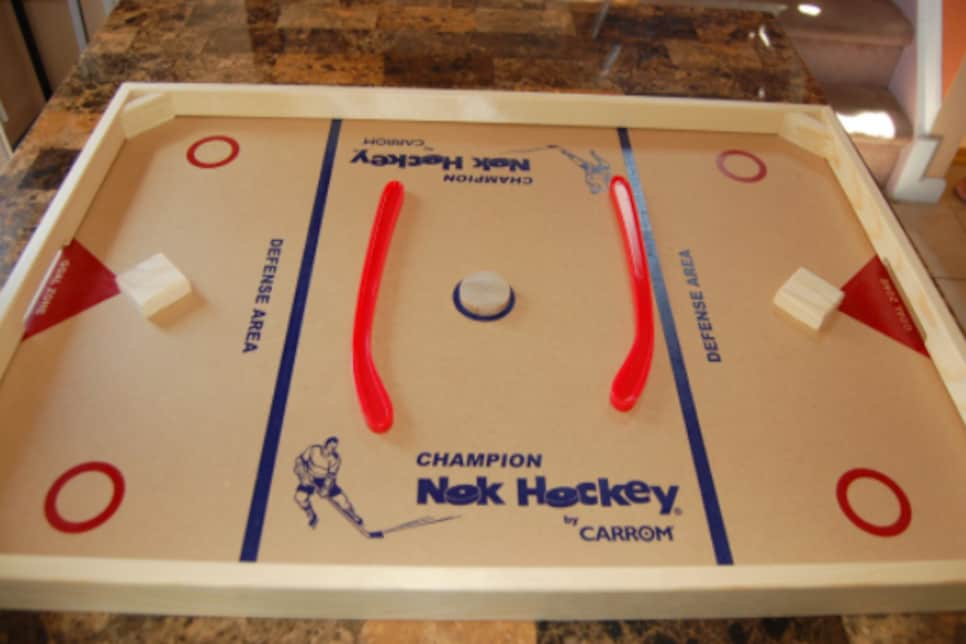 Man, that brings back great memories. Many tears were shed, many wrestling matches ensued after a loss, and many of those wooden pucks disappeared under the furnace in the basement. What an amazing piece of equipment. Today's kids wouldn't last 10 seconds on this thing before finding the nearest screen to burn a hole in their brains. Sad.