News
Bubba's bounce back, Augusta National weighing change and Tiger adds another tournament: What you missed this weekend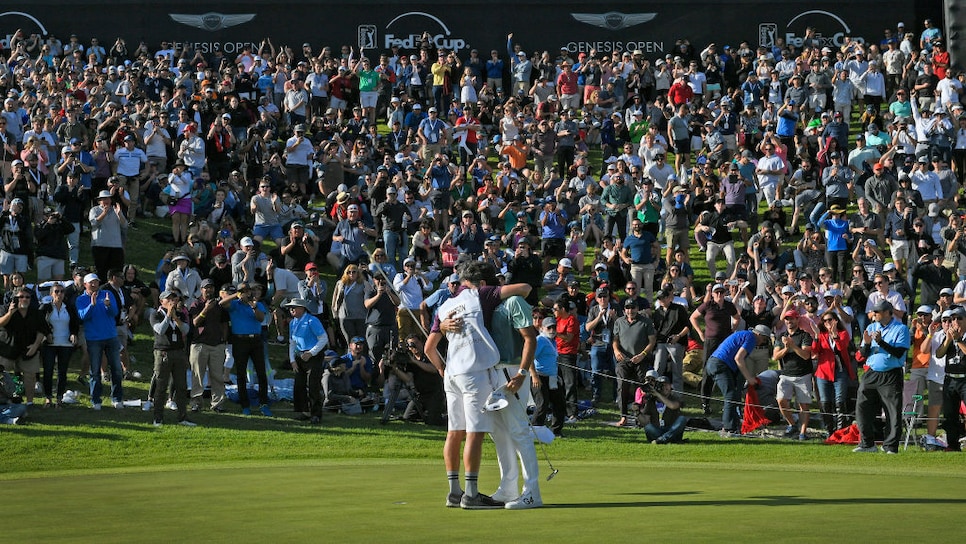 Welcome to the Dew Sweeper, your one-stop shop to catch up on the weekend action from the golf world. From the professional tours, trending news, social media headlines and upcoming events, here's every golf-related thing you need to know for the morning of Feb. 19.
The Genesis Open boasted a field of marquee names, yet it was a star believed to be burned out that shined the brightest. For the first time in two years, Bubba Watson found the winner's circle, his weekend 65 and 69 good enough for a two-shot win at Riviera.
"There's so many emotions going through my head right now, never know if you're going to play good again, never know if you're going to be able to lift a trophy again," a teary-eyed Watson said on the 18th green. "So many things, I thought about retirement. I mean there's just so much stuff going through my head right now. I can't believe I'm going to lift the trophy."
Given his past 18 months, the outburst is warranted. Following his win at Riviera in 2016, Watson fell into a slump, his play so uneven he was left off the Ryder Cup team despite ranking inside the world's top 10. The ensuing season delivered further troubles, as Watson missed more cuts than the previous three years combined to finish 113th in the FedEx Cup standings. Though his switch to the Volvik golf ball was cited as part of these woes, Watson admitted this week an undisclosed illness wasn't helping matters, his health so bad he thought about quitting the game.
The win is Watson's third at Riviera, and 10th career tour title (not counting his two green jackets). Speaking of which, for those of a gambling ilk, Vegas has Bubba listed at 55-to-1 Augusta odds. Given Tiger Woods owns a 18-to-1 figure, might want to jump on Watson while you have the chance.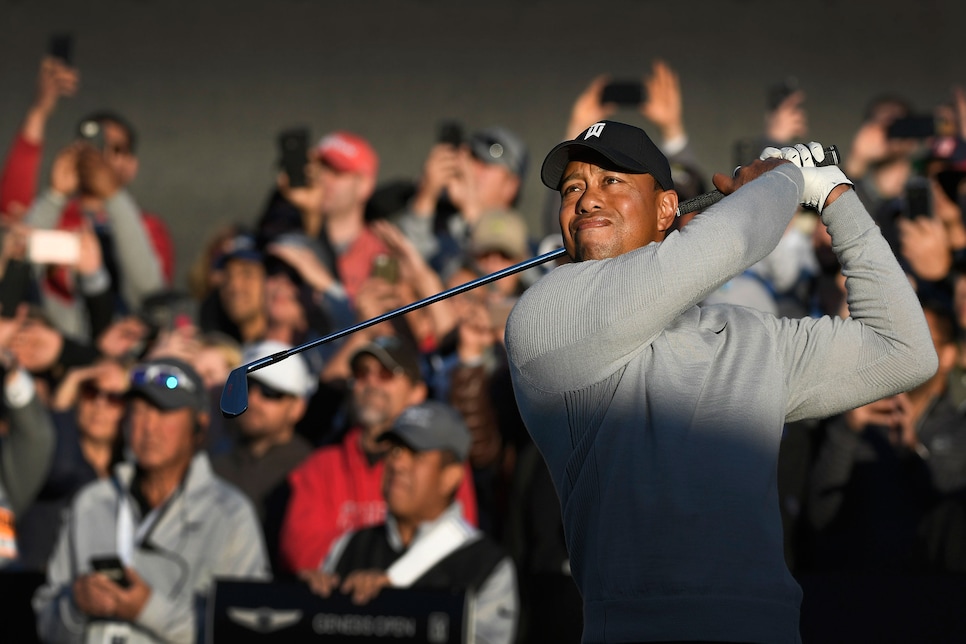 Tiger commits to this week's Honda
Start No. 2 was not especially prosperous for Tiger Woods. The 14-time major winner continued to struggle with driving accuracy, and battled a fickle putter Friday to miss the cut by miles at Riviera. However, in the fledging stages of his latest comeback, progress is not a result-driven process, but one fueled by moments of promise and hope. Consider this announcement an extension of that sentiment.
In the middle of his second round, the Honda Classic confirmed that Woods will be in the tournament's field. It was a move that was mostly expected, although Woods danced around the issue earlier in the Genesis Open week: "I think it would be a great sign if I do play. I think it would be a smart sign if I didn't play,"
Woods has made three appearances at the event, hosted at PGA National Golf Club in Palm Beach Gardens. His best finish is a T-2 in 2012.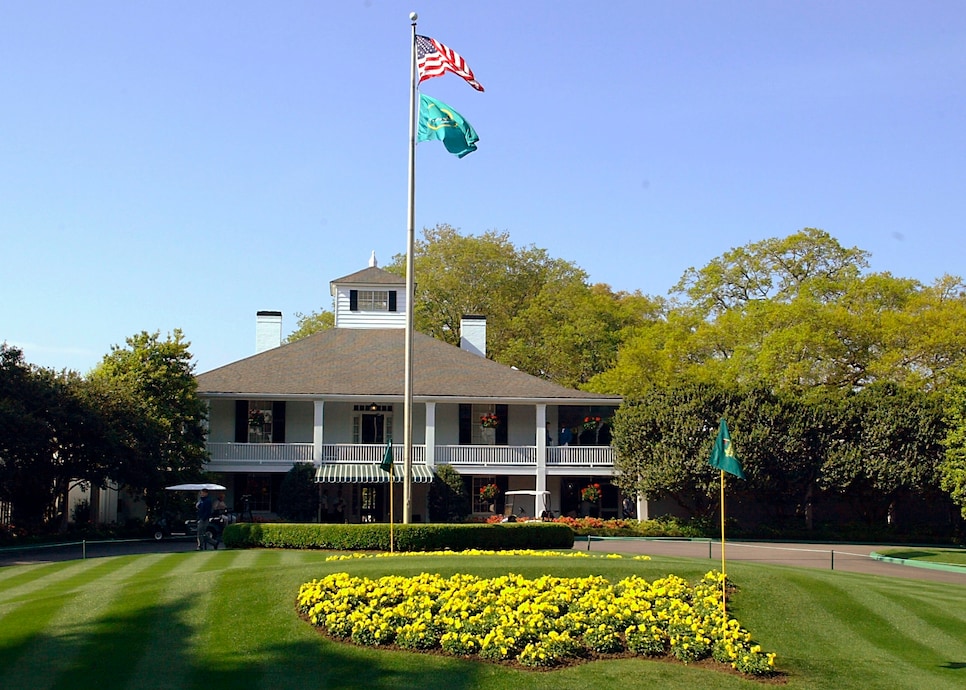 Augusta National's weighing hole change
Changes are coming to Augusta National. And not just to the famed 13th.
According to a report from the Augusta Chronicle, the 455-yard fifth hole could undergo renovation for the Masters. Preliminary site plans filed Jan. 30 with the Augusta Planning and Development Department, according to the Chronicle report, show a design that moves the tee box back 20 to 30 yards. Work would not begin until May 1, with the alterations finished before the 2019 Masters.
The fifth hole has been far from a pushover in recent years, with the field logging just 21 birdies versus 82 bogeys or worse last year (4.212 average, fifth-toughest hole on the course). If Augusta National goes through with the project—an Augusta National spokesman told the Chronicle the club is still exploring its options—it would be the first significant modification to the course since 2006 when six holes were lengthened.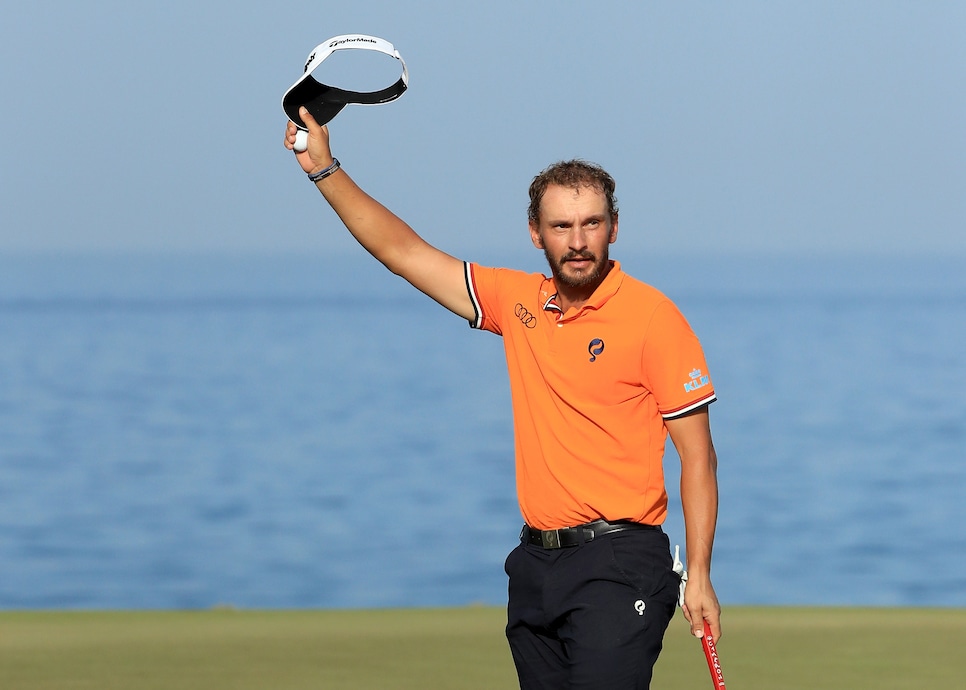 Andrew Redington/Getty Images
The last time Joost Luiten won, the Dutchman was seen singing and drinking with the tournament's maintenance crew. Sadly, zero video has emerged (yet) of Luiten wassailing after his victory at the NBO Oman Open. Luiten's four-under 68 was good enough for a two-shot advantage of friend Chris Wood at the inaugural event.
"This is why I play golf, to hold trophies," said Luiten. "It is always tough to win out here."
Unfortunately, I doubt "I play golf to hold trophies," will be part of any upcoming USGA marketing campaigns.
Once a top-30 player in the OWGR, Luiten had fallen out of the world's top 100 near the end of 2017, but has now recorded five top 20s in his last eight starts. The win also earned him a spot in the WGC-Mexico Championship, which begins in two weeks.
John Daly does John Daly things
Friends, let's be frank: it's been a rough few years in this country, and we seem to become more divided with each day's passing. We need a symbol to rally around, a beacon calling us to safety in this storm. To remind us of all that once was good, and what could be again.
But until we find that savior, here's John Daly making a hole-in-one in American flag pants:
As my colleague Stephen Hennessey noted, the celebration was a tad underwhelming. Although I think we can safely assume the subsequent bar tab was anything but.