News & Tours
Bryson DeChambeau has a simple answer for his back nine blow-up at the U.S. Open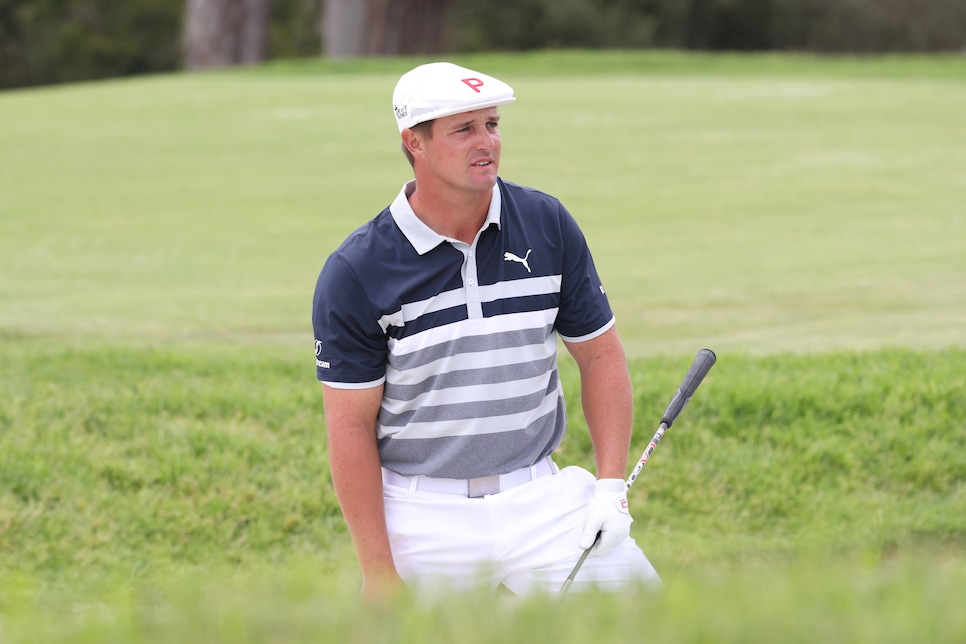 Bryson DeChambeau was eight holes away from successfully defending his U.S. Open title. Two hours later DeChambeau was in need of a cold one—and perhaps a hug—after coming out on the business end of Torrey Pines, playing the final eight holes in eight over. The stumble dropped DeChambeau from first to a T-26 finish and left the beefy man with one beefy "What if?"
Ten days later, DeChambeau sounded like he had come to terms with his tangle with Torrey. A tangle DeChambeau chalks up to bad juju.
"Just luck," DeChambeau said Wednesday at Detroit Golf Club, ahead of this week's Rocket Mortgage Classic, when asked what his takeaway from that Sunday in San Diego. Asked if that was the only takeaway, DeChambeau responded in the affirmative with a head nod.
While there would seem to be more at play than simple misfortune—back-to-back bogeys on the 11th and 12th holes seemed to be the byproduct of poor tee shots—DeChambeau is not necessarily wrong. At the par-5 13th his foot slipped on a tee box, sending his shot soaring to the right.
"Everybody was apparently slipping on 13 and I didn't know that," DeChambeau said. "I slipped two days in a row, then got in a bad lie, which you're expecting, it's the U.S. Open, but it's a part of life. I could have hit it five more feet to the right across the cart path and gone for the green. So it's just one of those things that a little bit of luck there."
DeChambeau could muster his second only 140 yards ahead. A streaker intervened, with said streaker taking a few swings before being tackled into tomorrow by security. Perhaps that streaker swung bad vibes in DeChambeau's direction, because Bryson's third was barely in the air before it fiercely dived into a bunker. His fourth flew next to a case of beer (you read that correctly). The chip was good, but the putt wasn't, leaving him with a double-bogey seven.
DeChambeau's tournament officially ended on the 17th when he sent his drive into a canyon, leading to a quadruple-bogey 8.
"I just feel like my driver's kind of a bit of luck," DeChambeau continued. "Sometimes I pull it, sometimes I push it and on 17 I pulled it into a bad lie or in the hazard and then hit a great wedge shot and it spun off the front edge into a really bad lie and just hit it off the hosel and went over the green. That's what it is. It's just things compounding on each other that you just can't necessarily control fully. You hit a great shot, nothing happened for you. That's luck."
"Yeah, huge factor. I mean, On 14 [at Winged Foot] I hit it left ... into a dead spot where the pin was left as well, and I was kind of on an upslope and I was trying to hit it 20 feet past but I chunked it," DeChambeau said. "It came out dead just on the front edge and trickled to 10 feet and I made the 10-footer to have a flip flop again with Matthew [Wolff] to give myself a four-shot advantage.
"You're going to need those to win. Every golf tournament has that. People don't realize how much luck plays a big factor. You can control a lot, but at the end of the day, still luck is a huge component of it."
DeChambeau, who is the defending champion at the Rocket Mortgage Classic, tees off at 1:10 p.m. on Thursday.