PGA Tour
In sloppy match, Tommy Fleetwood ditches Bryson DeChambeau, knocking him out of tournament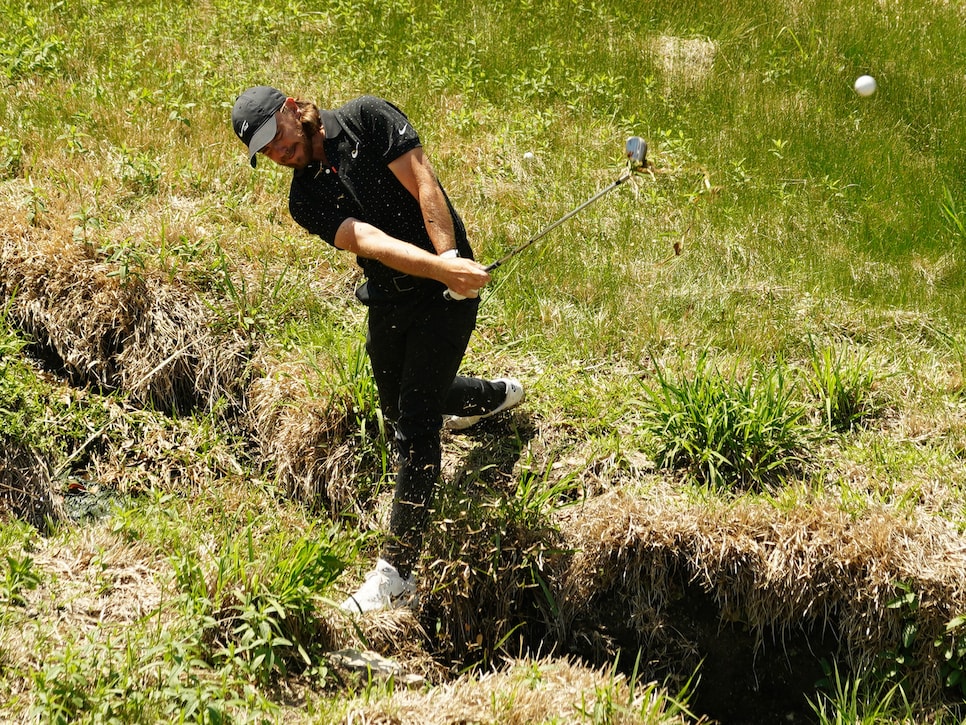 Tommy Fleetwood plays a shot near a ditch on the 18th hole in his match against Bryson DeChambeau.
Darren Carroll
AUSTIN, Texas—After a brilliant scrambling par on 18 that preserved a 1-up victory over Bryson DeChambeau, Tommy Fleetwood was walking past the putting green on his way to the media flash zone when Jordan Spieth, hitting out of a bunker, couldn't resist taking a quick shot.
"That was fun to watch," he said.
Fleetwood thanked him, but Spieth wasn't finished.
"But you could have just made the putt on 17 and saved yourself the trouble."
Fleetwood responded to Spieth's sly grin with a laugh, and a few minutes earlier, when he stood in a wet gulley, among clumps of deergrass on straddling a creek as he contemplated his second shot on 18, he was no doubt having the same thought.
In fact, there were a few opportunities to end a match that DeChambeau seemed eager to give away on the front nine, when errant drive after errant drive and a few missed putts to boot handed the English Ryder Cup star a 4-up lead after seven. Not insurmountable, quite, but getting close. (Fleetwood's only real error on the front came when his caddie snapped a pedestrian sign.) But when Fleetwood found the water on 11, the margin had been cut in half. They traded wins with birdies on 12 and 14, and on the 15th, Fleetwood had his first chance to really put the hammer down with a five-footer for par. He blew it past, watched his lead drop to 1-up, and it was anybody's match with three to play.
DeChambeau returned the favor with an approach on 16, and it was all he could do to make par and halve the hole. Meanwhile, Fleetwood got into trouble of his own and needed his biggest putt of the day, from 14 feet, to maintain his advantage.
That brought them to the 17th, a par 3 nestled into a hidden plateau, with forest falling off to the left. DeChambeau's tee shot landed in the right fringe and spun back to the green, but not enough for his liking.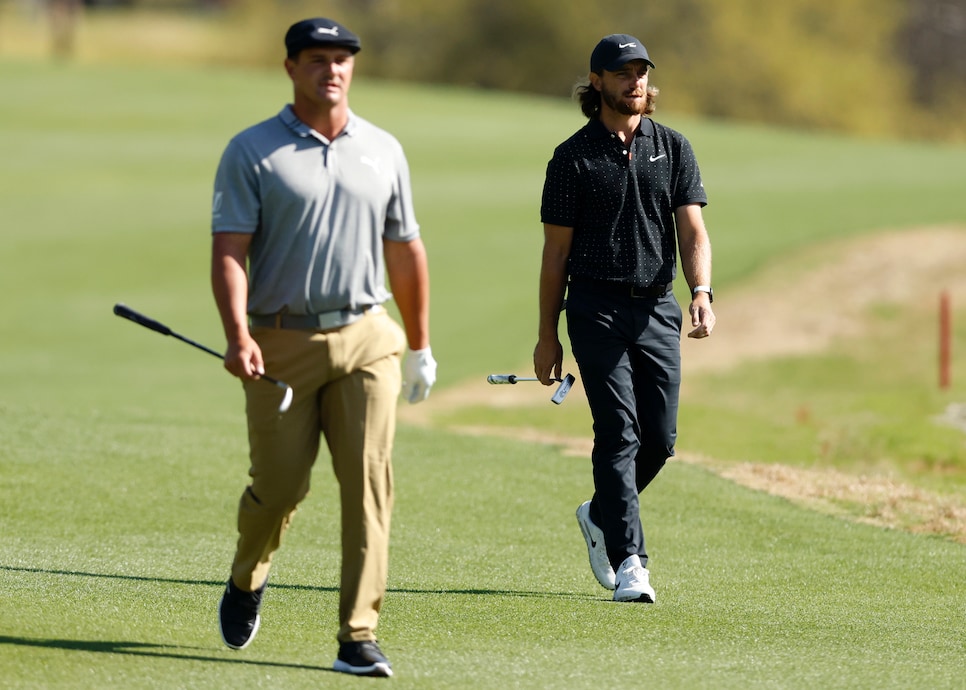 "It didn't ever spin back," he said to himself, incredulous, when he walked to the green. "There's no way. There's actually no way."
His 20-footer slid past, leaving Fleetwood with 14 feet for the win and the chance to avoid being burned by Spieth post-round. But this wasn't the kind of match where anything came easy, and his miss sent them to 18.
A quick look at the scoreboard showed that Antoine Rozner was winning his match, which meant that if Fleetwood lost the 18th and tied, he'd be forced to wait two hours to face the Frenchman in a playoff. If he won, he advanced, and though it's not clear if DeChambeau understood it at the time, he had been eliminated on 17 once his chance to win the match was gone.
Fleetwood made life difficult on himself immediately, pushing his drive to the left, down into the ditch, where he had to place his feet on opposite sides of the creek just for a chance to punch one uphill in the vague direction of the green. With DeChambeau in the rough just 34 yards from the hole after another massive drive, the situation looked untenable, and worse once Fleetwood sent his second into the rough beyond the green and DeChambeau punched up to eight feet.
But it's a special quirk of match play that a tremendous, improbable up-and-down is just as good as a two-putt from in close, and that's exactly what happened—Fleetwood's half-flop from off the green settled four feet from the pin, DeChambeau missed another putt, and Fleetwood came back from the brink of disaster to win 1-up.
Glum, DeChambeau marched off the green, tossed a ball to some fans screaming "Deesh!" at him, and disappeared with the "B.A.D." book jutting out of his back pocket. Moments later, after running the Spieth gauntlet, Fleetwood stood in the flash area, hair pushed back from his head, blue-gray eyes so light they're practically transparent, and analyzed what announcers called "the vagaries of match play."
"I think that's the beauty of the tournament in a way," he said. "I'm sure there's plenty of guys that over three rounds would have a better score than me right now, but some of them will be going home and I'm advancing. That's just how the event works out. You have to do enough on the day against your opponent and then move on, and so far so good for me."
At the end of a match he rightly called "scrappy," Fleetwood credited his clutch putting, especially on 15, and spoke a bit about trying to negate the length advantage Bryson holds over everyone.
"I think definitely if your iron play is dialed in, you have a chance to definitely slot one in there beforehand and then add a little bit of pressure," he said. "And like I say, it's just so important to be so self-focused off the tee and know that's your game and build your score or beat your opponent in the way that you can."
By crook, and especially by hook, Fleetwood gritted out a result, and he knows too well that at the WGC-Match Play, all that matters is the win. On to the weekend.