WGC-Match Play
Tommy Fleetwood's caddie snaps sign into oblivion because a caddie's love knows no bounds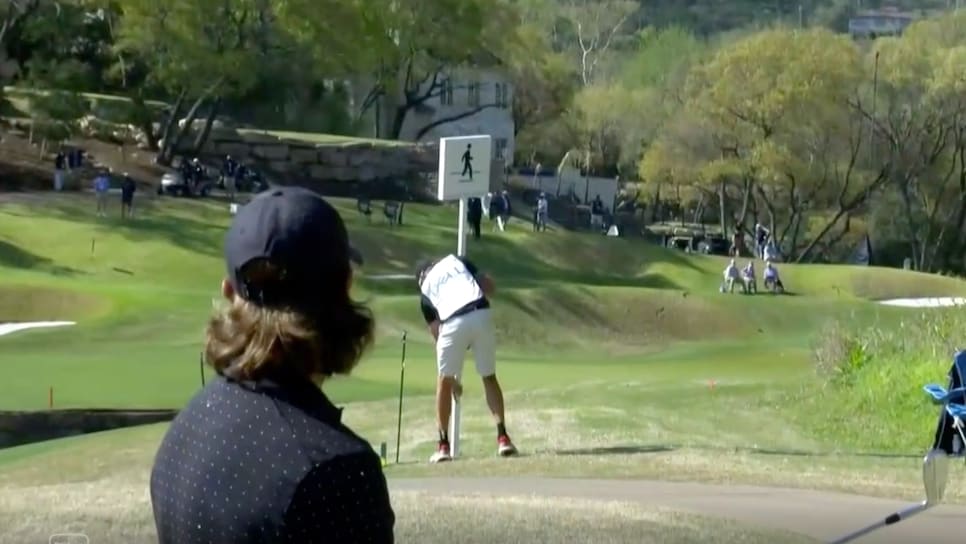 Caddies will do anything for their players. Just ask Ian Finnis.
Finnis has been Tommy Fleetwood's loop since 2016, and the friendship between the two dates back to childhood. Still, despite their rapport, there remains a clear and incontrovertible dynamic between player and caddie at the professional level, a dynamic which dictates a caddie must do the dirty work to keep his man clean.
Which is why Finnis snapped a sign in two Friday morning at the WGC-Match Play.
Fleetwood, battling Bryson DeChambeau for a chance to see the weekend at Austin C.C., sailed his drive to the right on the par-4 third, his ball coming to rest on a cart path. Although the rules of golf allow relief from the cement, Fleetwood had a clear shot at the green from the lie and thus decided to keep the ball where it was at. Well, imagined a clear shot, if it wasn't for a pesky sign in his line. Luckily for Fleetwood, Finnis decided to play "fixer" to the dilemma, the bag man walking over to have a chat with the sign. Spoiler alert: It did not end well for the sign.
But it did end well for Fleetwood, who was able to put his approach on the green from the cart path. The Englishman halved the hole with DeChambeau, somewhat subtracting the drama from this affair. Given Fleetwood was 1 up at the time, no drama is just fine.
As for Finnis, well, let's just hope the two go far in Match Play, because we're guessing there's going to be a pretty hefty bill in Finnis' locker at the end of the day.