News
Bryson DeChambeau on a Ryder Cup pairing with Tiger Woods: Could "intimidate some people"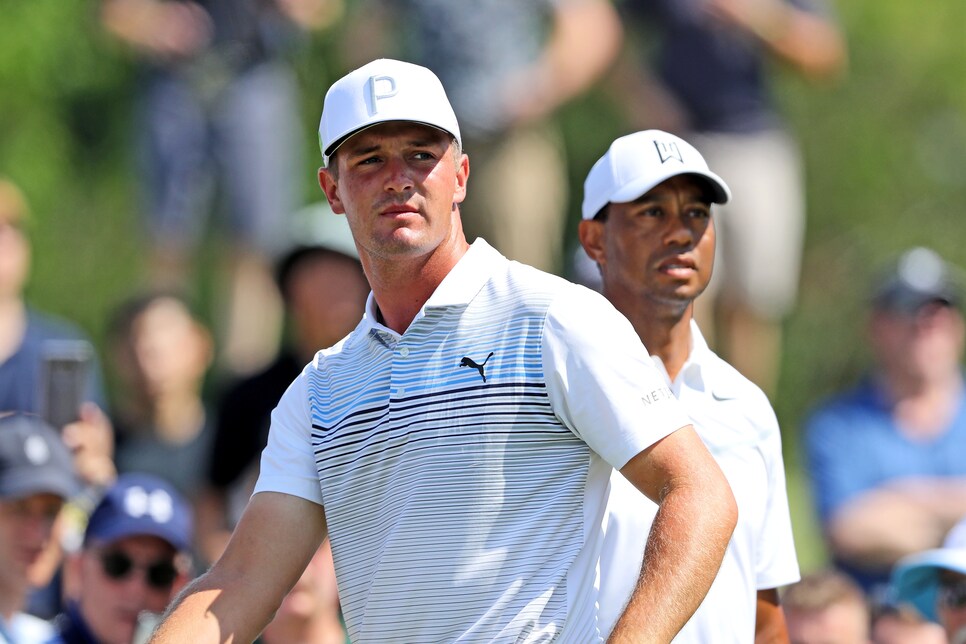 Bryson DeChambeau has been a regular practice partner of Tiger Woods this season, the latter taking interest in the former's work ethic and cerebral approach to the game. "I feel a lot of the things that he says, but we articulate it completely differently," Woods said about DeChambeau. "It's a lot of fun to needle him and give him a hard time about it, but I definitely respect what he says because of the fact that he does a lot of research. I mean, he is very into what he's doing." Following DeChambeau's statement win at Ridgewood, it appears the two stars could be more than sparring mates in the near future.
Speaking at TPC Boston ahead of this week's Dell Technologies Championship, DeChambeau discussed his prospects for the upcoming Ryder Cup. The 24-year-old finished ninth in the standings, the first player to miss automatic qualifying. However, his dynamic game—coupled with his Northern Trust victory—seemingly makes DeChambeau a lock for one of the four captain's picks.
"I have had a great year," DeChambeau said. "Would I say it's enough for the captain? That's up to his discretion. Again, it's still one more week."
Which raised the question: Has DeChambeau entertained any ideas on who he'd like to play with in Paris? Particularly the thought of a certain 14-time major winner by his side?
"It would be an honor to play with him," DeChambeau said of Woods. "I think we could have some great chemistry out there and hopefully maybe intimidate some people, that would be nice."
Given the play of both this summer—along with the fact that Tiger is, well, Tiger—a DeChambeau-Woods combo is a pairing that has to frighten the French partisans...and delight those watching from the U. S. of A.
Of course, this remains theoretical, as DeChambeau, and Woods for that matter, still have to get the call from captain Jim Furyk.
"He texted me congratulations, so that was very nice of him," DeChambeau said about Furyk. "And hopefully I can see him soon."
The Americans will try to win the Ryder Cup on foreign soil for the first time in 25 years this fall. The biennial event begins on September 28 at Le Golf National.