Caddie Chronicles
Bryson DeChambeau announces new full-time caddie Brian Zeigler, discusses split with Tim Tucker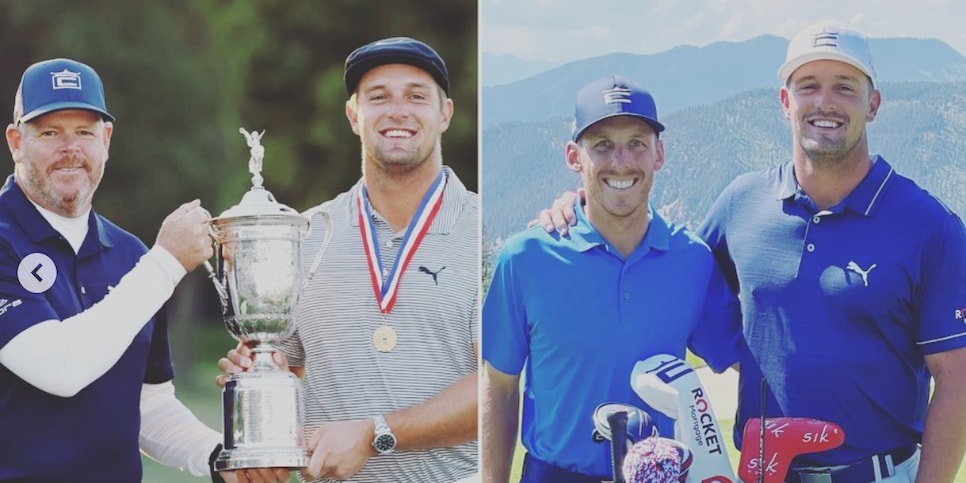 Bryson DeChambeau's new full-time caddie will be Brian Zeigler, the World No. 6 announced on Saturday.
Zeigler will replace Tim Tucker, who was on the bag for each of DeChambeau's eight PGA Tour wins. DeChambeau and Tucker split on the eve of last week's Rocket Mortgage Classic. Cobra staffer Ben Schomin took on fill-in duties as DeChambeau missed the cut in his title defense at Detroit Golf Club.
"Jumping into the deep end!," DeChambeau wrote on Instagram. "Excited to have Brian Zeigler joining the team as my new caddie. Can't wait to have him be a part of the journey."
Zeigler comes into the role after a stint as an instructor at Dallas National Golf Club, which is DeChambeau's home course and also the teaching home of his instructor, Chris Como.
"Everybody always thinks there was some kind of falling out, but there really wasn't. This was in the works for a while," DeChambeau told Golf.com. "Tim is a really, really great friend of mine. He's somebody that I've cared about, and still care about, and will care about for the rest of my life."
The Golf.com piece also suggests DeChambeau and Tucker began discussing a split in late 2020, and that Zeigler had been tapped as THE successor.
Zeigler's first week of work will be the Open Championship at Royal St. George's, which begins Thursday.