The incredible (un)bulk
Bryson DeChambeau is talking about living to over 100 again, is so back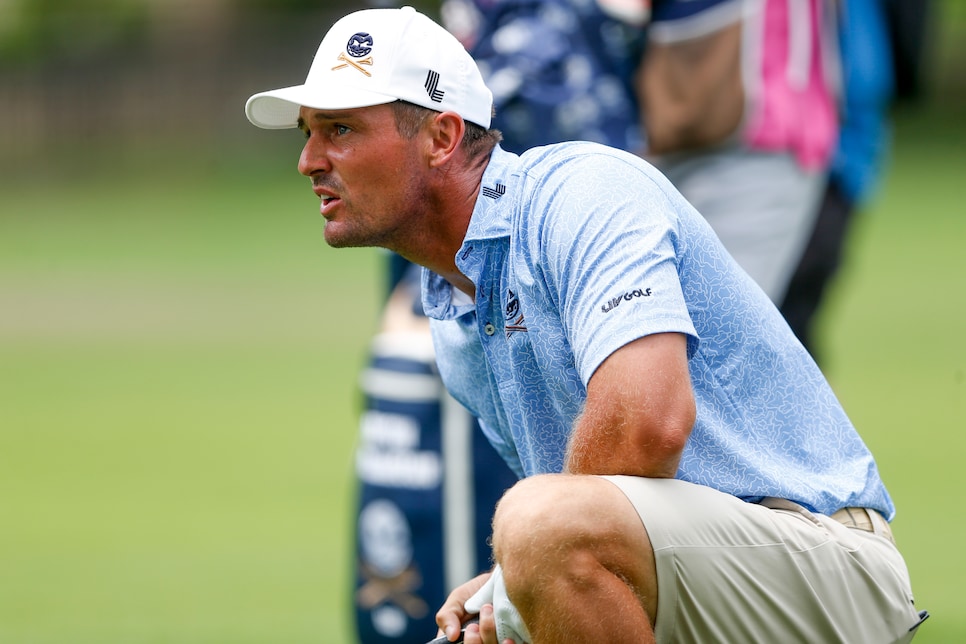 Modern-day Renaissance Man Bryson DeChambeau has a lot of ideas. He has ideas about ball speed and ideas about bulking up, but most importantly he has ideas about growing very, very old.
A few years back, the Content King created headlines with his statements about trying to reach 140 years old. "I'm always trying to add more value to my life in general," DeChambeau told GQ. "I mean, my goal is to live to 130 or 140. I really think that's possible now with today's technology. I think somebody's going to do it in the next 30 or 40 years."
This was rightfully questioned by Golf Twitter, Justin Thomas and scientists across the globe, but many truthtellers were crucified in their own times as well. Now, Bryson's back with a slightly less aggressive (but still bold) take.
When discussing his recent weight change at a LIV Golf Tulsa press conference, the 29-year-old went into detail about the thought process behind his unbulking and what's next for his body. He also brought up age once again and why he feels confident that he'll make it to 100 years old.
"I would say that my body definitely has changed, and my swing is probably going to change, as well," DeChambeau said. "That's part of the process I'm trying to figure out. I was a lot skinnier and leaner when I was hitting it dead straight every single time in 2018. That wasn't the reason why I tried to get leaner, I just tried to decrease inflammation in my body, which I feel a heck of a lot better, man. I don't feel like a — you know what I'm going to say.
"But I feel a lot cleaner and healthier and feel like I can live to over 100 now finally. A year and a half ago I was like, oh, man, that thing that I talked about living to 120, I don't know if I can get there now with the weight I put on. A little different now."
With the PGA Championship on the way, Bryson DeChambeau talking about living to triple digits is how you know he's in the right headspace.
The man is at his best when he's walking a tightrope between scientific breakthrough and pure delusion, and, boy, is he in the sweet spot right now. The recent T-5 finish—his best at a LIV Golf event—in Tulsa just shows you that the man might finlly be BACK.
Although he's aiming for 100, we hope that Bryson lives forever, because the content is just too good. Keep it coming.