The Loop
Bryson DeChambeau kind of, sort of compared himself to Albert Einstein and Isaac Newton during a radio interview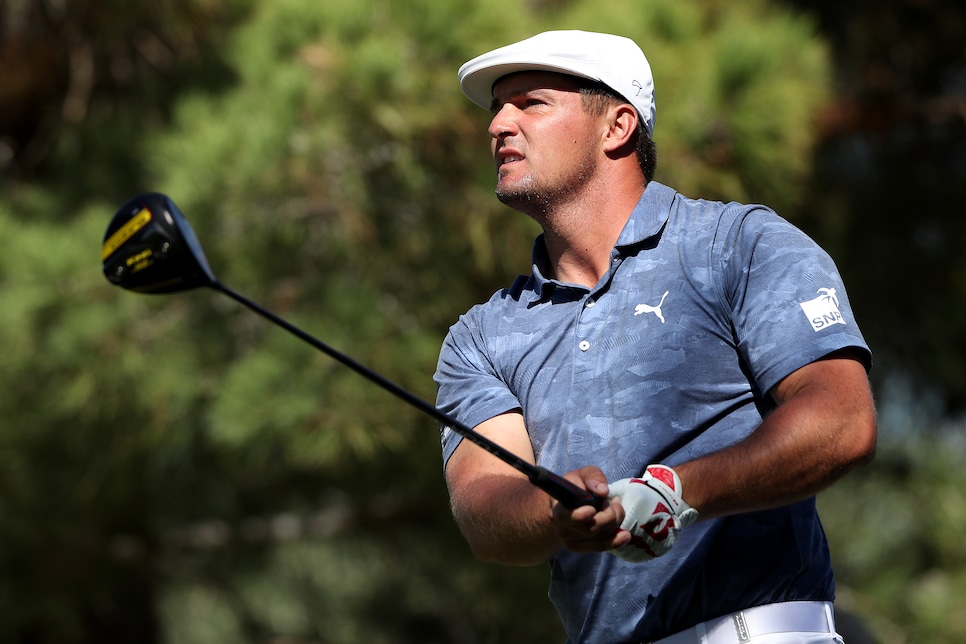 Without even saying a word, Bryson DeChambeau stirred up some good old-fashioned manufactured controversy last week. At the BMW PGA Championship, an event he wasn't even playing in, Matthew Fitzpatrick brought up how DeChambeau had made "a bit of a mockery of the game" at Winged Foot.
When DeChambeau caught wind of Fitzpatrick's take, he took it in stride, but was also quick to defend himself. "I would say it actually takes more skill to do what I'm doing," he said, adding that he believes Fitzpatrick's comments were a "compliment."
DeChambeau retierated that on Pat Perez SiriusXM show "Out of Bounds" on Wednesday. During the short interview, Perez asked him his thoughts on all the hate he receives. "Lot of jealousy out there," Perez said.
"Well, you know, look, I guess so," DeChambeau said. "Like I said last week, it's a compliment to me, man. You know, I appreciate it. When anybody does anything that's a little controversial, a little different or whatnot, there's going to be naysayers. And you just gotta keep going your way. You look at [Albert] Einstein, you look at [Isaac] Newton, you look at all these big-time names in the science field, there's been a lot of people that have been called crazy. Decades later they're like, wow, that person was actually pretty interesting, he did a lot of amazing things. I'm not saying that's what I'm going to do but, shoot, I hope so one day. That'd be fun."
Oh boy. You can practically hear the eyes rolling in the back of many of these "naysayers" heads that DeChambeau speaks of. Newton. Einstein. DeChambeau. Just give it time, folks.
Fitzpatrick and co. will be thrilled to find out that there is no end game in sight for DeChambeau, as he explained later in the "Out of Bounds" interview.
"You look at Kyle Berkshire, what he's doing. Justin James, Tim Burke, Fast Eddie [Fernandes], all these guys. I mean, Fast Eddie is going to be hitting 200 mph ball speed on the Champions Tour. He's going to be driving almost every green, par-4, out there. He's going to try to at least. You look at these guys who are 225 mph ball speeds. That's 25 mph faster than what I was able to produce on the golf course last week. For the first time in PGA Tour history I think I hit 200 mph ball speed, which is the fastest ever recorded I think. They're still 25 mph faster than me. I mean, there's so much more room for improvement, I feel like."
Sheesh. Based off recent history, DeChambeau will be turning the PGA Tour into a World Long Drive contest sooner rather than later. When he puts his mind, and body, to something, he usually gets it done.